FORT WORTH, Texas – BNSF Railway this week launched domestic intermodal service between Seattle and CSX Transportation's Northwest Ohio Intermodal Terminal.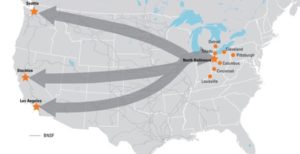 "This new container-only service will initially be offered five days a week for both eastbound and westbound freight originating and terminating at our South Seattle Intermodal Facility," BNSF said in a message to customers on Monday. "Effective today, customers who originate shipments at BNSF's South Seattle Intermodal Facility can now access some of the fastest growing industrial and consumer markets in and around northwest Ohio including Toledo, Columbus, Cleveland, Cincinnati, Detroit, Louisville, and Pittsburgh."
The service takes roughly a week, with eastbound moves carded at 163 hours and westbound at 167 hours from cutoff to availability.
BNSF gained access to the CSX terminal in North Baltimore, Ohio, under a haulage rights agreement the railroads announced in October 2018. The initial service linked Los Angeles and North Baltimore.
BNSF subsequently added service between Northern California and Northwest Ohio in April 2019.