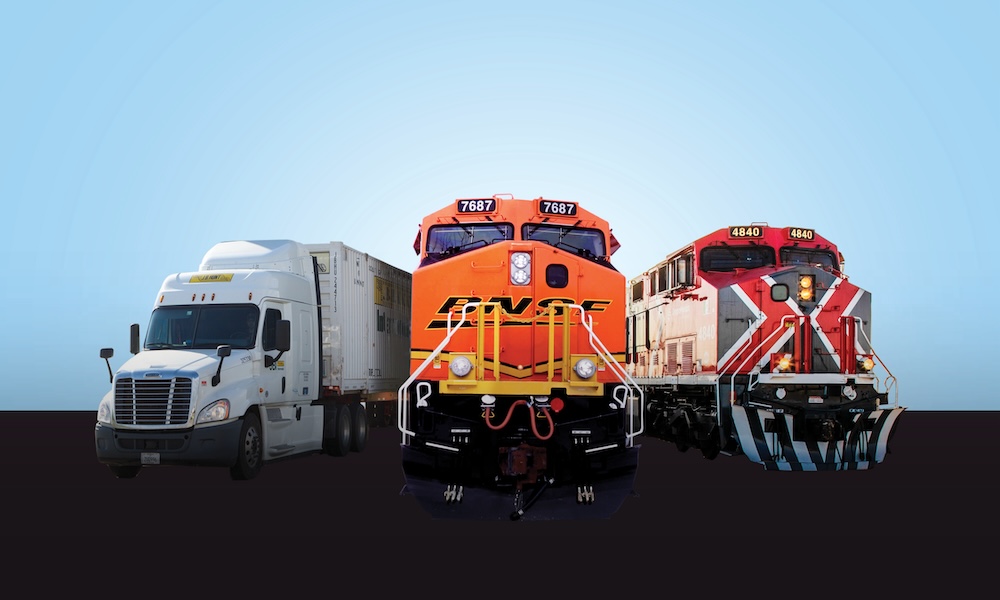 ---
FORT WORTH, Texas — BNSF Railway and J.B. Hunt are shifting their Mexico intermodal service to Ferromex via the Eagle Pass gateway, a route they say is a day faster than the current BNSF-Canadian Pacific Kansas City routing via Laredo, Texas.
The cross-border service will move to Eagle Pass on Jan. 1, BNSF and J.B. Hunt announced today. South of the border, the intermodal service will reach Monterrey, Silao-Bajio, and Pantaco-Mexico City regions, key markets in Northern and Central Mexico, via Grupo Mexico's Ferromex.
"Our organizations are committed to growth in Mexico and this joint service offering is a direct reflection of that commitment," BNSF CEO Katie Farmer said in a statement. "By utilizing the capacity and expertise of the largest intermodal railroad in the U.S., the largest railroad in Mexico, and the largest domestic intermodal carrier, this product will seamlessly connect the North American intermodal network."
The six-day per week service — which will use BNSF's trackage rights over Union Pacific between Caldwell, Texas, and Eagle Pass — will be a day faster for Chicago-Monterrey traffic, BNSF said. BNSF and J.B. Hunt say they also will offer an alternative option via the El Paso, Texas, gateway.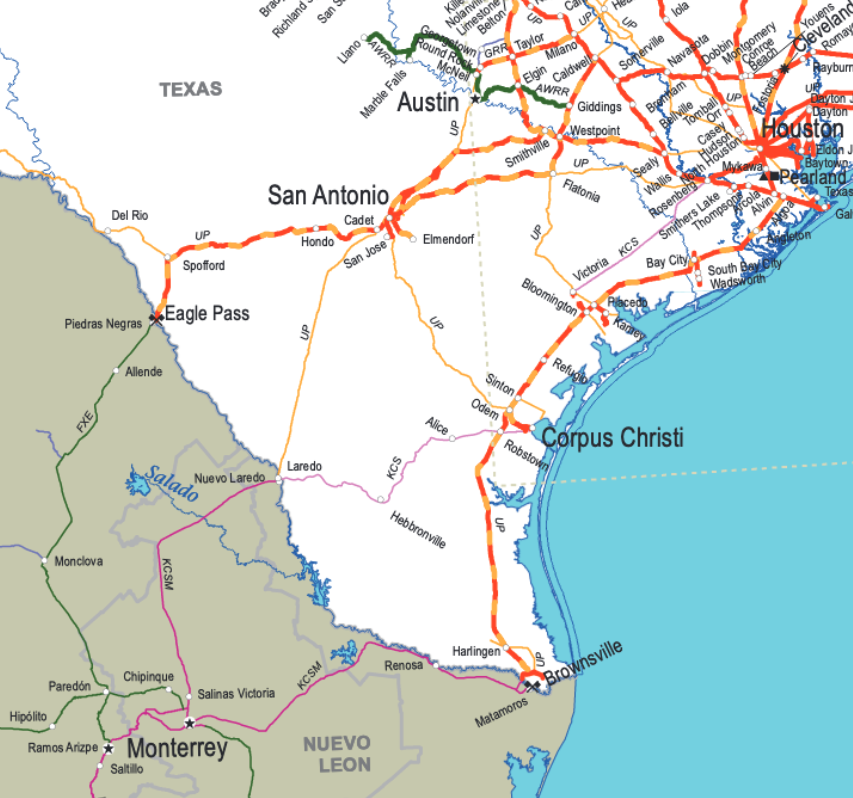 ---
"This new service offering will provide resilient, cross-border solutions that give our customers optionality to support their growing supply chain needs in Mexico," J.B. Hunt CEO John Roberts said in a statement. "The cost savings and sustainability benefits of intermodal service are proven, and we're proud to collaborate with our rail providers BNSF and GMXT to bring this robust service offering to reality."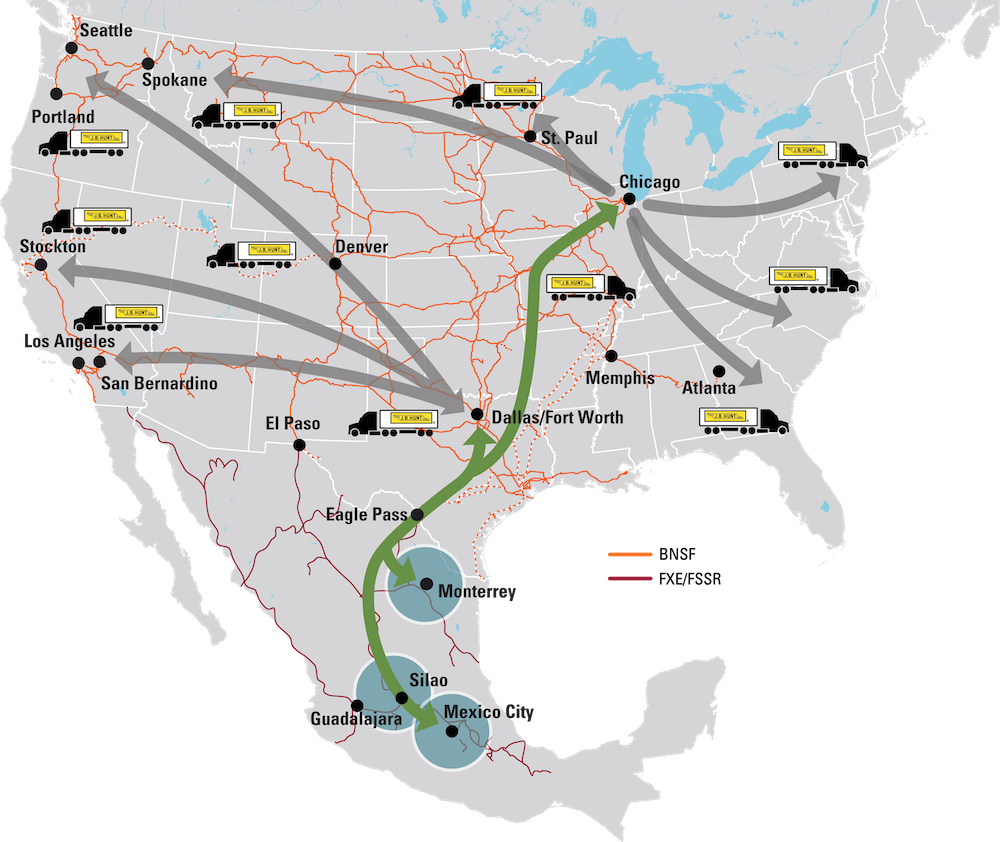 ---
"GMXT is ready to support the freight demand growth that nearshoring presents with North America by providing flexible and top-notch rail services to our customers," Grupo Mexico Transportes CEO Fernando López said in a statement. "Eagle Pass is a strategic gateway, and we are committed to connecting México and the U.S. through smart and secure borders while helping our countries facilitate the trade."
CPKC will continue to handle J.B. Hunt cross-border traffic bound to and from the Southeast via the Meridian Speedway and Norfolk Southern.
But the loss of BNSF-J.B. Hunt traffic will be a blow to CPKC. BNSF and CPKC currently interchange J.B. Hunt's cross-border intermodal traffic at Robstown, Texas. BNSF reaches Robstown via UP trackage rights from Algora, Texas, just south of Houston.
---
During regulatory hearings on the Canadian Pacific-Kansas City Southern merger, BNSF expressed concerns about CPKC crimping volume at the Laredo gateway. CPKC pledged to keep Laredo open on commercially reasonable terms and said it welcomed more interchange traffic.
The new competitive landscape — including new and improved cross-border intermodal services — has played out like CPKC thought it would.
"They're all proving our thesis from day one. We told the STB … we told our customers that we're going to be a disrupter. We're going to create more competition," CPKC Chief Marketing Officer John Brooks told an investor conference on Tuesday. "The better products we put in place, our competition is going to have to react. And I think that's exactly what we've seen."
Customers appreciate having more rail options, he adds, including CPKC's new single-line service.
"At the end of the day, a single-line haul, one-stop shop, fastest service in the industry matters. It usually wins," Brooks says.
Kansas City Southern de Mexico has long been the dominant intermodal player in the country. "The routes are good, the capacity is strong, and the service product in the marketplace has traditionally outperformed," Brooks says. "And we expect the same going forward."
BNSF's move away from CPKC is the latest intermodal domino to fall from the April 14 combination of CP and KCS.
In October 2022, UP booted CP from the EMP domestic container pool. Canadian National then became the only Canadian railway in the container pool that's used across North America.
CPKC this year won Schneider and Knight-Swift cross-border intermodal traffic, which previously had moved on UP. Schneider and Knight-Swift became anchor customers on CPKC's premium Mexico Midwest Express service linking Chicago with Texas and points in Mexico, which launched in May.
CN, UP, and Ferromex in May began interline cross-border Falcon Premium intermodal service that links CN's intermodal terminals in Detroit and Canada with points in Mexico.
UP last month announced it was beginning Mexico-Southeast interline intermodal service via the Memphis gateway and interchanges with both CSX and NS.
That service aims to give UP and its intermodal customers a head start on anticipated Mexico-Southeast intermodal service that CPKC and CSX aim to begin for Schneider and other customers – assuming regulatory approval of their deal to connect their networks in Alabama by acquiring and operating Genesee & Wyoming short line Meridian & Bigbee.
"This might be the first share shift away from CPKC," independent analyst Anthony B. Hatch says. BNSF and J.B. Hunt are scheduled to provide more details about the cross-border service at the RailTrends conference in New York this week.
Note: Updated at 12:45 p.m. Central on Nov. 14 to include new comments from CPKC Chief Marketing Officer John Brooks.