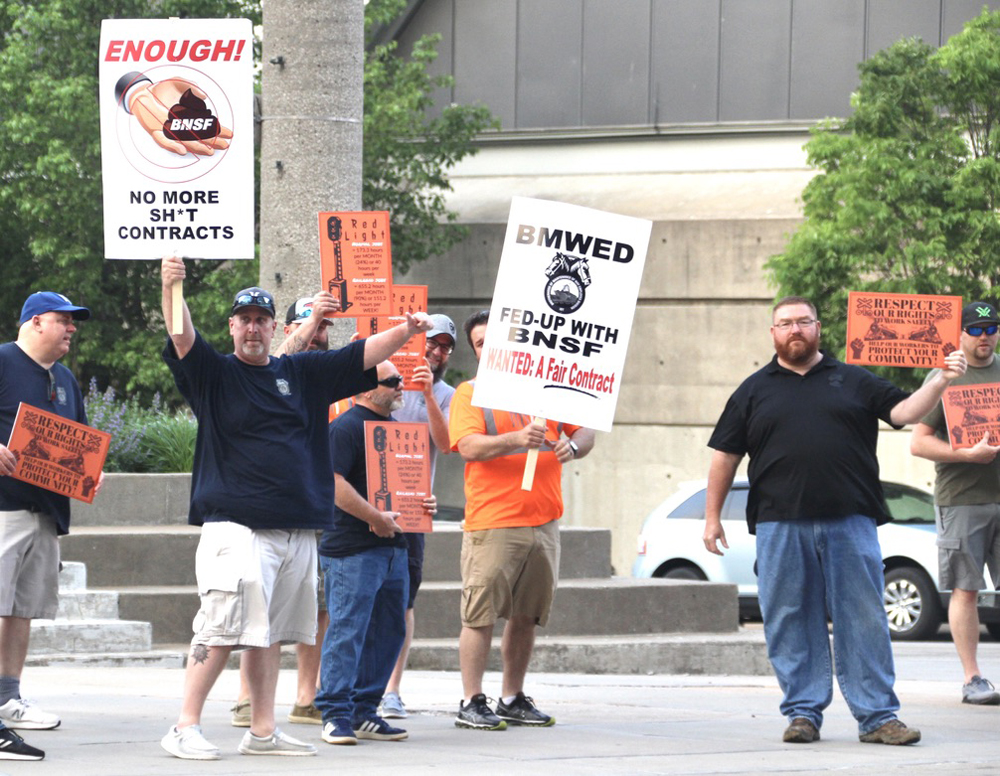 Railroad employees picket outside the North American Rail Shippers conference in Kansas City on May 10, 2022. Trains: David Lassen
---
WASHINGTON — President Joe Biden today signed legislation averting a railroad strike that would have shut down the national freight network and snarled Amtrak and commuter service.
"Our nation's rail system is literally the backbone of our supply chain, as you all well know. And so much of what we rely on is delivered on our rail, from clean water to food and gas and … every other good. A rail shutdown would have devastated our economy," Biden said.
The bill, which imposes the Presidential Emergency Board's contract recommendations and prevents a strike that could have begun on Dec. 9, did not include provisions from separate legislation that would have added paid sick time to the contract between the railroads and a dozen labor organizations.
"We ensured workers are going to get a historic 24% wage increase over the next five years, improved working conditions, and peace of mind around their healthcare," Biden said. "And, look, I know this bill doesn't have paid sick leave that these rail workers and, frankly, every worker in America deserves, but that fight isn't over."
Biden thanked Democrats and Republicans in Congress for swiftly passing the legislation.
"I know this was a tough vote for members of both parties," Biden said. "It was a tough — for me. But it was the right thing to do at the moment to save jobs, to protect millions of working families from harm and disruption, and to keep supply chains stable around the holidays."
Greg Regan and Shari Semelsberger, president and secretary-treasurer of the Transportation Trades Department of the AFL-CIO, said they were disappointed with the way matters were resolved.
"We are disappointed anytime the vote to approve a contract is taken out of the workers' hands. Even so, we cannot lose sight of the significant wins that are delivered to rail workers through this contract: a 24% pay raise with back pay, which is the biggest wage increase in 45 years; a $5,000 bonus for every worker; an increase in travel disbursements for maintenance of way workers; no increase in health insurance copays or deductibles; no changes to two-person crew staffing; and more," they said in a statement.
"Let's be clear what happened here: ultimately, freight railroads refused to bargain in good faith and did not listen to their workers. The rail industry's unchecked corporate greed and bad faith bargaining efforts forced this contract fight to run the full course of the Railway Labor Act, landing at the doorstep of the Biden Administration and the U.S. Congress," they said.
Four of the 12 unions representing rail workers rejected their tentative agreements with the railroads. Absent a deal with the railroads, the unions were prepared to walk out on Dec. 9.