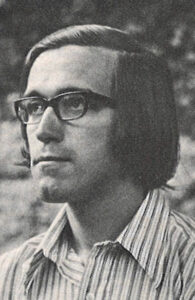 Tom Nelligan, who extensively rode, photographed, and wrote about Northeastern and Canadian railroads in the 1960s, '70s, and '80s, died April 9, 2021, at the age of 70. The author of seven books about railroading, he was also a frequent contributor to both Trains and Passenger Train Journal.
A native of Connecticut, Nelligan covered the final years of the New Haven Railroad in his home state, prior to attending both Boston College and Boston College Law School from 1968 through 1975. Nelligan would remain in the Boston area for the rest of his life, working in the region's technology sector.
Nelligan wrote several memorable stories for Trains, including "How PC+NH=PC" in January 1970, and "Railroad Commuters: Who Carries How Many Where?" in June 1977. In October 1972, the magazine published his "Trains Turntable" opinion piece "Dear Amtrak," a pointed critique of the then-new passenger carrier. His article brought sharp reactions.
Nelligan's byline was also a mainstay at PTJ. His brief history of the Budd Co., "Citadel of Stainless Steel," was the keynote article in the magazine's issue-length tribute to Budd in October 1981. Among his books were "New England Shortlines," published by Carstens in 1982, and "Route of the Minuteman," from Quadrant Press in 1980.
Following the 1986 publication by McMillan of his "Bluebirds & Minutemen: Boston & Maine 1974-1984," Nelligan largely dropped out of railroad publishing and focused his attention on music. He was a regular contributor to Dirty Linen magazine, a now-defunct journal of folk and world music, and is credited with promoting the careers of many folk musicians. He also had a deep interest in minor-league baseball, making a point to attend several games each season at various ballparks.
Friends of Tom Nelligan are involved in efforts to preserve his large negative and slide collection.