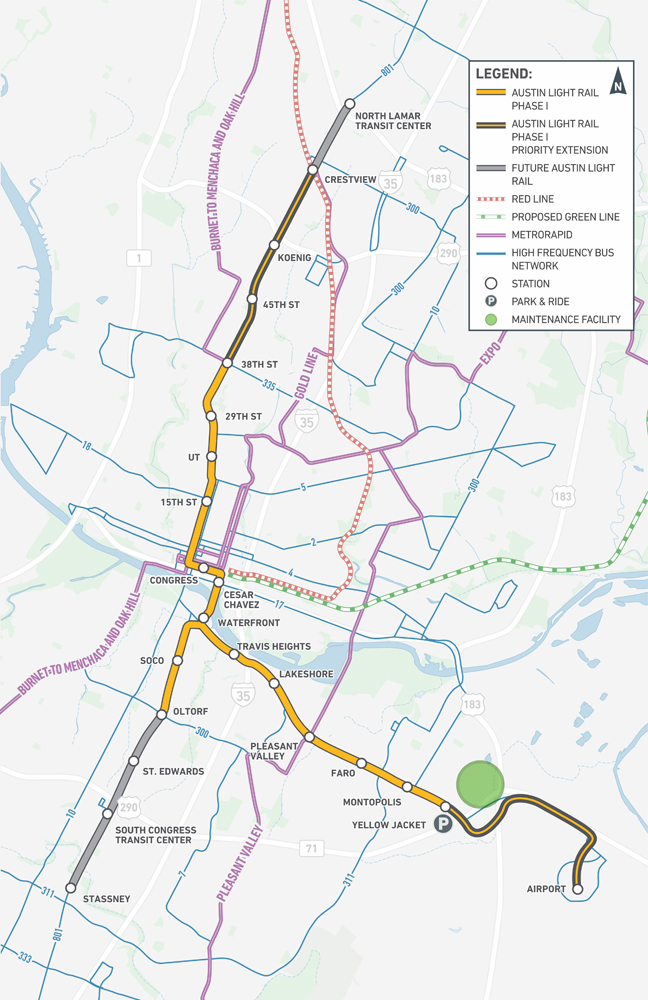 AUSTIN, Texas — Austin's City Council and the board of directors for its transit agency and the Austin Transit Partnership have formally adopted a plan for Phase I of the city's revised Project Connect light rail project, a 9.8-mile route to run from 38th Street in the city's Northwest to Yellow Jacket Lane in the east with a branch to Oltorf Street in the Southwest.
KXAN-TV reports the City Council, Capital Metro board, and Austin Transit Partnership board adopted the plan at a joint meeting Tuesday, following a recommendation made by a month ago by the ATP — an independent entity in charge of implementing the Project Connect program approved by voters in 2020.
The 15-station system is estimated to serve more than 28,500 riders daily and will cost $4.5 billion to $4.8 billion. The new plan comes after plans for the light rail system were paused in July 2022 to account for design changes, inflation, and increased real estate costs. It dramatically reduces the initial plan, removing a $2 billion plan for a downtown subway section, shortening its northern and southern legs, and no longer extending to Austin-Bergstrom International Airport, at least initially. Service to the airport would be a "priority extension," as would extending the northern leg from 38th Street to Crestview, where it would connect with the commuter rail Red Line. KUT Radio notes the new plan offers less than half the mileage of the original plan and a significantly reduced ridership estimate.
With Tuesday's approval, project staff will now advance planning and engineering, and finalize a draft environmental impact statement and financing plan. Completion of the environmental document is crucial for federal funding; KXAN reports roughly half of the project costs are expected to be covered by federal money.