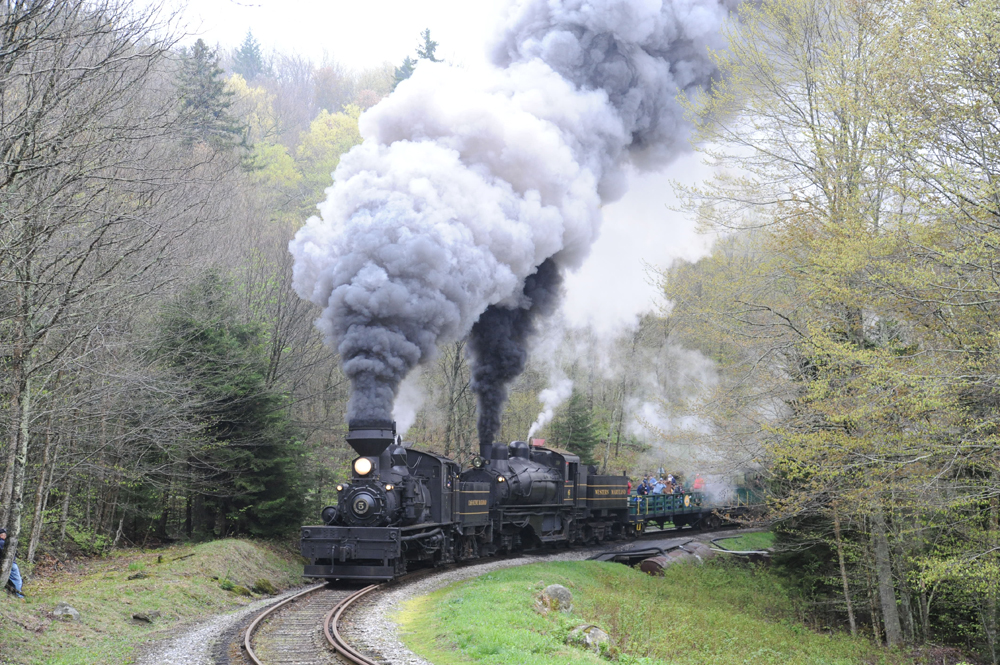 The year 2020 was not a good one for tourist railroads. The COVID-19 pandemic closed some lines and forced others to run at greatly reduced capacities. Amazingly, there have been few casualties among the well-established ranks of U.S. tourist railroads. Let's look at how one immensely popular scenic railroad made it through.
John Smith, president of Durbin & Greenbrier Valley Railroad, based in Elkins, W.Va., sums up 2020 with one word: dismal. The railroad operates the West Virginia Central (former Western Maryland), Cass Scenic Railroad, and Durbin Rocket (former Chesapeake & Ohio Greenbrier River Branch) in West Virginia and Shenandoah Valley Railroad (former Norfolk Southern) in Virginia. It hauled 84,000 passengers in 2019 but saw that number plummet to 22,000 in 2020. Of that number, about 14,000 rode Cass Scenic while 8,000 rode Durbin Rocket. The railroad's flagship trains, the New Tygart Flyer and Cheat Mountain Salamander, did not operate in 2020 due to COVID restrictions, reflecting the national trend. When epidemiologists learned that COVID spread most readily in enclosed spaces, like sealed-window passenger cars, even inveterate train riders stayed away. Railroads that offered open air cars, like Cass Scenic and Durbin Rocket, fared better, though they still experienced steep declines in ridership.
Durbin & Greenbrier Valley Railroad shares one big advantage with a few other tourist train operators (most notably Strasburg Rail Road in Pennsylvania): freight traffic accounts for all of Shenandoah Valley Railroad's income and a not insubstantial portion of the parent company. Other railroads made money storing freight cars for Class I railroads and private owners, but only a handful have viable freight operations to fall back on.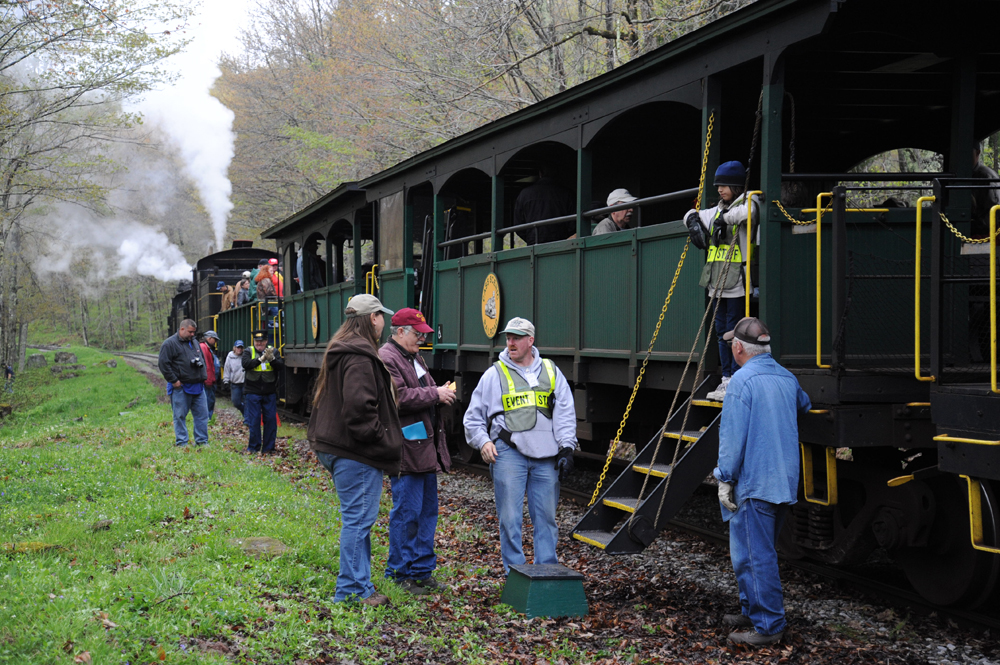 Smith says the West Virginia Central moves approximately 800 cars annually to and from the Appalachian & Ohio Railroad (P&L Transportation Inc.; former Baltimore & Ohio and CSX Transportation) interchange at Tygart Junction, W.Va., for customers in and around Elkins. WVC operates two freight trains (both called the Belington Local) every week, usually during daylight hours, and that frequency increases when road-salt shipments begin in June or July. Often, the prime movers of two or three elderly EMD locomotives (F7s, GP9s, and a BL2) put on quite a show moving 20 or more loads the 28 mostly upgrade miles from Tygart Junction to Elkins. On especially heavy traffic days, crews add locomotives.
Much of West Virginia Central's freight traffic is bound for the J.F. Allen limestone aggregate quarry just east of Elkins, which includes a road-salt storage and distribution facility that serves 30 West Virginia Department of Highways locations in 16 counties. The quarry also provides outgoing loads of stone and aggregate. Elkins Metal Recycling, which operates a busy scrapyard in Elkins, is another dependable customer; and other local industries, on and off line, furnish incoming or outgoing traffic.
Freight crews are called out of the WVC Belington yard, some 15 miles northeast of Elkins. All freight moves are controlled by a dispatcher located in Philippi, W.Va., 27 miles northeast of Elkins but just 6 miles from Tygart Junction, over radio frequency 160.455.
Smith says there is potential for additional freight business in the area served by West Virginia Central. American Industrial Partners operates a huge hardwood flooring manufacturing facility along the Dailey Branch in South Beverly, 9 miles south of Elkins. It could be the destination for log loads and the source of outbound finished wood products. A few years ago, United Coals subsidiary Carter Roag Coal Co. announced its intention to open a metallurgical coal mine on Roaring Creek, near Ellamore, 19 miles east of Elkins; it could provide hundreds of export coal loads annually. However, that development is currently stalled.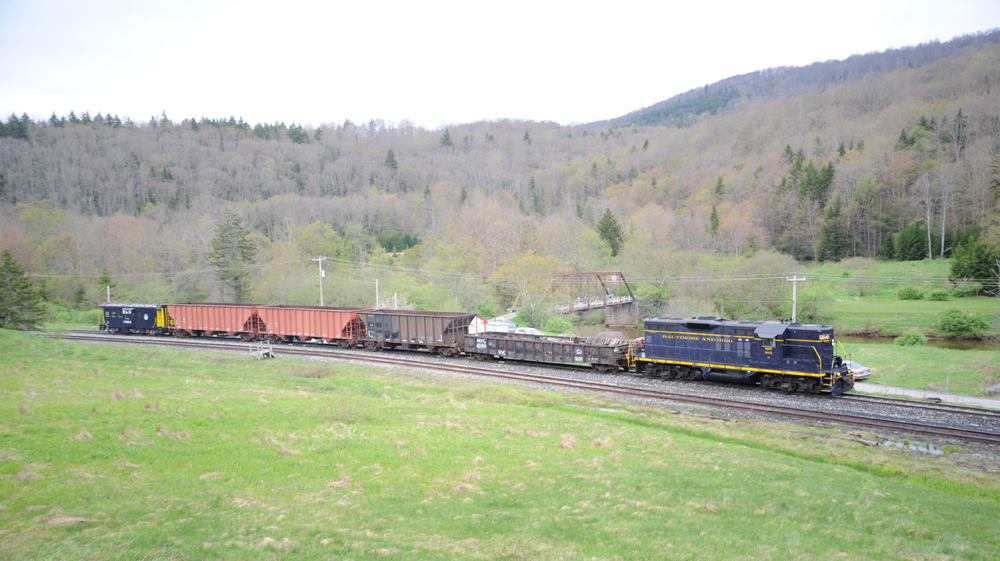 West Virginia Central's predecessor, Western Maryland Railway, extended as far south as Webster County, W.Va., and once served dozens of sawmills, coal mines, tanneries, and even chemical plants. By the late 1970s, only two sources of traffic remained— the Linan Mines near Cheat Bridge and the Hickory Lick Mine at Elk Springs, both of which produced valuable metallurgical coal. By 1994, those mines had closed, and CSX sold the old Western Maryland track to the state of West Virginia. West Virginia Central now operates to a connection with Cass Scenic Railroad at Spruce and, though the track beyond there is more or less intact, it is isolated by a mammoth washout. Smith says no online industries beyond that point would consider rail service. Any potential traffic would have to be transloaded, a complicated and expensive process.
While tourists still provide the bulk of the revenue for operator Durbin & Greenbrier Valley, freight earns a considerable and growing portion of total income. Every business strives for a balanced and diversified profit base and, for DGVR, that means more freight revenues to go along with those provided by passengers. The company has come a long way in a relatively short time, and is poised to reap the benefits of patient, alert marketing efforts. Durbin & Greenbrier Valley relies on well-maintained, first-generation diesel power for both WVC and Shenandoah Valley freight operations. Combined with a large stable of steam locomotives serving Cass Scenic and the Durbin Rocket, this multi-faceted organization is a treat for fans who enjoy watching and photographing classic diesels and steam power.