Thursday morning rail news in brief: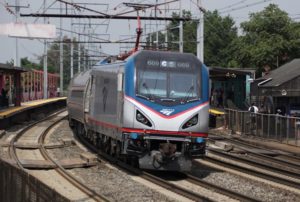 Amtrak restores one full Keystone Service round trip
Amtrak will restore one New York-Harrisburg round trip on its Keystone Service route as of Monday, with train No. 640, a 5 a.m. departure from Harrisburg, operating to New York while train No. 653 to Harrisburg departs New York's Penn Station at 5:10 p.m. The full Keystone Service schedule was suspended March 18 as Pennsylvania locked down because of the coronavirus pandemic; a modified schedule, operating only between Harrisburg and Philadelphia, has been in place since June 1 [see "Amtrak re-starting 'Pennsylvanian,' adding frequency to 'Keystone' service," Trains News Wire, May 21, 2020].
ASLRRA gives Moving Forward Act mixed grades
The American Short Line and Regional Railroad Association has offered a mixed response to H.R. 2, the Moving Forward Act, a $1.5 trillion bill which includes the transportation provisions previously known as the INVEST in America act. While approving of increased funding for Consolidated Rail Infrastructure and Safety Improvements grants, funding for short line safety assessments and training, and multimodal provisions of the National Highway Freight program, the organization expressed opposition to requirements for two-man crews, a blocked-crossings law, a ban on transport of liquefied natural gas by rail, and conversion of the INFRA infrastructure grant program into one that would not allow short line participation. The bill passed the house Wednesday by a 233-188, but is unlikely to be advance in the Senate. Senate Majority Leader Mitch McConnell (R-Ky.) said of the bill Wednesday that "this nonsense is not going anywhere" and called it "absurd." In addition to the surface transportation aspects of the original bill, it now includes funding for schools, rural broadband, and affordable housing, among other provisions.
Sound Transit receives two $100 million grants for light rail
Seattle's Sound Transit has received $100 million grants from the Federal Transit Administration for two light rail projects. U.S. Sens. Patty Murray and Maria Cantwell announced a $100 million grant for the Federal Way light rail extension, and a $100 million grant for the Lynnwood light rail extension, both from the FTA's Capital Investment Grant program. "These critical federal investments will help lay tracks for Puget Sound's continued recovery and growth on the other side of the COVID-19 pandemic," Murray said in a press release. Both extensions are slated to open in 2024.