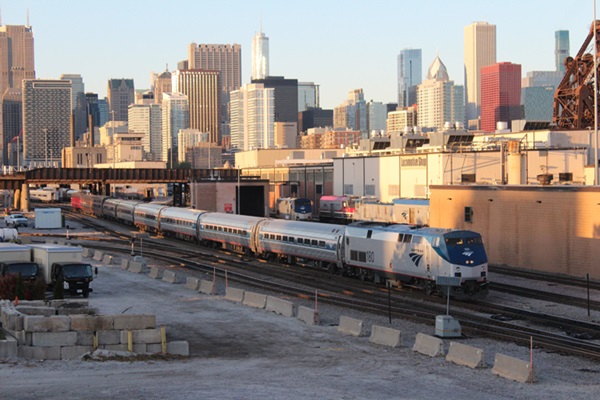 WASHINGTON — With all long-distance trains except Auto Train now running on less-than-daily schedules, Amtrak has finally introduced a booking feature on its website that automatically directs customers to the next available day when they request tickets on a day a train is not running.
Downloadable and printable schedules that reflect days of service for each station on a long-distance route are also available, though retrieving them is a somewhat cumbersome process.
"Our internal target was for both of these improvements to be made by the end of (October) and I am pleased to say that we achieved that goal," Amtrak spokesman Marc Magliari tells Trains News Wire, adding, "Other enhancements are underway."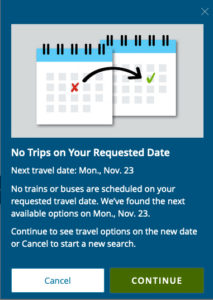 'Next travel day' feature
Although the message, "At least one portion of your trip is unavailable. Please try a different date and time," still greets travelers on the Amtrak mobile app, a pop-up screen now appears when reserving on the "Find Trains" portion of the full website that suggests the next date the proposed trip can be made.
The new feature works in conjunction with daily trains that operate on one connecting segment, such as a Detroit-Dallas itinerary, and will even direct passengers trying to reserve an Orlando-to-Chicago trip on a Wednesday to the following Tuesday, the only day of the week such a transfer from Florida through Washington or New York is possible. However, trying to book a Pittsburgh-to-Little Rock, Ark., journey generates a "No Amtrak service between the stations you selected" advisory because a same-day connection with the Texas Eagle isn't possible on any day from any train from the east.
Some apparent glitches remain. When trying to book a train that is fully sold out, as was the case Wednesday for the eastbound Capitol Limited from Chicago to Pittsburgh on both Thursday and Saturday of this week, the message, "Cannot read property 'alternate day option' of undefined" appears instead of "sold out." Coach seats were sold out until Thursday, Nov. 5, but a bedroom was available for $542 on Monday, Nov. 2. Magliari says the company is investigating this issue.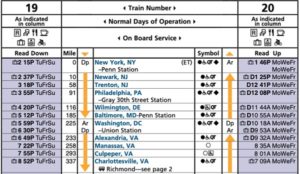 Accessing printed timetables
While Amtrak has revised downloadable timetables for long-distance trains to reflect triweekly operation, they aren't reachable via the website's "schedules" tab. That function continues to require the user to input origin, destination, and date; if a train isn't operating on the day requested, it too will show the next date the trip can be made, but has no availability, capacity, or pricing information.
Instead, a prospective traveler must click on the home page "Destinations" tab, which brings up a U. S. map. Clicking on a region then shows a list of trains serving that area — as in in the list of trains serving the South available here — and the customer can then click on a specific train, such as the Crescent, for a box offering route "map" and "schedule" buttons. This does require a customer to know which train they're looking for.
The company has so far not provided schedules that show regional and long-distance trains together on state-supported and Northeast Corridor routes.The only way to get that information is to input origin and destination for a specific day in the online booking system.
Except for the long-distance trains and current timetables for the three California-supported corridors, clicking the "schedule" button for services in all regions directs timetable inquiries to a catch-all "Service Adjustments Due to Coronavirus" page that provides no information, only how previous service has been affected.
Current schedules for some state-supported routes may be available on separate websites, such as that of the Downeaster, but some states, like North Carolina, have not updated the schedule for the Piedmont and show trains that are not running because of pandemic-related service cuts. The schedule for the Oklahoma City-Fort Worth, Tex., Heartland Flyer is available on its own website but not on Amtrak's, even though the train has continued to run daily. The only changes have affected its connections with the Texas Eagle, which now don't occur every day. The printed schedule Amtrak displays for that train shows displays the days of the week it operates but still contains a holdover note referring to daily service.