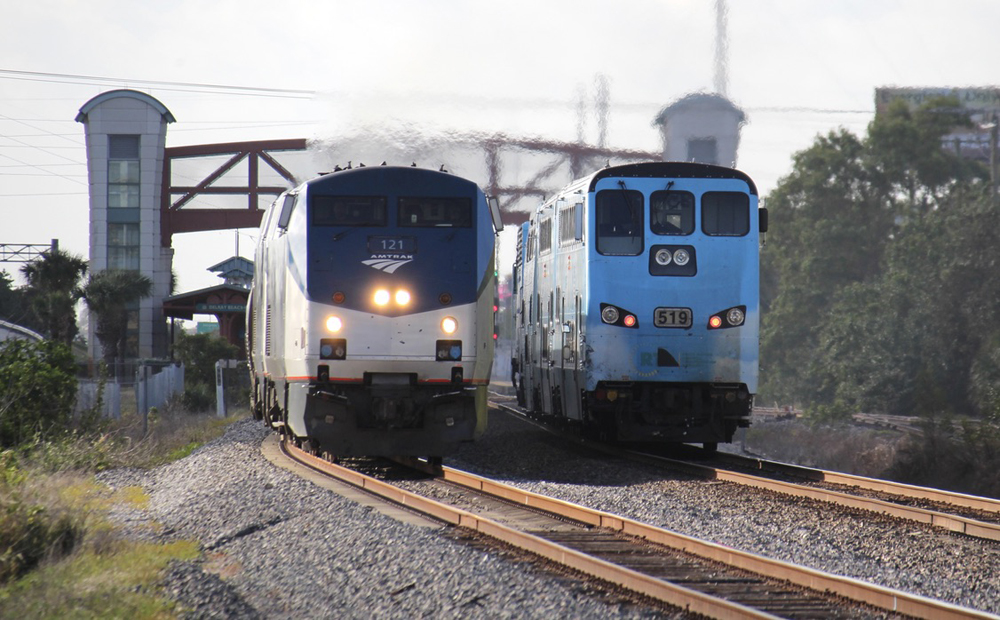 ---
WASHINGTON — In a Tuesday evening update to its original advisory, Amtrak has now cancelled all northbound and southbound departures of the New York-Miami Silver Star, and the Lorton, Va.-Sanford, Fla., Auto Train, through Friday because of the approaching Hurricane Ian.
Also cancelled is the Saturday, Oct. 1, northbound departure of the Silver Star from Miami.
Tuesday and Wednesday trains had previously been cancelled, along with Thursday's northbound Silver Star [see "Silver Star, Auto Train cancelled …," Trains News Wire, Sept. 26, 2022].
The storm, a category 3 hurricane with sustained winds near 120 mph as of Tuesday night, is projected to approach the west coast of Florida today (Wednesday, Sept. 28).
Orlando-area SunRail commuter service has been suspended indefinitely as of Tuesday. Preparations for the storm's arrival include the removal of crossing-gate arms at 126 locations; those must be put back in place, with track inspecgted and all debris cleared from within 4 feet of the track before service can resume.
In South Florida, Brightline said it will operate a modified schedule Wednesday with 12 departures, with its stations open with essential services. The company also announced all construction work in Central and South Florida has been halted. Scheduled work, including that at grade crossings, has been postponed until the storm has passed.
Miami-area commuter operator Tri-Rail said in a Tuesday evening Twitter post that that it will operate regular service on Wednesday.
A Norfolk Southern customer advisory says the railroad is operating as scheduled but "high winds and heavy rains could impact rail operations later this week."