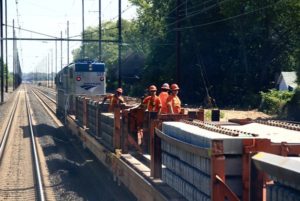 WILMINGTON, Del. — Amtrak, the Delaware Department of Transportation, and the Delaware Transit Corp. have completed a $71.2 million project adding 1.5 miles of third main track on the Northeast Corridor between Wilmington and Newark, Del. The project, which also includes bridge replacement and other improvements, eliminates a two-track section of the corridor.
"The completion of this project marks an important rail capacity expansion milestone on the Northeast Corridor, resolving bottlenecks which previously constrained SEPTA [the Southeastern Pennsylvania Transportation Authority] and Amtrak from operating service at maximum capacity," Amtrak CEO Bill Flynn said in a press release. "As we anticipate the return of pre-COVID-19 ridership growth, it is vital that we have the proper infrastructure in place to support a higher capacity railroad."
The project was funded with grants to the Delaware Transit Corp.  from the Federal Railroad Administration, Federal Transit Administration, and Federal Highway Administration, as well as Amtrak funds.
It is part of infrastructure work on Amtrak owned and maintained lines on the Northeast Corridor and in Michigan that this year includes more than 69,000 new crossties, 30 miles of welded rale, and 220 miles of track surfacing.