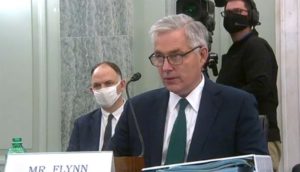 WASHINGTON — Amtrak is projecting fiscal 2021 ridership of just 9 million, a 72% decline from 2019's record 32.5 million passengers, CEO William Flynn told members of the Senate Commerce Committee, who expressed skepticism and concern over the move to three-day-a-week service for most long-distance trains.
In testimony submitted Wednesday morning, Flynn qualifies his estimate by saying that "these assumptions rely on an effective and widely-distributed vaccine becoming available by the middle of next calendar year — which we know is not a guaranteed outcome."
At that low passenger level, revenues would come in at just $598 million, 75% below 2019's $2.4 billion. Without drastic cuts to schedules and staffing that Amtrak has begun to implement, Flynn said the railroad would burn through $250 million a month in cash. He made it clear that Amtrak was on a path to insolvency if that continued.
"At this rate of cash depletion, Amtrak would be forced to take even more drastic measures with long-lasting impacts on our company, our employees, and our network," Flynn told the committee. He noted that while ridership has improved from April lows of 4,000 daily riders, Tuesday's passenger count was 17,000, far below pre-pandemic levels of 80,000 per day.
Senators questioned Amtrak's decision to cut long-distance service to three times a week for all but the daily Auto Train and four-times-weekly Silver Meteor.
"Part of the skepticism that occurs at least with me, and maybe my colleagues, is that previous CEOs of Amtrak were less committed to long-distance passenger service," Sen. Jerry Moran (R-Kansas) pointedly told Flynn. "So when the three-day [operation] arrives it raises concerns that this is another circumstance in which we're just being played, that this is the continued effort to eliminate or significantly diminish the service."
Committee Chairman Roger Wicker, R-Miss., repeatedly questioned Flynn on restoration of train service along the Gulf Coast: "Mr. Flynn, are you as committed as I am to restoring service to the Gulf Coast route from New Orleans to Mobile as soon as possible?"
That it has been 15 years since the Sunset Limited last ran east of New Orleans due to damage caused by Hurricane Katrina, in what was supposed to be a temporary discontinuance, haunts members of Congress, raising fears that recent service cuts may also become permanent.
Ranking Democratic committee member Sen. Maria Cantwell of Washington said, "We don't want to see what the Chairman's talking about — some incident that basically sets a course where service is curtailed and then it takes you 15 years to get it re-established."
Sen. Jon Tester (D-Mont.) worried that in the absence of reliable, daily train service, people would choose other travel modes and may not return to Amtrak when full service is restored.
Flynn said the company would evaluate ridership and finances in February to make any adjustments in schedules for the May timetable and insisted Amtrak would restore daily long-distance service "when financially possible."
Under questioning from Sen. Richard Blumenthal (D-Conn.), Flynn admitted that major infrastructure projects along the Northeast Corridor, including the Gateway program, are at risk. "There is certainly a potential for delay in moving forward with these long-needed projects absent a level of funding to support those capital investments," he said.
Lack of funding for capital projects could cause a further 700 layoffs, with 1,600 more due to lose their jobs without additional funding to maintain state services. Amtrak is currently furloughing 2,000 union workers and 100 managers, bringing the potential total to 4,400.
Dennis Pierce, testifying for the Teamsters Rail Conference, said that Amtrak expects to furlough nearly a quarter of its passenger engineers, including all student engineers.