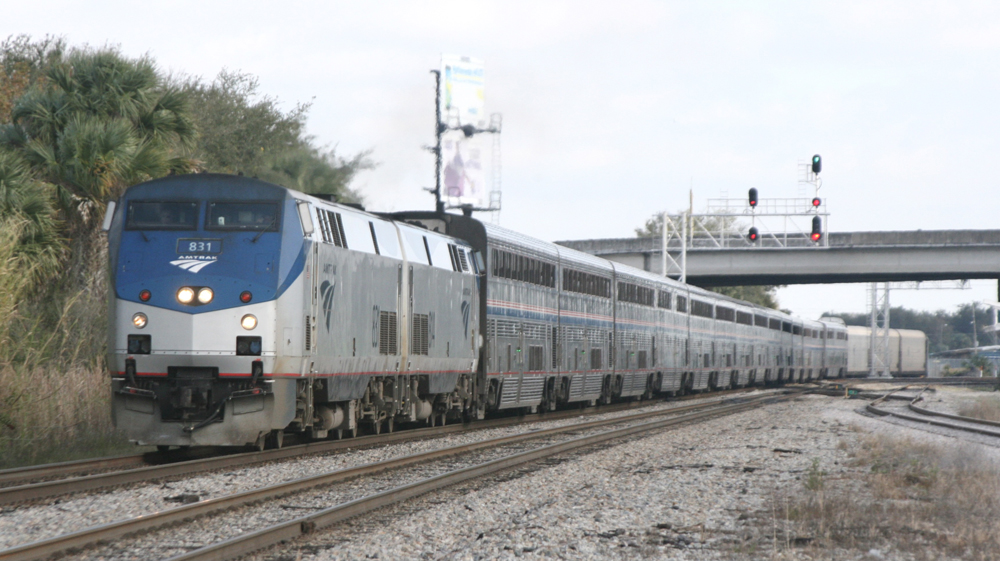 ---
WASHINGTON AND MONTREAL — U.S. and Canadian national passenger rail operators are joining the Black Friday markdown blitz for travel beginning as early as next week and as late as June 30, 2023, depending upon the route. For both Amtrak and VIA Rail Canada, the deals are available only through Monday, Nov. 29, at midnight.
Trains News Wire has analyzed how "fine print" restrictions affect the advertised offerings throughout the availability dates.
Auto Train bargains are significant
For travelers able to pick the exact dates they want to travel, Amtrak is offering substantial Auto Train price reductions in both coaches and sleeping cars. Previous Black Friday promotions offered systemwide discounts through first quarter of the following year, but that makes no business sense now on other routes, most of which management says will have reduced capacity through Sept. 30, 2023.
Sale dates for the unique Virginia-Florida service are designed to exclude high-demand periods in each direction when winter season "snowbirds" typically migrate (and may have already bought their tickets). Blackout dates around holiday or other typically busy periods when lower fares are not offered are also listed: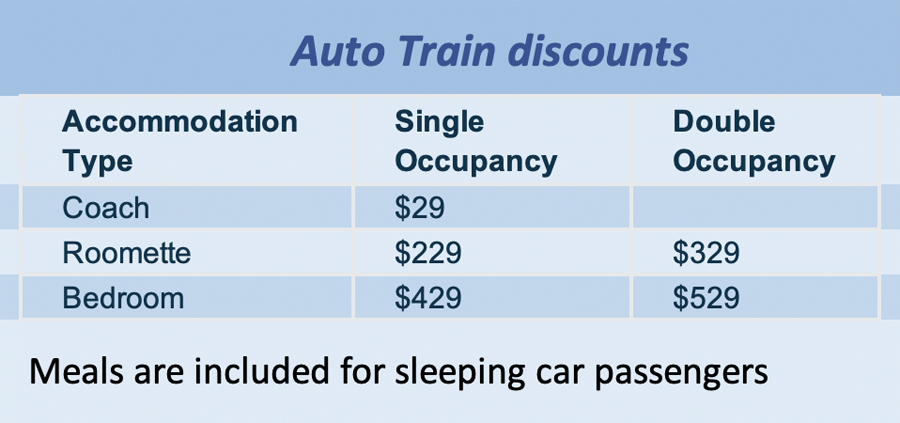 Southbound discounts: Jan. 16 through June 30, 2023
Blackout dates: Jan. 30-Feb. 1; Feb. 16-18; Feb. 28; March 31-April 8
Northbound discounts: Nov.  30, 2022, through March 23, 2023
Blackout dates: Dec. 19, 2022-Jan. 2, 2023; Feb. 24-March 1, 2023
Fares do not include the cost of a standard vehicle, which adds $225 in the off-peak direction and $285 in the peak direction (the flip occurs in mid-March)
By way of comparison, when Trains News Wire evaluated pricing on Nov. 25, adult fares during the northbound blackout between Dec. 30, 2022, and Jan. 2, 2023, were $280 for a coach seat (60-90% sellout); $708 for a single-occupancy roomette; and $648-$770 for a single-occupancy bedroom. On dates when inventory approaches or is likely to approach sellout, these are this season's typical rates. The disparity between a roomette accommodation and more spacious bedroom (with enclosed bathroom and shower) is because each Auto Train operates with at least two Superliner sleepers that have all bedrooms on the upper level.
Surveying non-blackout dates, $29 coach fares were prevalent throughout, but on some days that fare was offered, roomettes might be priced at $482 or $708 and bedrooms in the $1,255–$1,376 range. So Auto Train shoppers must know discounts are clearly keyed to accommodation-specific sellouts on each trip.
VIA: 25% reductions include long-distance sleepers
Though Canada celebrates its Thanksgiving in October, VIA Rail Canada's sale coincides with its U.S. counterpart. Unlike weekly "discount Tuesday" reductions —typically are in the 10% range on Windsor, Ontario-Quebec City Corridor and Business Class fares — the current 25%-off sale extends to regional and long-distance service.
With a "good on select departures" caveat, VIA's discount period begins Dec. 1, 2022, and lasts through Feb. 28, 2023 ,on the corridor and April 14, 2023, elsewhere. The reduction applies to both economy "escape" and Business Class corridor fares; elsewhere, 25% off applies to economy fares and all sleeping car accommodations as long as they are available on a given date. A "VIA2022" discount code automatically appears on VIA's website  during the booking process.
The biggest bargains can be found on the pricey Canadian, where a tax-included "cabin for one" (roomette), occupied four nights with meals included from Toronto to Vancouver, British Columbia, is C$1,671.27 (about $1,250 U.S.) on Jan. 6 compared with C$2,537 ($1,897) on April 26. A lower berth on the same dates costs C$1,106 in January compared with C$1,894 in April. Alas, there are no discounts on the train's Prestige Class.
A 25% discount is also available on the Montreal-Halifax, Nova Scotia, Ocean. Although the train now operates all year with HEP-1 stainless steel Budd Co. coaches dating from the 1950s, Chateau sleeping cars of the same vintage are augmenting Renaissance sleepers on the train's triweekly holiday departures Dec. 18-Jan. 4 eastbound and Dec. 21-Jan. 6 westbound.
The cars offer berths, cabins for one, cabins for two (bedrooms) and cabins for three (drawing rooms with two lower berths). A sale-priced Halifax-Montreal cabin for one is C$373 ($279 U.S.).