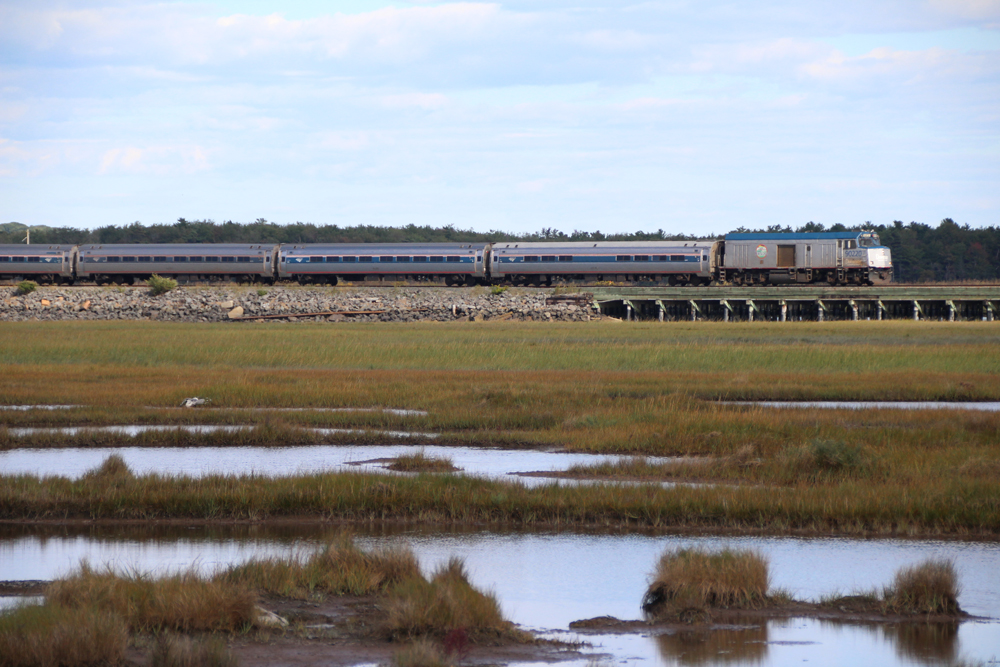 ---
WASHINGTON — Amtrak on Friday asked federal regulators to impose seven conditions on CSX Transportation's proposed acquisition of Pan Am Railways, arguing that they are needed to protect current and future passenger service in New England.
Dennis Newman, Amtrak's executive vice president of strategy and planning, made the request during the second day of a public hearing on the merger despite CSX's recommendation that the board accept the conditions.
In a letter to regulators on Wednesday, CSX asked the board to include Amtrak's conditions as part of its approval of the Pan Am acquisition. CSX did, however, say that the launch of proposed seasonal Albany, N.Y.-Pittsfield, Mass., Berkshire Flyer service would hinge on construction of a 1,000-foot station track in Pittsfield.
Amtrak welcomed CSX's commitment to host Berkshire Flyer service, Newman says, but several questions remain.
"We will need CSX to explain why it believes capital investment is necessary for Amtrak to operate 80 passenger trains a year over a 40-mile segment of CSX's Albany to Worcester line when CSX has agreed to allow Norfolk Southern to operate 730 nearly 2-mile-long trains a year over the entire 160-mile line without any capital investment or capacity study," Newman says.
If the merger is approved, Norfolk Southern will receive new trackage rights over the B&A from the Albany area to Worcester, Mass., for its daily pair of intermodal and automotive trains. The intermodal trains will shift to the faster and fully cleared B&A from Pan Am Southern's former Boston & Maine main line via Hoosac Tunnel.
Amtrak also said it was unclear whether CSX's commitments are related only to Pan Am Railways or if they extend to Pan Am Southern, the 425-mile joint venture with NS that includes former B&M trackage west of Ayer, Mass. Amtrak operates over Pan Am Southern north of Springfield, Mass., in the so-called Knowledge Corridor.
Newman disputed CSX's assertion that on-time performance for Amtrak trains it hosts has risen to above 90%. That figure, Newman says, was based on contract performance metrics — not the actual on-time performance passengers receive. Instead, 60% of routes Amtrak operates over CSX do not meet the new Federal Railroad Administration on-time performance standards.
Newman also said CSX incorrectly says that it will add positive train control to the Pan Am Railways trackage that hosts the Downeaster route in New Hampshire and Maine. That project, Newman says, was already in the planning stages before CSX announced the Pan Am acquisition. Amtrak also will pay the lion's share of the project's cost, he says.
STB Chairman Martin J. Oberman said the board would prefer that Amtrak and CSX iron out their differences and reach an agreement, rather than having the board impose one.
Board members questioned why conditions would be needed when existing regulations and laws already cover Amtrak access to freight railroad lines, passenger train priority over freight traffic, as well as on-time performance standards. And Vice Chairman Patrick Fuchs noted that the board has never imposed passenger-related conditions as part of a merger of freight railroads.
Newman says Amtrak has had difficulty expanding passenger service on freight railroads as well as ensuring that on-time performance standards are met.
The passenger railroad, in conjunction with Massachusetts and other states, aims to launch new and expanded service linking Albany and Boston; Boston and Concord, N.H.; more frequent Downeaster service between Boston and points in Maine; and Inland Corridor service linking Boston and New York with Worcester, Springfield, and Hartford via New Haven.
The Massachusetts Department of Transportation and Massachusetts Bay Transportation Authority also asked the board to ensure that CSX lives up to its commitment to ensure that the merger will not negatively affect existing and planned commuter service in the state.