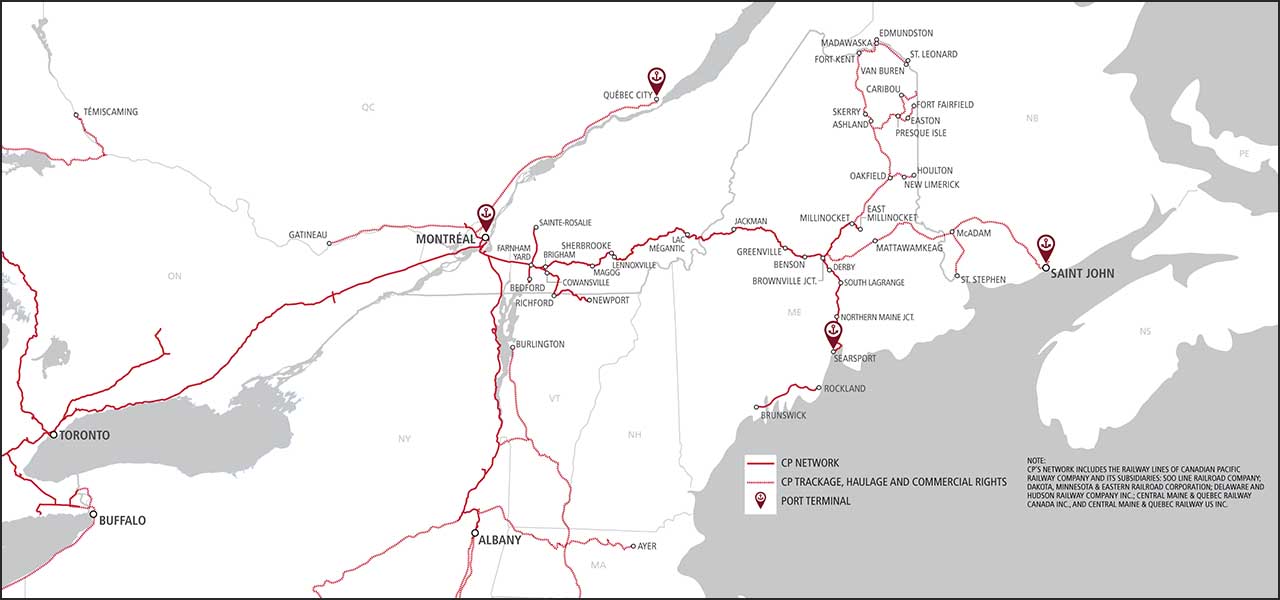 CALGARY, Alberta – A year after acquiring regional railroad Central Maine & Quebec – and regaining a part of its historic shortcut linking Montreal and the Atlantic – traffic growth is exceeding Canadian Pacific's expectations.
CP's plans to gain transatlantic international intermodal business from Port Saint John, New Brunswick, have come to fruition. New finished vehicle traffic for the Atlantic Canada market sold out soon after launch. And growth in carload traffic, from propane to lumber, has topped the railway's forecasts.
Overall traffic volume has ramped up 50% more than what CP was predicting, Coby Bullard, CP's vice president of sales and marketing for merchandise, energy, chemicals and plastics, said in an interview this week.
CP fully acquired the CMQ on June 3, 2020, giving CP direct access to Maine and Atlantic Canada for the first time since spinning off the trackage in 1995. The CMQ main runs 262.7 miles from the outskirts of Montreal to Brownville Junction, Maine. The Class I railroad reaches New Brunswick and Saint John via a connection with J.D. Irving short lines Eastern Maine Railway and New Brunswick Southern at Brownville Junction.
Container line Hapag Lloyd kicked off the first weekly transatlantic service to Saint John last month when the Liverpool Express docked at the port on May 27. The vessel, with a capacity for 4,401 twenty-foot equivalent units, the standard measure of international containers, was laden with imports from the Mediterranean bound for Toronto, Detroit, and Chicago.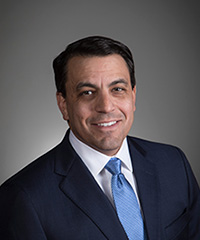 Maersk has made four test runs to Saint John in anticipation of launching regular transatlantic service. "They've been working with us on trying out the service," Bullard says. "I expect to see more potential test vessels, with the hopes of getting them to sign up for a permanent call. It's still early in the game on that."
The containerport is undergoing a $205 million expansion that will double annual capacity to 300,000 TEUs by 2023. The project includes a second berth, expanding on-dock rail to 8,000 feet from 3,600, and enabling the terminal to handle ships up to 10,000 TEU from the current 6,500. Longer-term plans include potential expansion to 800,000 TEU.
Saint John can currently handle two weekly transatlantic services along with its existing CMA CGM service to the Caribbean and Latin and South America. "We're excited about hopefully bringing on that second service later this year," Bullard says.
CP has been able to handle the westbound intermodal traffic in existing road freight 251, which connects with Montreal-Chicago intermodal train 143 in Montreal. CP has extended the train's eastbound counterpart, Chicago-Montreal train 142, to Brownville Junction and a handoff to the Irving short lines for the 189.5-mile run to Saint John.
Container volume at Port Saint John may get a boost from recent bouts of labor unrest and low water levels at the Port of Montreal as well as a trend for shippers and cargo owners to diversify their supply chains. The pandemic and related shocks to the global supply chain has only reinforced the need for more resilience that can come from multiple entry points to North America.
"Everybody that we're talking to is looking at how they can increase their redundancy, reduce their risk, and improve their flows," Bullard says, noting that officials from the port, terminal operator DP World, and Irving are all working with CP to develop new service.
Autos and Carload Up
Last summer CP began moving Kia and Hyundai vehicles to the auto terminal in Saint John. "Within two weeks of starting up we had sold out and we're doing about two and a half times the volume we expected to do," Bullard says. "And so we thought we would start that up and have room to maybe do more business with other customers."
Instead CP is now working with the port and Irving to develop a new, expanded auto ramp to handle other manufacturers' vehicles.
Propane traffic, which originates on CP in Alberta and used as a heating fuel in New England and Atlantic Canada, was up substantially. "That's probably exceeded our expectations by about 40%," Bullard says. He attributes the growth to CP's ability to provide single-line service and working with customers on efficiently spotting their facilities during peak season.
Lumber and forest products traffic, long the backbone of rail traffic in Maine, also have grown, Bullard says.
Raising Track Speeds
CP is ahead of schedule with trackwork that will boost the former CMQ main line to FRA Class 3 standards. The goal is to have the entire Montreal-Brownville Junction track speed raised to 40 mph, up from 25, by the end of the year.
The railroad has completed about 40% of its $90 million track rehab program on the Adirondack, Sherbrooke, and Mooshead subdivisions, which should be about 65% complete when trackwork season winds down later this year.
"We're already seeing track speeds increase, we're already seeing safety increase," Bullard says. "So we're starting to see a lot of those benefits through the tie work we're doing, and the next piece will be the rail work."
CP aims to exploit its shortcut from Saint John to major markets, which is roughly a 270-mile advantage compared to Canadian National's route around Maine. "Ultimately we want to build a 24-hour product to Montreal, a 48-hour product to Toronto, a 72-hour product to Chicago, and leverage that route mile advantage to win in the marketplace," Bullard says. "And so it's purely going to be on speed, service, safety, and efficiency."
Safety is a key issue for the community of Lac Megantic, Quebec, site of a horrific 2013 crude oil train runaway and derailment that killed 47 people and leveled part of downtown. The railroad at the time was regional Montreal Maine and Atlantic.
Last month Transport Canada signed an agreement with CP to move forward with the Lac Megantic bypass project to reroute the main around the town. Transport Canada says the bypass, funded by Ottawa and the province of Quebec, is on an accelerated schedule and should be complete in 2023. Engineering and environmental studies are under way, along with negotiations on land acquisition for the new right of way.