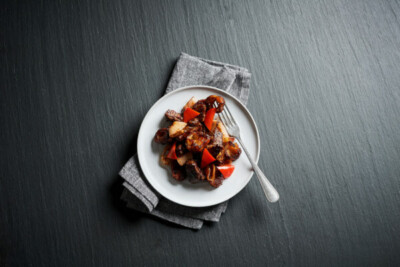 NEW YORK—Amtrak has enlisted the STARR Restaurant Group to enhance food choices aboard its Acela first-class service between New York and Boston.
STARR's corporate umbrella covers 32 separately-branded restaurants representing a wide variety of cuisines. Of these, 19 are located in the Philadelphia area, which is home to the group. The remaining locations are in New York, Washington D. C., and South Florida.
In an announcement late last week, group owner and CEO Stephen Starr professed to be a frequent Acela first-class customer who is "excited to offer my fellow travelers restaurant-quality meals inspired by our popular restaurants in Philly and New York." An upgraded wine selection and fresh pastries from local bakeries have also been added to the recently-changed menus.
Posted on Amtrak's website, the specialty dishes cross-promote the STARR restaurant that serves them. For instance, the "Wok-tossed Black Pepper Beef" lunch and dinner entrée on one of three rotating menus comes from STARR's Buddakan Asian-French eatery in Manhattan.
Other Acela first-class selections were updated following a late-April Trains News Wire journey. Shortly after that trip, a surprisingly detailed questionnaire was sent to solicit opinions about what was ordered, indicating Amtrak has sensed adjustments might be needed.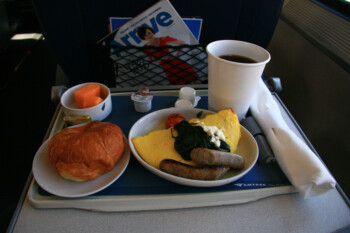 The changes are the latest iteration of Acela first-class quality ups and downs. When hot entrées and staff were cut in early 2002 as the company flirted with bankruptcy, Acela first-class revenue plummeted. David Gunn, Amtrak president at the time, evaluated the results and promptly ordered personnel and premium items restored.
Beginning in 2009, Amtrak enlisted celebrity chefs to contribute unique culinary creations for both Acela first-class and long-distance train dining cars; their offerings were fine-tuned in the company's Wilmington, Del., test kitchen with Amtrak chefs and outside food suppliers before introduction. The program became a casualty of management cost-cutting after the Amtrak Board of Directors approved hiring CEOs Wick Moorman, Richard Anderson, and their successors.
A bare-bones assortment of hot dogs, chips, and sandwiches was served in Acela first class for months following the trainsets' Covid-19 service suspension. Although full meal service was restored in 2021, the quality never rose to "cut-above" levels offered prior to the pandemic.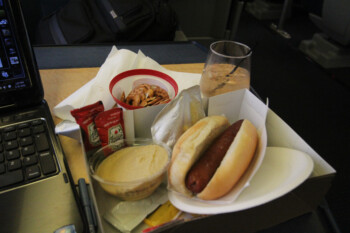 First-class pricing fluctuates with Acela business-class sell outs. The New York-Washington, D.C., first-class fare is pegged at $172 above whatever the Acela business class fare happens to be for each train. Depending on the departure, the first-class fare range between those two cities on May 22, 2023, was $398 to $509 in Acela first and $226 to $337 in Acela business, compared with $138 to $206 in Northeast Regional coach class. This works out to a 50% to 76% first-class boost over Acela business for 2-1 seating plus free alcoholic beverages and one or two meals.
With that pricing premium, it is clear that Acela first class patronage is "quality sensitive." Restauranteur Stephen Starr's frequent Acela trips likely played a role in the mutual decision to collaborate on enhancing that product element.