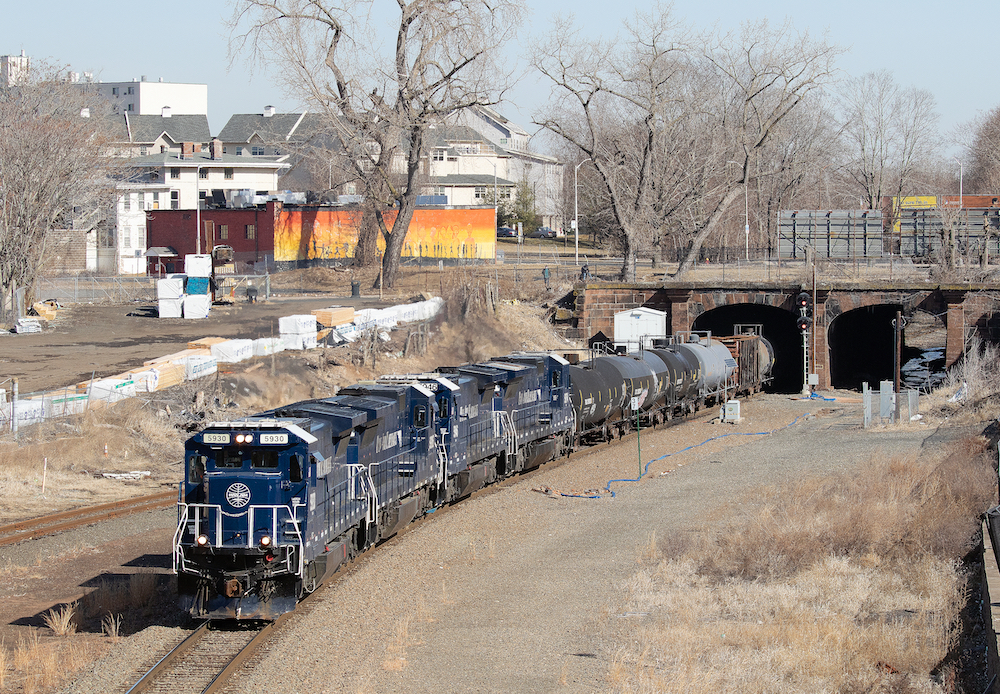 ---
JACKSONVILLE, Fla. — CSX Transportation has made major upgrades to Pan Am Railways' physical plant since acquiring the New England regional a year ago — and there's more to come as part of its two-year plan.
"Since the CSX acquisition of the former Pan Am Railways, significant progress has been made to improve the physical plant of the network, including modernizing infrastructure and improving efficiency to create a safer, more reliable operation," spokeswoman Sheriee Bowman says. "To date, CSX has invested $57 million in infrastructure improvements with plans to invest $50 million this year."
Several projects have been completed on Pan Am Railways' run-down main line and yard trackage since the June 1, 2022 acquisition. Among them:
Rehabilitation of the Worcester Main Line between Worcester and Clinton, Mass., including installation of continuous welded rail and replacement of all crossings and turnouts. The track now meets Federal Railroad Administration Class 2 standards, so the maximum authorized speed was raised to 25 mph from 10 mph. Next up: Installation of welded rail from Clinton, Mass., to Harvard, Mass., which will allow a speed increase to 40 mph from the current 25.
At the former Maine Central Rigby Yard in South Portland, Maine — the largest classification facility in New England — CSX installed 50 new turnouts, more than 20,000 crossties, and surfaced more than 98,000 feet of track, and improved walking conditions. Rigby classifies traffic bound to and from Maine and the Canadian Maritimes. CSX says the work improved the safety and fluidity of the yard, and reduced the number of minor yard derailments that historically plagued the location.
In Ayer Yard in Massachusetts a series of projects increased capacity and fluidity of the yard. Ayer Yard is the interchange point for CSX and Pan Am Southern, the joint venture with Norfolk Southern that includes the former Boston & Maine main line west of Ayer. Ayer also is a strategic point on CSX: It's where the Pan Am Railways corridor to New Hampshire and Maine begins.
Extensive upgrades to the Freight Main Line from Portland to the end of Pan Am trackage in Mattawamkeag, Maine, including tie replacement and surfacing, installation of continuous welded rail, increased capacity, and installation of new defect detectors.
Elsewhere, CSX has made changes to Pan Am shops, dispatching, and safety. CSX also successfully cut over its information technology systems on Jan. 23, which is says simplifies interaction with customers.
"The heavy repair shop in Waterville, Maine, has been reconfigured to focus on maintaining and rehabilitating CSX power and returning it to service throughout the system," Bowman says. "Since this reconfiguration, 27 locomotives have been returned to service."
CSX is replacing the Pan Am dispatching system that directs traffic across its system in New England, including on Pan Am Southern and the Massachusetts Bay Transportation Authority.
"CSX is making this investment to address the safety and operational risks that exist due to the age of the Pan Am dispatch system, and is coordinating with the local commuter rail agency to ensure that implementation does not impact passenger operations," Bowman says. "This dispatch system will ultimately be replaced with the new systemwide CSX dispatch system that is currently in development."
CSX has stepped up the operational testing program and provides more coaching to address risk factors rather than taking a disciplined-based approach to rule violations. The aim, CSX says, is to teach employees better safety practices. The railroad also is conducting safety blitzes as risk factors are identified.
Traffic has been stable for the past six months on Pan Am Southern's Patriot Corridor, which for regulatory reporting purposes includes the former B&M main from Mechanicsville, N.Y., to Ayer, Mass., as well as the Rotterdam Branch that joins CSX's former Water Level Route at Rotterdam Junction, N.Y.
It was not clear how Pan Am Railways volume has changed over the past six months: Traffic data was redacted in CSX's June 1 update to the Surface Transportation Board. But CSX says it expects traffic to grow as upgrades are completed and service reliability improves.
"It's still early on the volume side," CSX CEO Joe Hinrichs said in an interview. "The capital projects are on plan. We're getting the network up to our standards. … we're not there yet, but we're on plan."
Hinrichs says he sees opportunity for CSX to tap into the growing Port of Saint John in New Brunswick once capital improvements are complete across the Pan Am Railways system. CSX inherited Pan Am's haulage rights agreement with Irving Co. short lines Eastern Maine and New Brunswick Southern, which serve the port.
CSX and Genesee & Wyoming are still negotiating with unions representing workers on Pan Am Southern, which is currently operated by Pan Am subsidiary Springfield Terminal. Once agreements are reached, G&W's Berkshire & Eastern will take over as a neutral operator of the railroad.
It's taking longer than expected to reach labor agreements, Hinrichs says.
ST has 14 crafts of employees represented by a dozen unions. Implementing agreements have been reached with six unions: the International Association of Sheet Metal Air Rail and Transportation Workers-Transportation Division (SMART-TD),representing the conductor craft; the Brotherhood of Locomotive Engineers and Trainmen; the American Train Dispatchers Association; the Transportation Communications International Union; the International Brotherhood of Boilermakers; and the International Federation of Professional and Technical Engineers. ST and B&E have also reached a tentative implementing agreement with the International Brotherhood of Electrical Workers. The agreements cover approximately 228 employees and represent more than 50% of the ST labor workforce.
ST and B&E remain continue to negotiate implementing agreements with ST's remaining unions, which include the Brotherhood of Railway Carmen; the Brotherhood of Maintenance of Way Employees Division IBT; the Brotherhood of Railroad Signalmen; the International Association of Machinists; the International Association of Sheet Metal Air Rail and Transportation Workers– Mechanical Division (SMART-MD), and SMART-TD representing the patrolmen and the laborers.
Of these unions, only the BRC, the BMWED, the BRS and the IAM require implementing agreements necessary for B&E to begin operating Pan Am Southern. ST and B&E have filed arbitration notices and begun the mandatory New York Dock arbitration process with each of these four unions to ensure implementing agreements are reached in the event the parties can't mutually agree on voluntary terms.
CSX acquired the privately held Pan Am system on June 1, 2022, for $601 million. The deal added New Hampshire, Vermont, Maine, and, via haulage rights, Saint John, New Brunswick, to the CSX map while expanding its reach in New York, Massachusetts, and Connecticut.