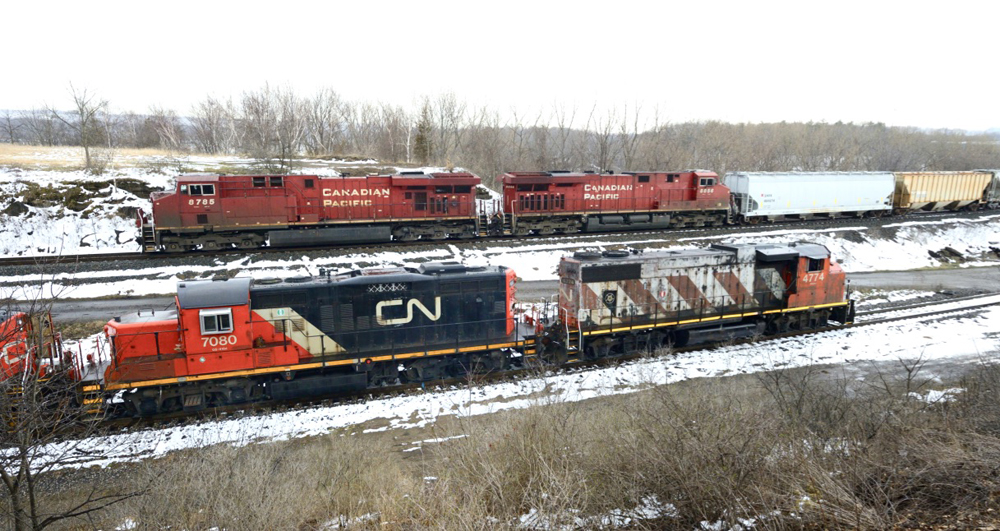 WASHINGTON — If Canadian National's rival bid to acquire Kansas City Southern succeeds, Canadian Pacific would be forced to set off the final wave of railroad consolidation by seeking a merger partner.
CP provided this warning in a letter to the U.S. Surface Transportation Board on Wednesday, a day after CN announced that it, too, would seek to acquire KCS to create the first railroad linking Canada, the U.S., and Mexico. The KCS board is reviewing CN's $33.7 billion offer.
"A CN/KCS transaction would … destabilize the balance in the North American rail network that has prevented further consolidation of the six largest railroads for two decades. The CN/KCS transaction would eliminate CP's friendly connection at Kansas City (converting a joint CP-KCS yard to a facility shared with CN). In the process, it would severely weaken (if not destroy) the viability of CP's lines through southeastern Iowa and northern Missouri and leave CP an asymmetrically disadvantaged 'odd-man-out' in a six-railroad North America. Completion of a CN acquisition of KCS would create tremendous strategic pressure for CP to find a way to expand its market reach through further consolidation," CP's lawyer, David L. Meyer, wrote to federal regulators.
The $29 billion CP-KCS combination, announced last month, is the only potential merger involving KCS that would not spark a final round of railroad mergers, CP says.
"A CP/KCS transaction diminishes the pressure for downstream consolidation by preserving the basic six-railroad structure of the North American rail network: two in the West, two in the East, and two in Canada, each with access to the U.S. Gulf Coast," Meyer wrote. "By contrast, a CN/KCS transaction would fundamentally disrupt this balance."
CP said the board should review a CN-KCS merger, should it progress that far, under its tougher review rules.
After a wave of mergers in the 1990s led to widespread service problems, the STB tightened its merger rules in 2001. Under those rules, any merger involving Class I railroads would have to enhance competition and the merging railroads would have to consider how their combination would prompt further consolidation in the industry.
KCS, as the smallest Class I, received a waiver from those rules. CP is seeking to have its deal with KCS reviewed under the older, less onerous merger rules. But four Class I railroads – including CN – have asked the STB to judge the deal under the 2001 rules.
"Because of the far more serious public interest concerns posed by CN's proposed acquisition of KCS, CN's suggestion that its proposal should be subject to the same regulatory treatment as the CP/KCS transaction is incorrect," Meyer wrote. "Whereas a Canadian Pacific transaction raises none of the issues that motivated the new merger rules in 2001, the CN proposal raises all of them, especially competitive and downstream consolidation concerns."
CP also said that a CN-KCS combination would diminish competition between the Midwest and Gulf Coast by putting the parallel KCS and former Illinois Central routes under CN control.
"When the Board approved the CN/IC transaction in 1998, it addressed some of these competitive issues and found, in that context, 'that KCS and CN/IC will have every incentive to continue to compete aggressively for traffic where they are able to provide service alternatives, just as they have competed in the past,'" Meyer wrote. "A CN/KCS combination would extinguish all of that competition."
CP yesterday called CN's bid for KCS massively complex and likely to fail. [see "Canadian Pacific calls CN's bid for KCS 'inferior' …," Trains News Wire, April 20, 2021].
CN today defended its proposal to acquire KCS, noting it had sent a pre-filing application to the STB, alerting regulators that it planned to seek to control KCS.
"Our proposal to KCS is simple. We are providing greater and more certain value, and a clear path to closing. We have a better bid. We are a better railroad. We will be a better partner for KCS and the communities it serves. And we believe the STB and our customers will recognize that CN presents the best solution for the continued growth, development and prosperity of the North American economy," CN CEO JJ Ruest said in a statement. "CN has made a superior proposal and is committed to satisfying the current STB merger rules. CN is confident that the STB will approve the voting trust, which will permit KCS shareholders to crystallize the value of its US and Mexico franchise, and then permit the STB to undertake the careful review process it should take following the closing into the voting trust."
— Updated at 10:50 a.m. CDT with latest statement from CN