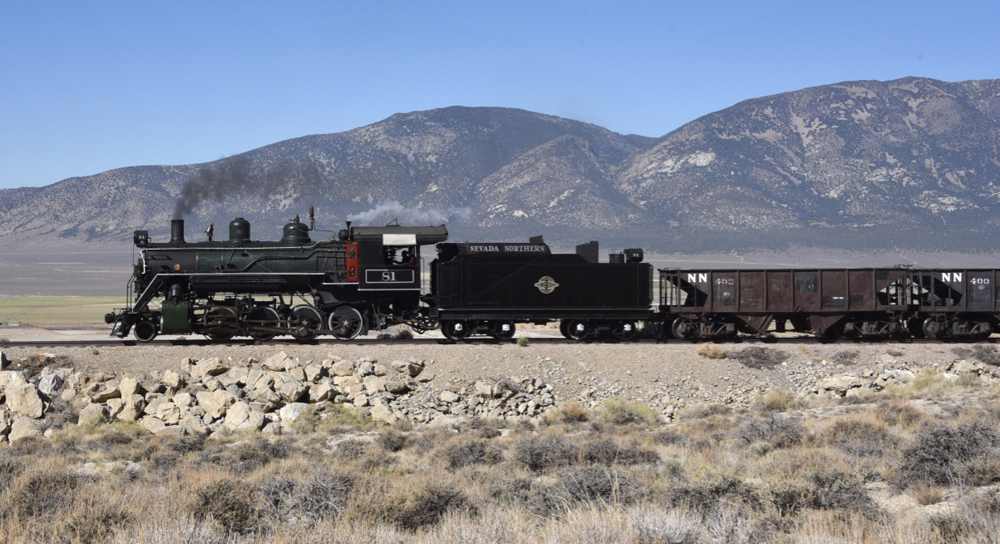 ---
ELY, Nev.—The Nevada Northern Railway Museum has been awarded a $10 million grant to rebuild 16 miles of railroad from Ely to McGill and install a turntable.
The legendary preservation railroad is getting ready to expand train service in a big way. For years, the railroad has been eyeing a section of long-unused track to the town of McGill, with the hopes of serving the town with regularly scheduled tourist trains. Those dreams became reality when White Pine County was awarded a $10,168,421 grant to rebuild the track from Ely to McGill. When complete, the rebuilding will double the amount of the railroad's serviceable track.
In addition, the grant will pay for a parking lot in McGill, a lighted walking trail, the purchase of four electric railbikes, grade 10,000 feet of a multiuse trail between Ely and McGill joining existing trails, and combine the existing trail system parallel to the railroad's right-of-way with six designated safe crossings.
Nevada Northern Railway President Mark Bassett says "it's been a dream of the foundation since the beginning to restore train service to McGill. It's going to change everything we do. It gives us a destination for passengers."
The railroad already owns the McGill depot and has spent hundreds of thousands of dollars restoring it to its former glory. The grant will also install a turntable at McGill. Talking with Mark Bassett, in recent years, there has "been a renaissance in McGill" with buildings being restored, and the return of tourist passenger trains will only accelerate the rebirth of this town.
The Nevada Northern originally operated 140 miles of railroad between connections with the Western Pacific and Southern Pacific along the Interstate 80 corridor through northern Nevada south through Ely to the copper mines at Ruth. Headquartered in Ely, the line was completed in 1906 with the heaviest traffic operating between Ruth through Ely to a smelter at McGill.
When the McGill smelter closed in 1983, that spelled the end of the railroad. Kennecott Copper began a series of donations that established the White Pine Historical Railroad Foundation, and the present-day Nevada Northern Railway began tourist operations out of Ely.  The railway was designated a National Historic Landmark in 2006.