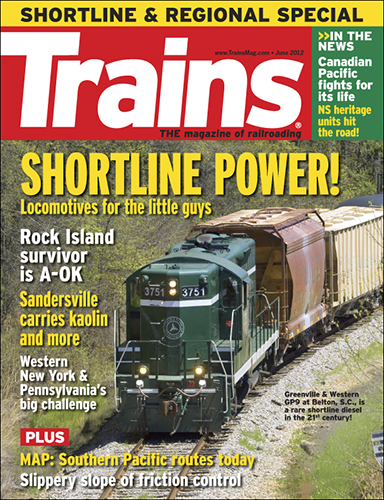 Trains
magazine covers the broad spectrum of railroading with authoritative content, dazzling photography, and a mix of content designed to appeal to everyone from the casual enthusiast to the seasoned professional railroader.

Trains
offers something for everyone who has a spark for railroading: Railroad news, insight, and commentary on today's freight railroads, passenger service, transit, locomotives, technology, preservation, fan opportunities, and more. You'll also see images and read stories from railroading's glorious past, and explore the bright future of railroading. It's all in the pages of
Trains
magazine.
Features
Cover Story: Locomotives for the Little Guys
From steam to GE 70-tonners, it's all pulling power for shortline and regional railroads
Shortline Railroading Isn't Always Chicken Scratch
Gainesville Midland SD40 No. 10 keeps memories alive
Western New York & Pennsylvania's vintage diesels work former Erie and PRR trackage
Sandersville Railroad digs clay, wood chips, and other freight in east-central Georgia
Map of the Month: Whatever Happened to Southern Pacific?
'The Octopus' 43 years later
A 'Rare' Trackside Delivery
Prime rib pickup on the platform at Galesburg, Ill.
NEWS
Canadian Pacific's facts of life
Florida East Coast to explore passenger operations
'New' rotary for Donner Pass
Let us now praise Union Pacific
The science of railroad friction control
Coupler tolerances to tighten
New schedule for Amtrak's 'Sunset'
Talgo tests begin
DEPARTMENTS
From the Editor
When shortline units have names
Ask Trains
• Tracks in the PGA Tour?
• Amtrak's P40s
• Ann Arbor's ore jennies
Preservation
By Andrew Dow
Australia's 'Puffing Billy' is one of the world's 'must see' preservation railways
Trackside
By Elrond Lawrence
Trackside Guide: Flagstaff, Ariz.
Want to enter our online photo contest? Go to www.TrainsMag.com/Trackside