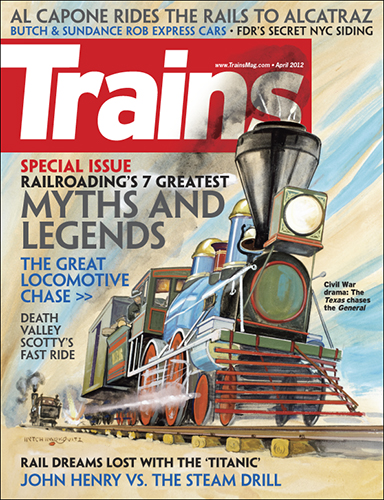 Trains
magazine covers the broad spectrum of railroading with authoritative content, dazzling photography, and a mix of content designed to appeal to everyone from the casual enthusiast to the seasoned professional railroader.

Trains
offers something for everyone who has a spark for railroading: Railroad news, insight, and commentary on today's freight railroads, passenger service, transit, locomotives, technology, preservation, fan opportunities, and more. You'll also see images and read stories from railroading's glorious past, and explore the bright future of railroading. It's all in the pages of
Trains
magazine.
Features
Trains Express April 2012 Downloadable PDF Package
This month's PDF package on the General and ore railroad legends and myths is $5.95
Cover Story: Searching for the Andrews Raiders
One hundred fifty years later, the Great Locomotive Chase still echoes along CSX tracks in north Georgia
Railroads and the Sinking of 'Titantic'
When R.M.S. Titanic struck an iceberg and sank, it changed the course of North American railroad history
Who was the Steel Drivin' Man?
Did John Henry fight the steam drill at Great Bend Tunnel or was it a tall tale?
Butch Cassidy & the Sundance Kid
The outlaws made Union Pacific mad enough to send a posse out for them
The who's who of Grand Central's secret Track 61: Franklin Delano Roosevelt, Alco PAs, Andy Warhol, and more
Capone Rides the Rails to Alcatraz
Al "Scarface" Capone rode trains coast to coast, sometimes by choice and sometimes by force. Discover his many faces as a businessman, family man, crime boss, and train enthusiast
NEWS
Canadian Pacific fights to save its president
Lockout precedes Electro-Motive London, Ont., factory closure
Amtrak-Canadian National battle
Dangerous fad prompts Union Pacific photo policy
By David Lustig

Making sense of the Environmental Production Agency's locomotive emissions tiers
By Chris Guss
BNSF to buy new SD70ACe-P4
Faster times on main VIA corridor
My love affair with VIA Rail Canada's Canadian
GE's RailEdge enables NS to increase train volumes, decrease expenses
DEPARTMENTS
From the Editor
Railroading is a business that's never boring
Ask Trains
• Operating in push vs. pull
• Land grants
• Odd-looking signal
Preservation
By Bob Johnston
Pullman Sleeping Car Co. to use vintage cars to offer traditional sleeper service on two Amtrak trains
Trackside
By Mike Schaller
Trackside Guide: Arlington, Va.