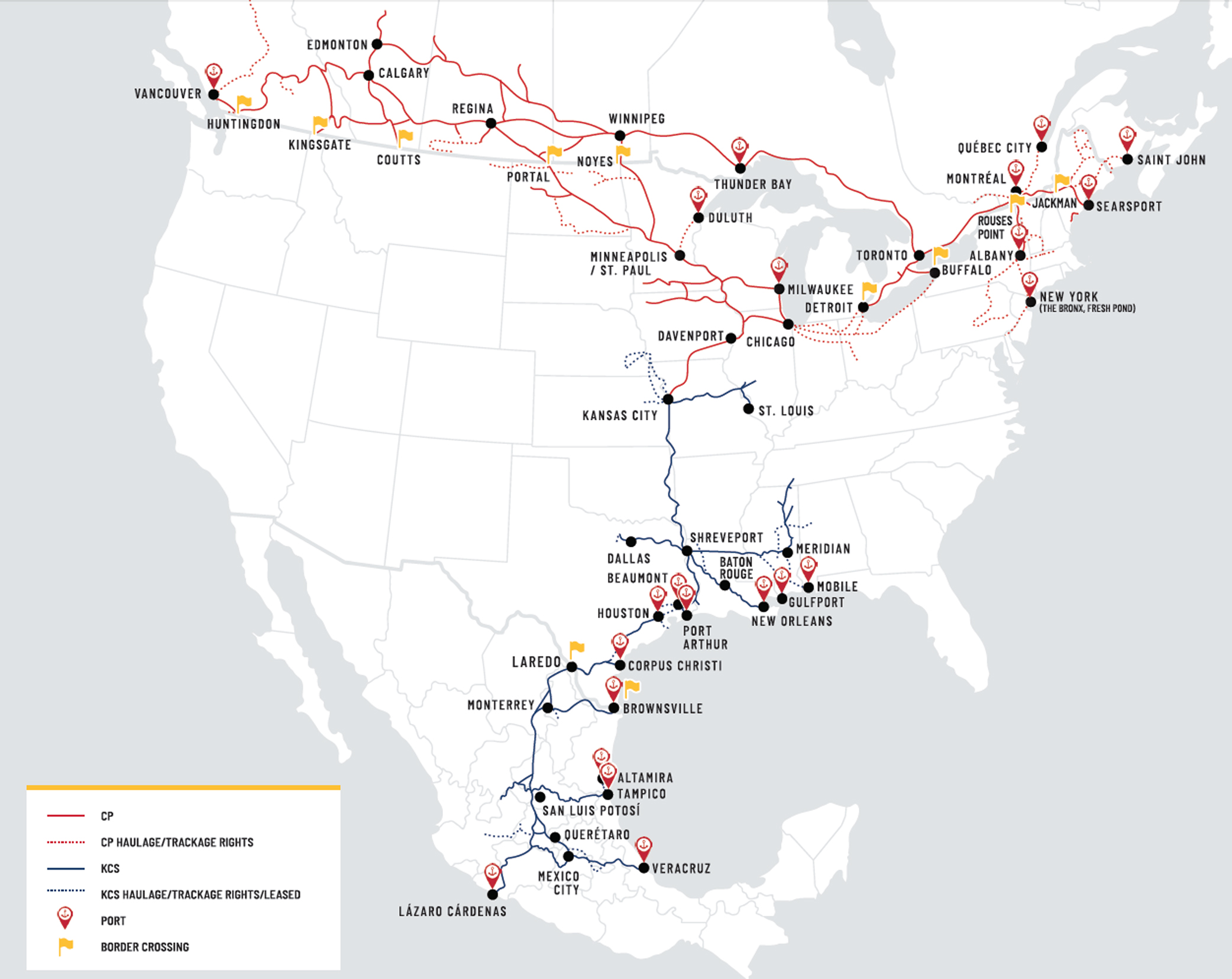 CALGARY, Alberta — Canadian Pacific's proposed acquisition of Kansas City Southern will unite the two smallest Class I railroads and create the only North American system that will operate in the U.S., Canada, and Mexico.
The combination of the 12,500-mile CP and 6,700-mile KCS, announced today, is a classic end-to-end merger: The railways currently interchange in Kansas City, Mo., the only location where their systems meet.
This will likely help the deal win over U.S. regulators. KCS is exempt from the Surface Transportation Board's more stringent Class I merger rules that since 2001 have effectively prevented combinations of the six major systems. The railroads expect the merger to gain regulatory approval in 2022.
"My guess is that, despite what I have thought was a more interventionist stance, STB approval is likely, as there is little to no overlap — and this is the only merger that by itself, as a standalone, might not trigger full rail consolidation, as any other pairing likely would," says independent analyst Anthony B. Hatch.
The $25 billion deal ($29 billion including CP assumption of KCS debt) will enable CP to better compete against larger rival Canadian National, which has enjoyed three-coast access since it acquired Illinois Central in 1998. But CP will also extend its reach into Mexico, where KCS cross-border traffic has been growing by more than 10% annually due to rising intermodal, automotive, and refined products volume.
CP also gains access to the dozen Gulf of Mexico ports that KCS and KCS de Mexico currently serve. Last year CP regained access to the Atlantic at Saint John, New Brunswick, through its acquisition of the Central Maine & Quebec, whose line across Maine once was part of CP's shortcut from Montreal to the Atlantic.
"This transaction will be transformative for North America, providing significant positive impacts for our respective employees, customers, communities, and shareholders," said CP CEO Keith Creel. "This will create the first U.S.-Mexico-Canada railroad, bringing together two railroads that have been keenly focused on providing quality service to their customers to unlock the full potential of their networks. CP and KCS have been the two best performing Class I railroads for the past three years on a revenue growth basis."
CP and KCS say they will launch new intermodal service linking Dallas and Chicago, where traffic will be able to connect with existing CP service to Eastern and Western Canada. CP also will enjoy long hauls on existing traffic, such as crude and grain bound for the Gulf Coast and Mexico, that it currently hands off to KCS in Kansas City.
The merger also will tie together auto production areas in Canada, Detroit, and Mexico and create new single-line service for vehicles produced at assembly plants in Mexico that are bound for consumer markets in the Midwest and Canada. Currently about 5% of CP's auto volume comes from Mexico, where auto production has been growing in recent years.
Only 1% of CP's overall traffic is cross-border with Mexico. But propane exports from Canada to Mexico have been surging since 2014. Mexico's consumption of propane is among the highest in the world, and its propane production is declining. CP will enjoy long hauls for Mexican-bound propane shipments that originate in Alberta.
The new company, to be called Canadian Pacific Kansas City, will be based in Calgary and headed by Creel, who has extended his contract through 2026. Kansas City, current home to KCS, will serve as the U.S. headquarters. The system's Mexico headquarters will remain in Mexico City and Monterrey, and CP's current U.S. headquarters in Minneapolis-St. Paul "will remain an important base of operations," CP says.
KCS, which connects with all six of the major systems, has been the subject of merger speculation for years. Last summer two infrastructure funds considered taking the railroad private, which prompted speculation in the rail industry that CP might seek to acquire KCS.
Former KCS CEO Michael R. Haverty — who built KCS into a cross-border system 25 years ago — says attempts to merge with CP more than a decade ago never jelled. Fred Green, who was then CP's chief executive, feared a deal would spark opposition from Union Pacific, Haverty says.
"I do think this is a very good fit," Haverty says.
Haverty suspects that last year's private equity interest in KCS sparked consolidation talks with CP.
KCS was a north-south railroad in an east-west world until the North American Free Trade Agreement was signed in 1992. Haverty saw the opportunity to turn KCS from a Midwest-Gulf Coast regional into a cross-border system that could tap into free trade. In 1996, KCS gained the 50-year concession to operate what was then called Mexico's Ferrocarril del Noreste, or Northeast Railroad.
Haverty expects CP-KCS deal to pass regulatory muster in the U.S. but says some concessions may be required in Mexico, where the federal regulator has become increasingly concerned about rail competition.
Most of KCS's growth comes from linking production areas in Mexico with consumers in the U.S. and Canada, as well as exporting U.S. grain, U.S. and Canadian auto parts, and refined products to Mexico.
The KCS International Railway Bridge at Laredo, Texas, is the busiest rail border crossing in North America. KCS already had plans under way to add a second span across the Rio Grande at Laredo, where it also interchanges with Union Pacific.
The combined CP and KCS system will remain the smallest Class I by revenue. But at 19,200 miles CP-KCS is roughly the size of the 19,500-mile CN.
The railways have scheduled an investor webcast for 2 p.m. today to discuss the deal.