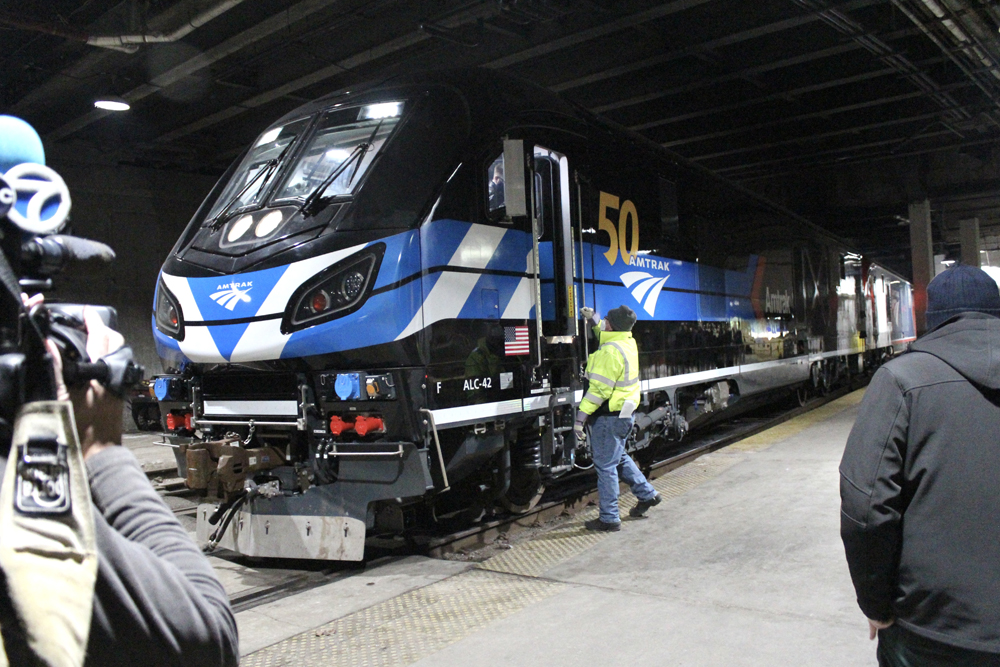 ---
CHICAGO — On the day Amtrak placed its first Siemens ALC42 locomotives into revenue service — although not without some problems — the company announced it will acquire more of the locomotives.
In a event at Chicago Union Station, Amtrak Vice President and Chief Mechanical Officer George Hull used the operating debut of the two long-distance Charger diesels to announce the company's board of directors has authorized exercising the option to add 50 more to the 2018 production order of 75 now rolling out of Siemens Sacramento, Calif., production facility.
Unit 301, in the "Day One" design mimicking a hastily painted EMD E8 locomotive created for Amtrak's 1971 launch, had been tapped to lead sister No. 302 and heritage-painted P42 No. 161 on Tuesday's westbound Empire Builder out of Chicago Union Station following a presentation from Hull and Siemens Mobility Rolling Stock vice president Michael Cahill. Operating three locomotives is standard practice in winter on the Builder to Seattle and Portland, Ore.
However, after the media photo opportunity concluded, an additional P42 was added on the point, Amtrak spokesman Marc Magliari tells Trains News Wire, "for technical reasons related to positive train control." The train was 34 minutes late when it arrived at its first stop in Glenview, Ill, and lost another 32 minutes at the station in Glenview. This also delayed the scheduled 3:15 p.m. Hiawatha departure from Chicago to Milwaukee for almost a half hour.
The two ALC42s had undergone testing on a number of Amtrak routes for the past six months. These long-distance Chargers have 1,000-kilowatt head-end power capability, compared with 600 kw on Brightline, VIA Rail Canada, and Amtrak regional versions. They also have 2,200-gallon fuel tanks instead of the 1,800-gallon capacity of units in Midwest and West Coast service. The ALC42's 4,200-hp rating is similar to locomotives ordered by VIA and greater than Brightline's 4,000 hp. SCB-40s, but less than the 4,400 hp of the SC44s in Amtrak regional corridor service.
Hull says, "Later this spring you will see new looks on these locomotives as they come from the factory."