L-3b Mohawk 3037, working a long manifest freight westward on local track 3 just south of Central's twin bores through Breakneck Ridge, passes an eastbound passenger train gliding down along the river on local track 4.

Prototype photos show that freight consists often carried one or more low-level cars on the head and rear end, possibly to improve visibility for the crew looking over the train when traversing curves or so that these loads could be kept under better observation.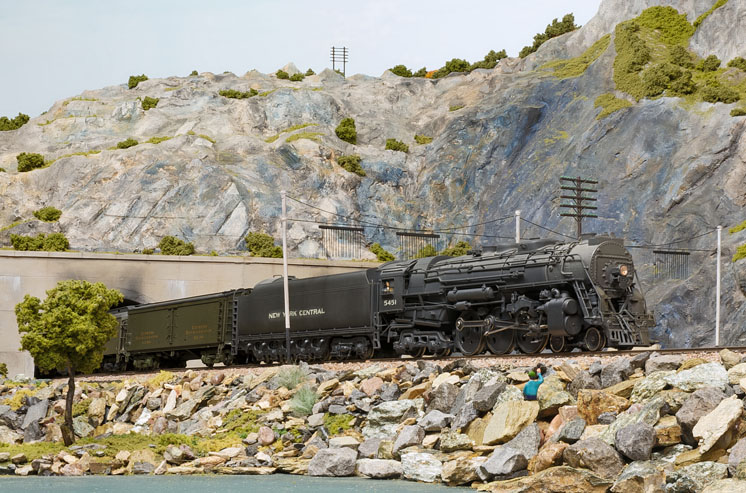 With a clean stack, J-3a "Super" Hudson 5451 explodes out of the west bore at Breakneck Ridge with an eastbound express passenger train. A local resident of nearby Cold Spring has temporarily given up fishing in favor of train watching, and hails the engineer.

Rich employed a lot of forced perspective and selective compression to Rich Stoving's New York Central Water Level Route represent this often-photographed location; the twin-pole support of the telegraph line, so evident against the sky in photographs taken here over the years, was modeled in a size somewhat smaller than N scale.


Running in reverse slowly down track 4, U-2d 0-8-0 7380, the Poughkeepsie, N.Y., switcher, was heading for a boiler wash at Harmon, N.Y., as she prepared to enter two-track territory at Signal Station 43. Two girls have driven down from Poughkeepsie and are enjoying the scenery from a perch on the stone wall next to Route 9D. Busily chatting, they are completely insensible to the charms of this typical New York Central switcher as she clanks by with an equally typical wooden caboose.


Rich pushed the time limit of his 1940's-era layout by two years to permit a trio of Alco-GE freight units built in 1951 to roam his layout. NYC class DFA-7A 1045 leads Pacemaker freight up track 3 after passing through the SS43 interlocking.

The yellow-over-green aspect of the signal protecting track 3 indicates, among other things, that the engineer must approach the next signal at medium speed.


In its past a thriving community owing to the presence of the sulfur plant of the Highland Chemical and Mining Company, by the 1920's Manitou, N.Y., could boast only of a few small residences, mostly located between Central's two-track main and the river. The at-grade road crossing at Manitou was a favorite location for rail enthusiasts to photograph the action, and it was here that Rich first made his acquaintance with Central's Hudson Division.

In this aerial view, a westbound freight consisting of Pacemaker Freight box cars and trailing one of the cabooses that Central painted especially for Pacemaker Freight service, is about to clear the crossing. The truncated portion of what was once a mile-long eastbound siding and that in the 1940's served as a set-out track,appears in the photo.

On another day, the same locomotive was caught near the same location rolling a mile-long manifest freight eastward toward Gotham. Stock cars were usually carried on the head end of mixed consists so that, as required by law, livestock could be periodically watered down. This task often fell to the head brakeman, and was accomplished in the steam era when a train stopped to take water.


Trailed by a huge pedestal-base tender that carried 46 tons of coal but only 18,000 gallons of water, J-3a Hudson 5451 emerges from Little Tunnel with Train 41, the westbound Knickerbocker. If all goes well, she will be required to take on coal only once before her arrival in Buffalo, N.Y., while water will be replenished at speeds up to 80 mph from track pans strategically located along the right-of-way.

K-3q Pacific 4683 pokes her nose out of Little Tunnel with an eastbound local from Poughkeepsie. Because of its short length, this tunnel was modeled in almost its true length, and its location helps to break up the long, continuous curve at one end of Rich's layout. "Next station stop, Peekskill! Peekskill next!" calls the conductor.

This photo gallery contains a collection of images of scale New York Central locomotives and trains in steam along New York State's Hudson River Valley in scenes created by Richard L. Stoving. The layout is featured in the January 2014 issue of Model Railroader, with photographs by John W. Heitmann.