Pennsylvania Railroad HO scale transition era layouts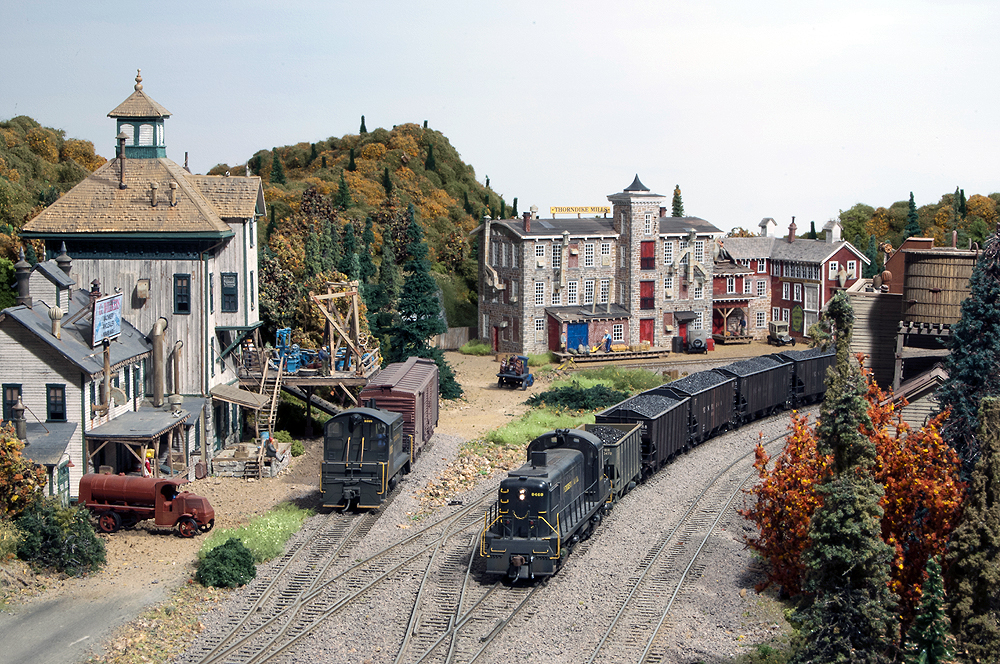 Craftsman structures stand along the main line of Jimmy Deignan's HO scale Pennsylvania RR Middle Division. Jimmy and his friends redesigned the 20-year-old MR project with wheelchair access and an expanded main line. Lou Sassi photograph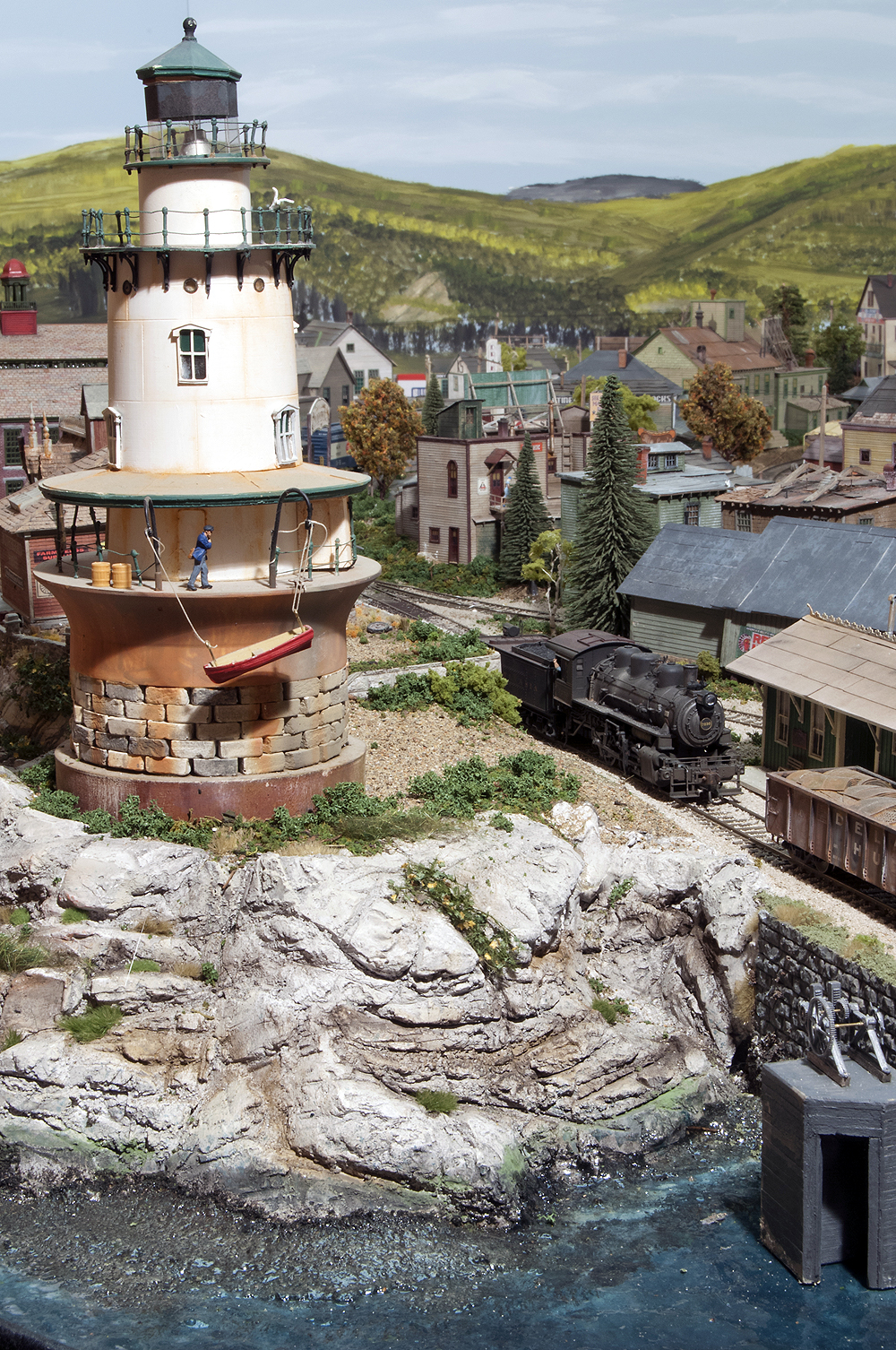 Jimmy Deignan added an eastern seaport, called Middleport, at the end of the new peninsula. Here, a switcher picks up a gondola in front of Middleport Station. The lighthouse is a Crow River Products kit built by Steve Cryan. Lou Sassi photograph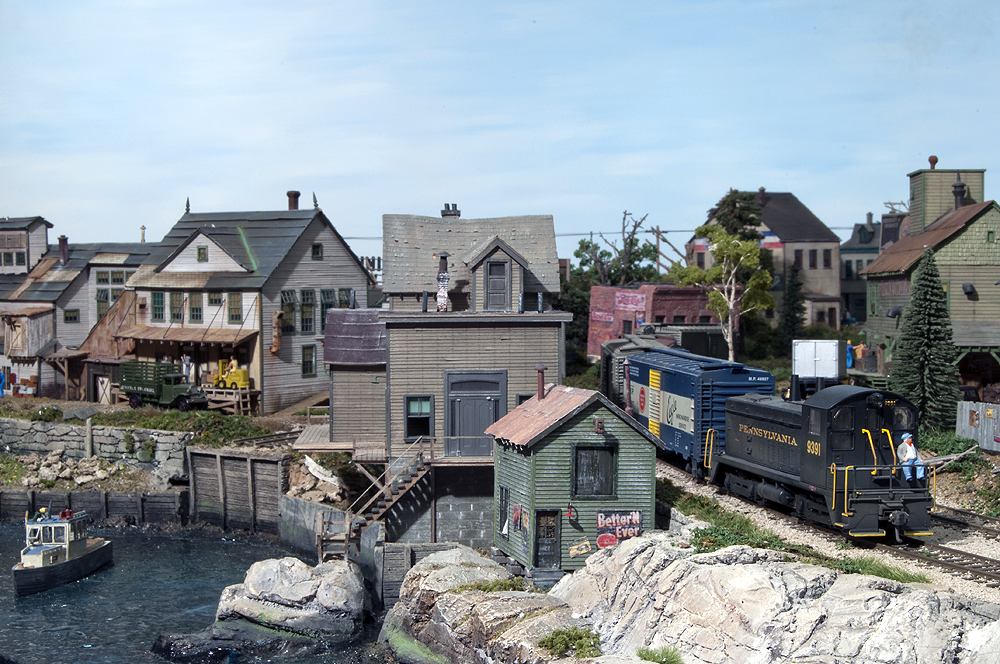 An SW7 heads toward the wharf in Middleport with a trainload of merchandise. Located on the new peninsula, this densely packed waterfront scene shows Jimmy Deignan's fondness for craftsman structures. Lou Sassi photograph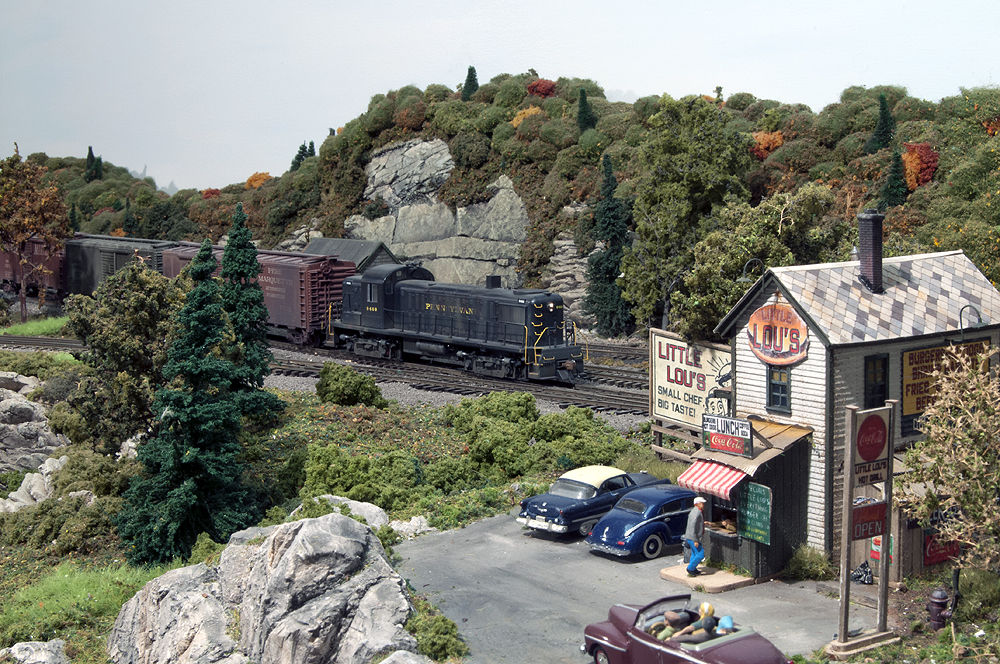 Jimmy Deignan's many friends played a big part in rebuilding the Middle Division. Thom Driggers painted and installed DCC sound in the HO scale Alco RS-3. Doug Foscale provided many structures for the layout, including Little Lou's cafe. Lou Sassi photograph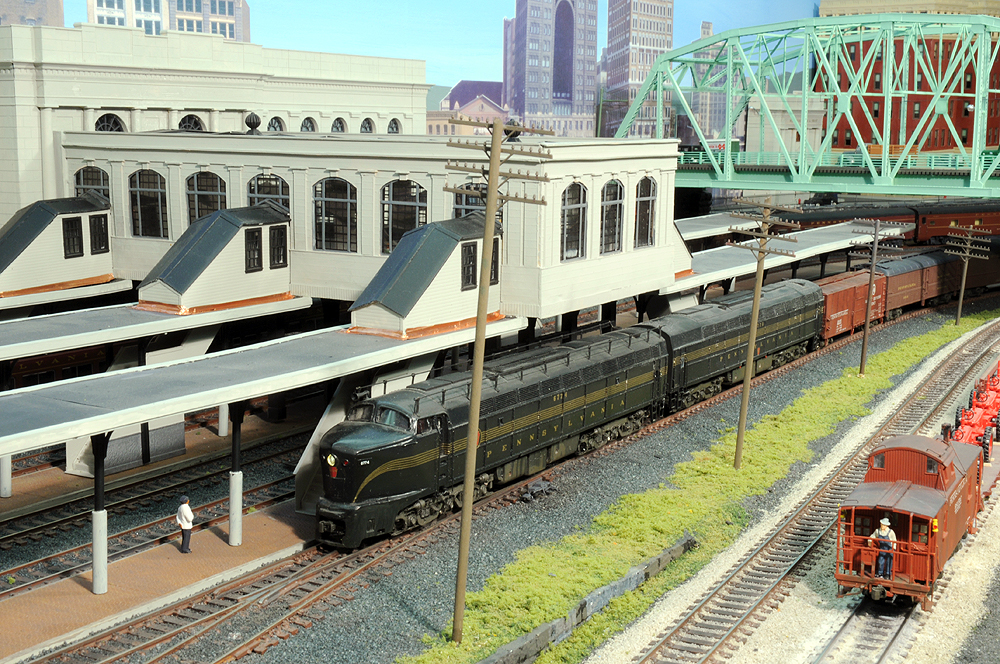 An A-B consist of Baldwin DR6-4-20 passenger "Sharks" bring an eastbound mail and express train to a stop at the scratch-built Willsburgh Station on Tim Garner's HO Pennsylvania layout. Tim kit-bashed his Pennsy class BP-20 Sharks from Resin Trains body shells with mechanisms made from Life-Like parts. Lou Sassi photograph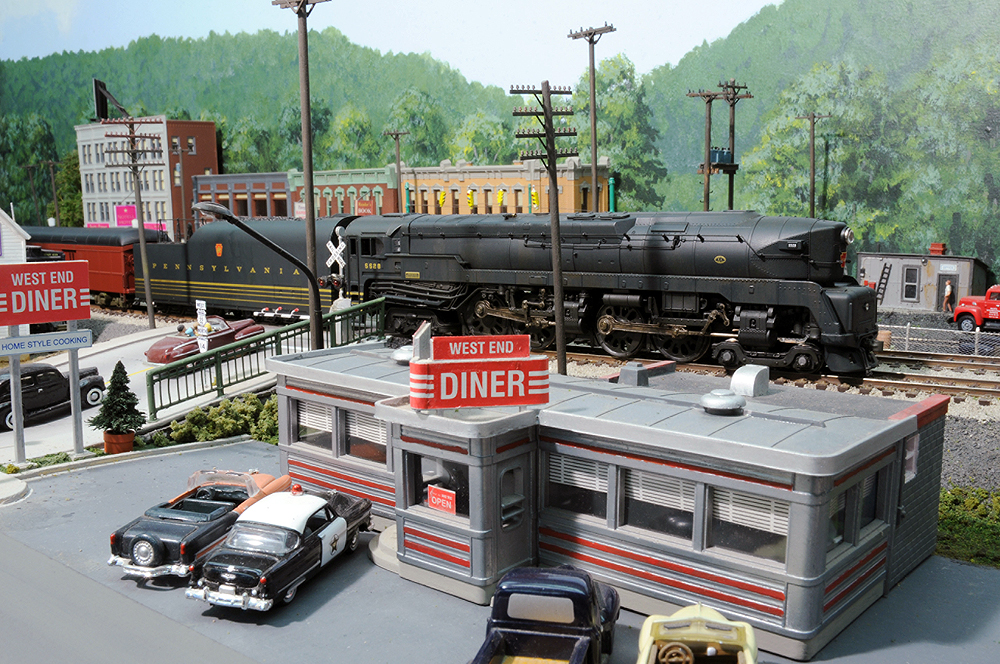 It's 1947 and Pennsy's flagship Broadway Limited races through Johnsville, Pa., behind a 4-4-4-4 Class T1 Duplex. The T1 is from Broadway Limited Imports, the diner was built from a City Classics kit, and the gates are by N.J. International. Lou Sassi photograph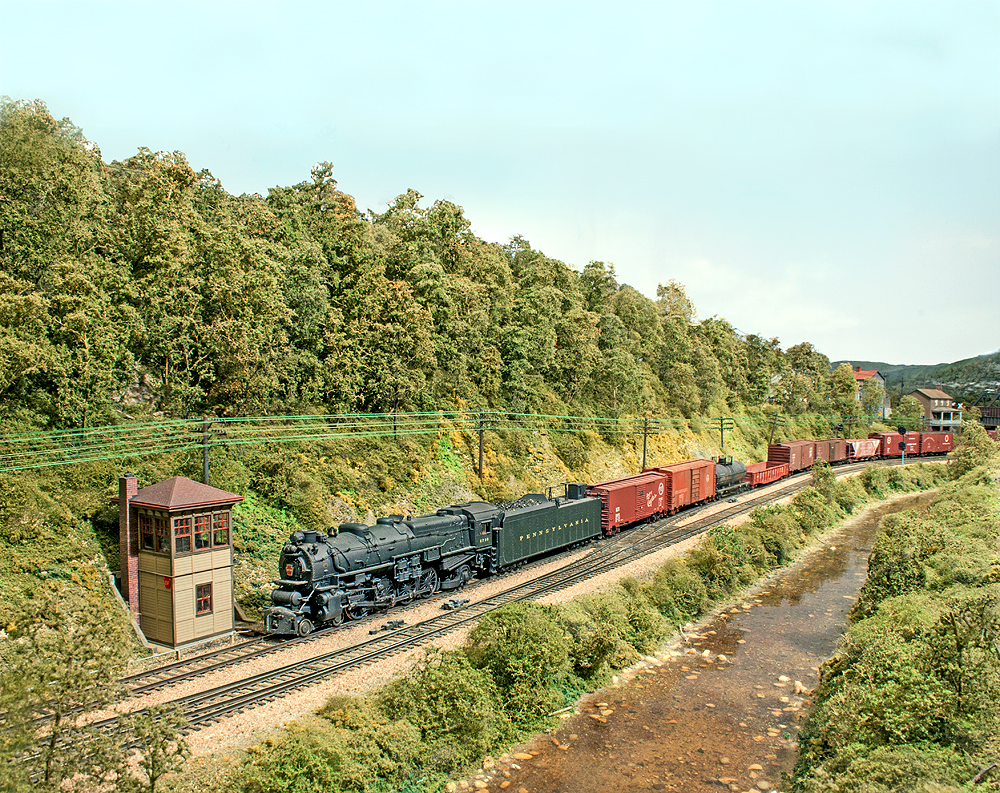 Pennsylvania RR no. 6738, a class M1b 4-8-2, speeds along Sinnemahoning Creek. John M. Johnson's 9'-5" x 23'-6" HO scale layout models the area around Driftwood, Pa., in early fall 1955. Paul J. Dolkos photograph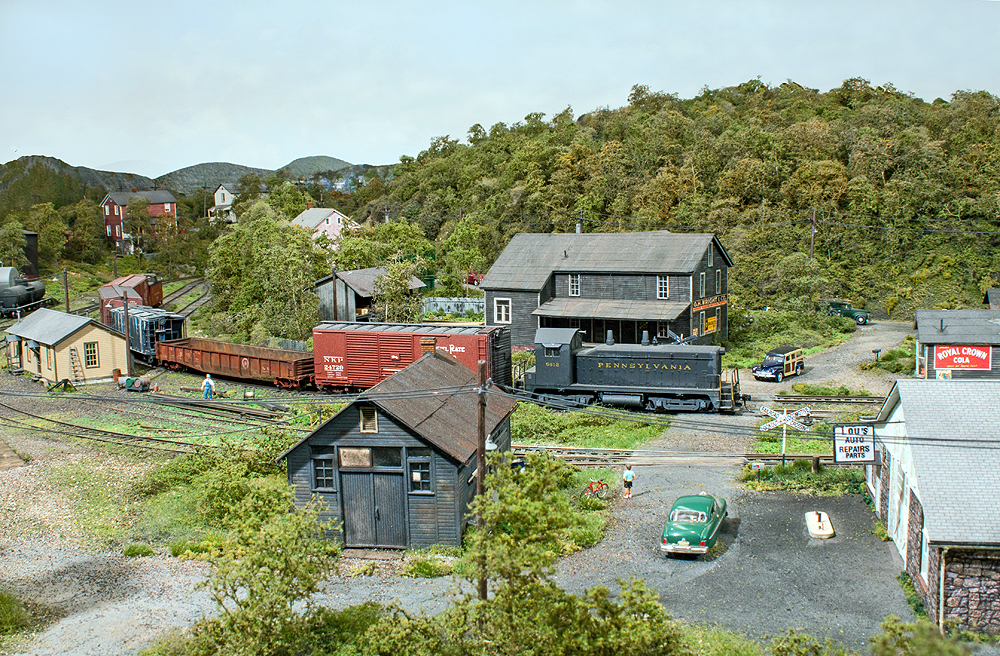 On the Low Grade Secondary, an Electro-Motive Division NW2 waits with its train for clearance. This area features several rail-served industries. Paul J. Dolkos photograph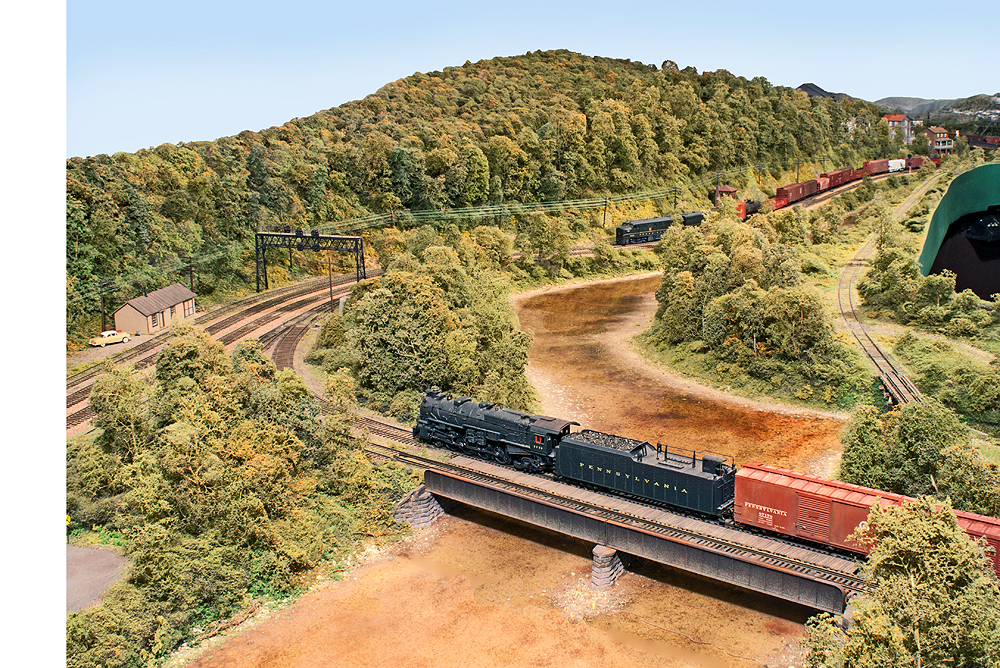 This long view of the railroad looks east down Sinnemahoning Creek. In the foreground, an eastbound steam-powered freight holds on the secondary while a diesel-led westbound from Renovo approaches Driftwood. Paul J. Dolkos photograph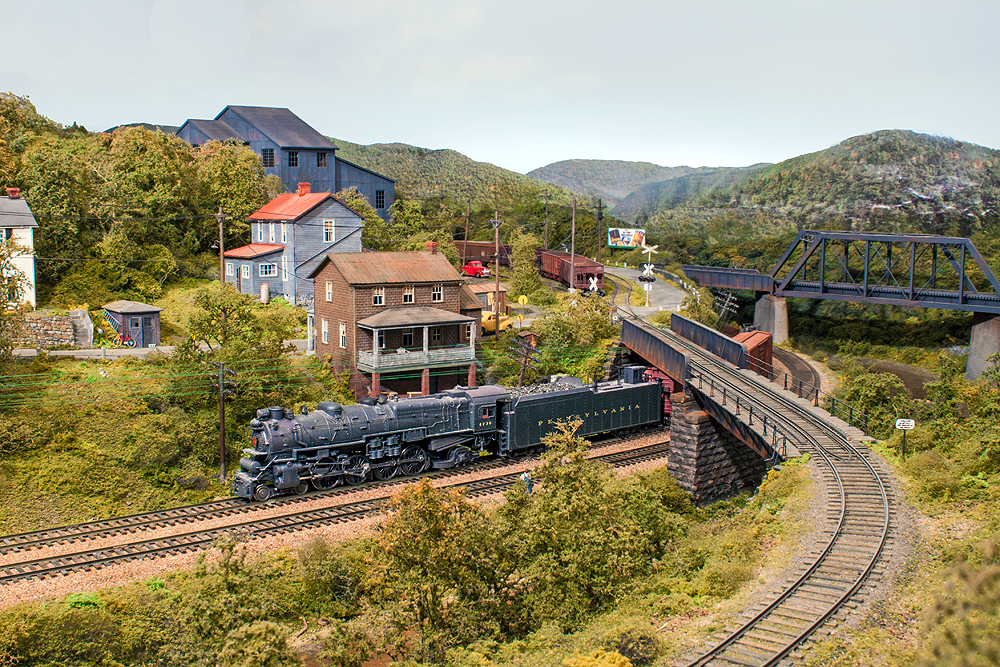 A westbound freight passes under the siding bridge that leads to the Essex No. 2 coal breaker along the backdrop. The scratchbuilt houses in this scene are all based on prototype photos. Paul J. Dolkos photograph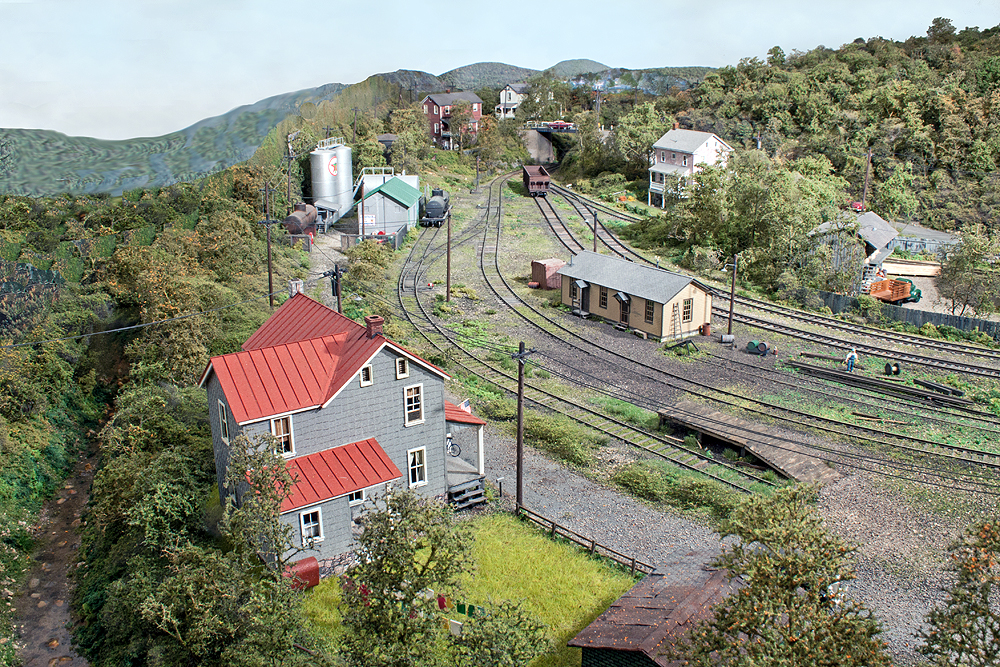 The Low Grade Secondary features a small yard for additional switching opportunities. John enjoys adding details to a scene, such as the PRR less-than-carload-lot (LCL) container used for storage next to the yard office. Paul J. Dolkos photograph

Pennsylvania Railroad HO scale transition era layouts are among the grandest and most visually stunning in model railroading. Bridges, viaducts, and tunnels stitch together verdant vistas. Brunswick green, Tuscan red, or plain black steam and diesel locomotives thread drag freights and limiteds alike through lush canyons, beside quarries, shacks, and grand hotels.
Trains.com offers model railroaders this photo gallery pulled from recent issues to inspire and encourage grand modeling. Assistant Editor Sammi DiVito curated these from Tim Garner's layout featured in November 2009; Jimmy Deignan's Middle Division layout featured in February 2013; and John M. Johnson's layout featured in November 2019.
Each railroad includes scenes that modelers might find in Pennsylvania in summer and early autumn.