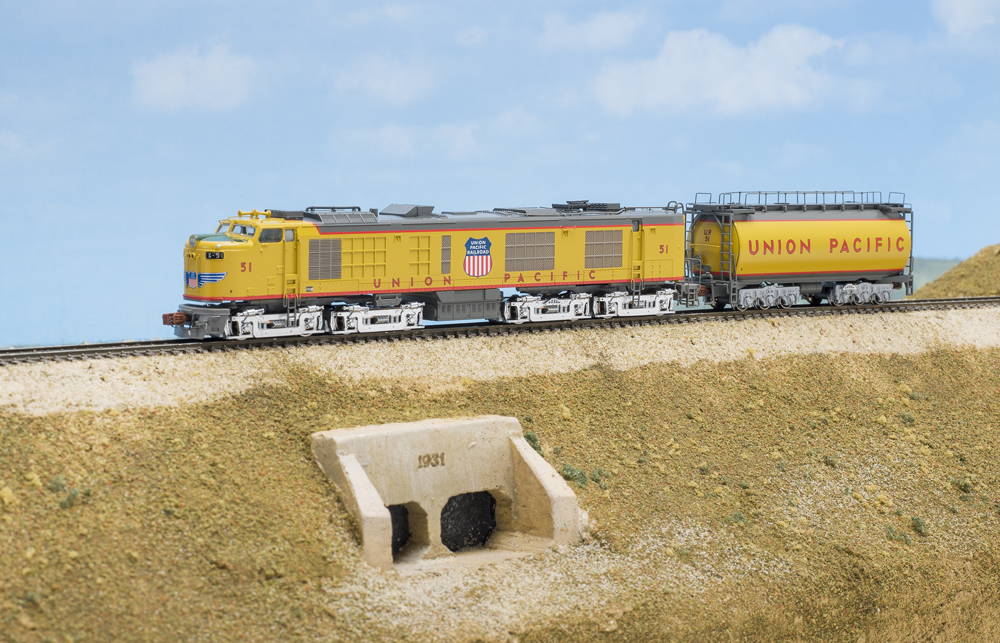 A powerful and technologically innovative locomotive unique to the Union Pacific is the latest N scale offering from ScaleTrains.com's high-end Rivet Counter line. The standard turbine, a 4,500hp jet-age marvel, was developed by Alco/General Electric in response to UP's constant drive for more potent motive power. ScaleTrains.com's version captures the appearance and spirit of the prototype in N scale, from the distinctive square air intakes on the sides to the turbine's characteristic roar in Digital Command Control-equipped models.
History. In the years following World War II, Union Pacific had taken steam power about as far as it could go with such iconic behemoths as the 4-12-2, the 4-6-6-4 Challenger, and 4-8-8-4 Big Boy. Taking its inspiration from jet aircraft of the day, UP called on Alco/GE to harness turbine power in a new class of locomotive. The manufacturer came through with a demonstrator model, no. GE 101, a double-ended gas turbine that was renumbered no. 50 for tests on the UP in 1949. The engine produced twice the horsepower of diesels of its day, impressing Union Pacific execs enough to order 10 single-ended versions, the first of which was delivered in 1952.
Rather than driving pistons as in a diesel engine, in a gas turbine, a mist of aerosolized fuel is mixed with compressed air in a combustion chamber. The fuel is then ignited and explodes at an extremely high temperature, rushing out of the combustion chamber and spinning the turbine blades. These blades turn a driveshaft that turns a generator, which powers electric traction motors on the locomotive's axles. This means the turbines are more properly known as gas turbine electric locomotives, or GTELs.
Though gas turbines produced far more horsepower than the diesel locomotives of their day, they did so at the cost of horrendous fuel efficiency. A gas turbine used about 600 gallons of fuel an hour at full load. But that was OK with UP, because the turbines ran on Bunker C oil, an inexpensive leftover of the fuel refining process.
These thirsty turbines meant that the locomotive's 7,200-gallon main fuel tank gave it a range of only about 200 miles before needing refueling, so starting in 1955, UP started equipping them with auxiliary fuel tenders. Made from the running gear of a type 18-C tender from a retired 4-12-2 steam locomotive and two of those tenders' water tanks welded back-to-back, these tenders carried an additional 22,000 gallons of fuel, extending the GTEL's range and usefulness.
So if UP's GTELs were so successful, what happened to them? One word: plastics. As the plastics industry found new uses for Bunker C oil in the 1960s and improvements in refinery technology let more useful fuels be extracted from it, the cost took off like, well, a jet. No longer able to run its oil-guzzling turbines on refinery waste, UP had them scrapped. No standard turbines were preserved.
The once-over. ScaleTrains.com's N scale UP standard turbine is an impressive-looking model. The wire hand grabs, the etched-metal windshield wipers and tender platform, the lighted number boards, the silver-tipped train line hoses, and the scale couplers are all features one would expect to find on an HO scale model. The wire handgrabs are close to scale thickness, as are the ladders. The silver trucks have separately applied brake cylinders, and there is diamond tread texture on the locomotive's rear platform.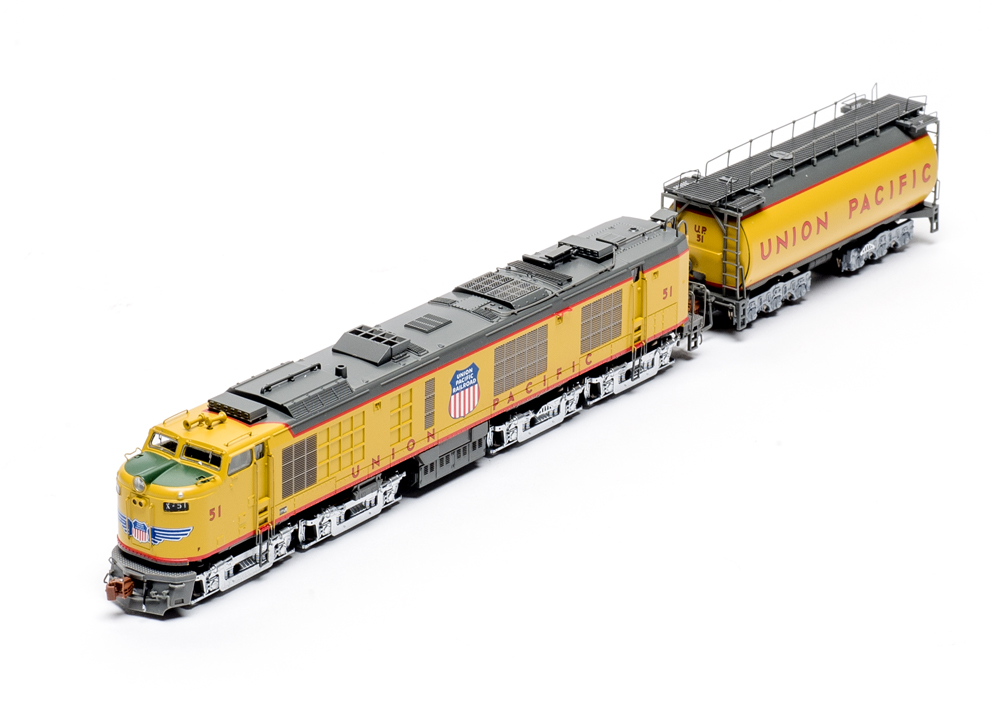 I found a dimensioned manufacturer's drawing of the standard turbine in Thos. R. Lee's book Turbines Westward (T. Lee Publications, 1975). Almost all of the model's dimensions that I checked with my caliper matched those on the diagram. The only measurement that was off was the length over the coupler's strikers. Since the overall length of the carbody was accurate and model couplers have to be longer in order to allow the models to transit sharp curves, this isn't a big deal. They're only off by 7.5 scale inches, anyway.
When the first prototypes were delivered, they took in air for the turbine through an array of square intakes on the engine's sides. These were protected with stainless steel Farr grills. In 1953, turbine no. 53 had its intakes moved to the roof and a number of the side vents were plated over. When this test proved successful, the other standard turbines were converted to roof intakes in late 1953, and the grills were removed.
Lee's book has many good photos of the prototypes, and the placement of details and markings on our test model matched them in appearance, with one exception. The prototype photos show the last cluster of air intakes on no. 51's sides has 15 square panels – five vertical rows of three. Our model of no. 51 has only 12 panels, in four vertical rows. This grill arrangement does match other standard turbines, including nos. 53, 55, and 56, according to prototype photos.
Test run. Since our sample model is equipped with an ESU LokSound 5 Micro dual-mode Digital Command Control sound decoder, it will run on either direct current or DCC. I tested it on DC first.
Sound-equipped locomotives usually take a lot of voltage to get started. Our sample started up at only 6.25 volts and started rolling at a steady 1.6 scale mph when I turned it up to 7.75V. At our power pack's maximum setting of 13.5V, the locomotive zipped along at 138 scale mph, more than twice the prototype's top rated speed of 65 mph. Sounds under DC were limited to the diesel auxiliary motor and turbine, which was rather loud, as expected.
I had more control of the sounds under DCC. With a press of function key 8, I heard the startup sequence for the locomotive's diesel auxiliary motor. The turbine came on at the press of F3. Other keys rang the bell, sounded the horn, turned on the Gyralite, and more.
Just like under DC power, on DCC the engine had an impressively slow starting speed, less than 1 scale mph. It also reached an excessively fast 119 scale mph at speed step 28, but a quick adjustment to Configuration Variable 5 (CV5, Vmax) brought that down to a more prototypical level.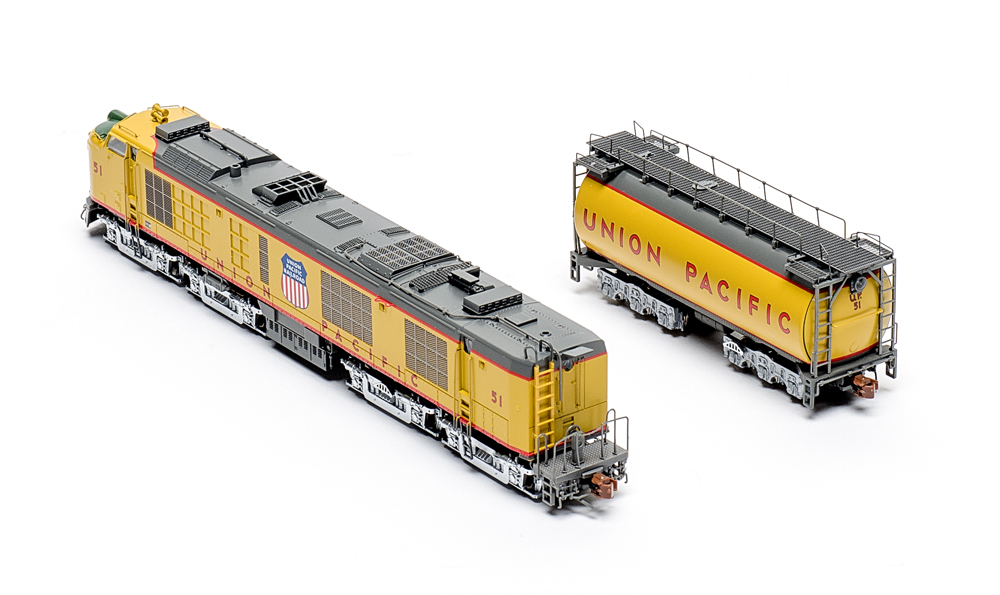 On the prototype, the locomotive's inner two trucks were attached to the locomotive's frame by span bolsters, while the outer two were attached directly to the frame. All four were powered with traction motors. However, to let the model negotiate curves as tight as 11″, its two inner trucks are free-floating, pivoting from the front and rear trucks. This means that on the model, only the front and rear trucks can have gear towers connecting them to the motor.
Even so, the model locomotive provided a respectable amount of drawbar pull, almost an ounce, which is equivalent to 23 free-rolling, properly weighted 40-foot freight cars on straight and level track. As a real-world test, I put the turbine and tender on our N scale Canadian Canyons layout and hitched up a baker's dozen of Canadian National coal gondolas – not a prototypical load, but a good test of the model's pulling capabilities. The locomotive handled our 2019 project layout's 13″ curves, Peco medium-radius turnouts, and 1.9 percent grades (both up and down the helix) like a champ.
Impressive inside and out. Scale Trains.com sets the standard for fine detailing and accuracy with its Rivet Counter line, and the company's new UP standard turbine meets that standard. It's an impressive looking model with a smooth drivetrain and, in DCC, equally impressive sounds. If you model the Union Pacific in the postwar years, a turbine or two would be a perfect addition to your N scale roster.
Facts & features
Price: Locomotive only: direct current model, $134.99; with Digital Command Control and sound, $229.99. With fuel tender: DC, $179.99; DCC sound, $274.99
Manufacturer
ScaleTrains.com
7598 Highway 411
Benton, TN 37307
scaletrains.com
Era: 1952 to 1964 (tenders added in 1955)
Road names: Union Pacific (four road numbers)
Features
– Locomotive
– Detailed cab interior
– ESU LokSound 5 Micro sound decoder (Digital Command Control models only)
– Five-pole, skew-wound motor with dual flywheels
– Front and rear trucks are geared; inner trucks are free-wheeling
– Light-emitting-diode headlight, backup light, Mars light, and number boxes
– Minimum radius 11″ (18″ recommended)
– Semi-scale knuckle couplers
– Separately applied horn, trainline hoses, ladders, and other details
– Wire grab irons
– Weight: 5 ounces
Tender
– Etched-metal running board
– Light-emitting-diode backup light
– Scale knuckle couplers
– Separately applied brake wheel, trainline hoses, ladders, and other details
– Wire grab irons
– Weight: 1 ounce