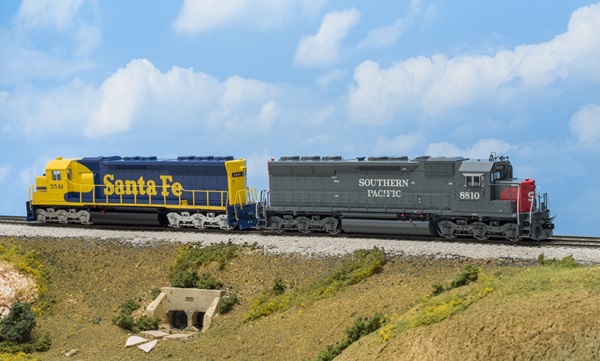 Whether you're a Rivet Counter or an Operator, ScaleTrains.com has an SD45 for you. These HO scale models are available now with every last detail installed, or just the highlights, and with dual-mode sound decoders, or as direct- current models with a provision to add your favorite Digital Command Control (DCC) decoder.
General Motors' Electro-Motive Division (EMD) was in the midst of a horsepower war in the mid-1960s, and its SD45 was the big gun. Boasting a turbocharged 20-cylinder 645 series diesel engine churning out 3,600hp and a new AC-DC electric transmission, these locomotives were the tops in power out- put when they were delivered in 1966.
Along with its V20 645-series diesel engine, the SD45 introduced the AR-10 alternator, replacing the generators used in earlier 567-series locomotives. (In EMD practice, the number in the engine series denotes the cubic inch displacement of one cylinder.)
Southern Pacific was the SD45's biggest customer, taking delivery of 356 of EMD's total production of 1,260. The Pennsylvania RR, Santa Fe, and Norfolk & Western railways each purchased more than 100 of the type. The SD45 was replaced in 1972 with the SD45-2.
While the 20-cylinder diesel engine was known for crankshaft failures, many of these locomotives had long, productive lives. Wisconsin Central operated a fleet of more than 100 until its early 2000s acquisition by Canadian National. Montana Rail Link was also a fan of the type, operating second-hand units. Several are preserved, including a few that are still operable.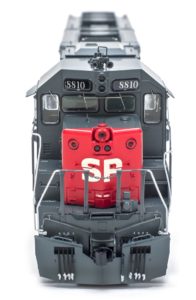 ScaleTrains.com offers the model in both the Rivet Counter high-detail line and its simplified Operator line. It's obvious which model you're looking at when you have them side by side.
Our Southern Pacific (SP) Rivet Counter sample has see-through radiator and dynamic brake fans with separate fan blade detail, separately applied wire grab irons and lift rings, windshield wipers, an air line to its roof-mounted bell, and a full suite of underframe piping and cables, among other details. The body shell represents a phase Ia2 version of the locomotive.
The Flexicoil trucks boast separate brake and sander lines as well as a speed recorder and cable under the fireman's side of the cab. There are even axle ratio stencils on the trucks.
The pilots are detailed with m.u. hoses, coupler release levers, m.u. receptacles, and a plow on our SP sample.
Our Santa Fe Operator sample has drilled holes for many of the wire details. ScaleTrains.com sells a detail set for its SD45 Operator models, no. SXT81254 ($29.99). It includes many of the details already placed on the Rivet Counter models, including the wire grab irons and lift rings, pilot details, under- frame details, and truck details.
Both models had scale-sized engineering plastic handrails, see-through steps on their pilots, diamond-tread walkways, positionable drop steps, and cab interiors. All dimensions for both models were within scale inches of drawings published in Model Railroader Cyclopedia: Vol. 2, Diesel Locomotives (Kalmbach Books, out of print).
Paint on both models was evenly applied, with sharp color separation. There are some gaps in the road name lettering as it passes over the door joints on the sides of the long hoods. A fine brush and appropriately colored paint would take care of this quickly.
The SP unit is festooned with multiple warning labels. The simpler Santa Fe decoration forgoes those details, but both locomotives have painted window frames and gaskets as appropriate.
Under the hood, the models were mechanically the same, but electronically different. The Rivet Counter model has an Electronic Solutions Ulm (ESU) LokSound version 5 dual-mode decoder. This offers a larger suite of sound and lighting effects. The Both models offer ESU's Drive Hold, which allows you to change the sound of the diesel engine independent of the loco- motive's speed. This is ideal for simulating a locomotive starting a heavy train at full throttle, or the sound of the engine at low speed while a train drifts downgrade.

I started testing these locomotives on my home switching layout. As the chart shows for the Rivet Counter model, it took a lot of voltage to wake up the LokSound decoder in direct-current testing. There was still sufficient range to operate the model satisfactorily, but it was all in the upper reaches of the power pack's throttle knob.
As would be expected, the LokSound- equipped model came into its own under DCC power. The speed range was much closer to the prototype with a top speed of 72 scale mph, just 1 mph above the speed a 62:15 axle ratio-equipped loco- motive would achieve.
Turning on the engine sounds with Function (F) 8 also illuminates the ground lights, used by full-sized train crews to judge movement of the locomotive in the dark. Other lights include a twin-sealed-beam Gyralite mounted above the cab and a single red emergency light mounted on the nose above the headlight.
The emergency light was designed to illuminate when an emergency brake application was made. On the Scale Trains.com model, the light comes on with a press of F14. Pressing F5 on our Southern Pacific sample allowed me to cycle through white and green classification lights and red markers.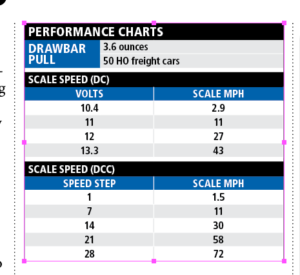 The Operator line model uses a simpler dual-mode decoder called an Essential Sound Unit. While the sound and motor control are comparable to the LokSound decoder, the lighting functions are much simpler, offering a directional headlight.
Sounds on both units include a play- able horn, bell sound, dynamic brake, coupler crash, and a manual compressor sound. Both decoders offer Drive Hold.
The Rivet Counter's LokSound decoder adds an independent brake (sound only unless you use a separately available LokProgrammer), radiator fan sound, headlight dimmer, spitter valve, isolation switch, brake set/release (sound only), sanding valve, and short air let off.
Both SD45s had no trouble negotiating the Atlas no. 4 switch ladders on my home layout. I also took the locomotives to the Milwaukee, Racine & Troy, Model Railroader's staff layout, to test their pulling power. On the curving 3.5 per- cent grade that climbs out of Bay Junction, the SD45s managed 15 cars. My workbench tests showed the engines should pull about 50 HO scale freight cars on straight and level track.
The SD45 was a landmark locomotive, and ScaleTrains.com's new models set landmarks of their own. Whether you want the definitive model of a specific SD45 at a specific time, or an accurate representation of these brutes to move freight on your model railroad, you should be able to find just what you needOperator model is equipped with ESU's Essential Sound Unit decoder.
Price: Rivet Counter: $339.99 (DCC, sound); $229.99 (DC, no sound). Operator: $194.99 (DCC, sound); $124.99 (DC, no sound)
Manufacturer:
ScaleTrains.com
7598 Highway 411
Benton, TN 37307
scaletrains.com
Era: Atchison, Topeka & Santa Fe, 1970s-1980s; Southern Pacific, 1970s
Road names: Rivet Counter: Southern Pacific; Atchison, Topeka & Santa Fe (yellow bonnet); Burlington Northern; Chicago & North Western; Conrail; Norfolk & Western (Pelver blue, Bicentennial); Pennsylvania RR; and Seaboard Coast Line. Operator: Atchison, Topeka & Santa Fe (pinstripe, yellow bonnet); Burlington Northern; Chicago & North Western; Conrail; Penn Central; Pennsylvania RR; and Southern Pacific. Both also available undecorated.
Features
Operator:
• All-wheel drive and electrical pick-up • Blackened metal wheelsets, in gauge • Detail kit sold separately (SXT81180) • Directional headlights
• Essential Sound Unit dual-mode sound
decoder on DCC-equipped models
• Knuckle couplers, at correct height • Lighted number boxes
• Minimum radius: 18″
• Motor with 5-pole skew-wound
armature and balanced flywheels • Positionable drop steps
• Weight: 1 pound, 3.3 ounces
Rivet Counter adds:
• Detailed cab interior
• Detailed pilot with m.u. hoses,
uncoupling levers as appropriate
• ESU LokSound 5 dual-mode sound
decoder on DCC-equipped models
• Operating LED-lit ground lights and
classification or marker lights as appropriate
• Road-name-specific details
• Positionable cab windows
• Underbody frame rail with separate
plumbing and traction motor cables
• Wire and etched metal details including
lift rings and grab irons
• Weight: 1 pound, 3.4 ounces