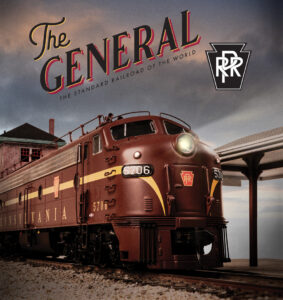 Wm. K. Walthers Inc. announced that Pennsylvania RR's The General will be its next HO scale name train. The train, part of the WalthersProto line, will consist of 11 ready-to-run cars, including four available in plastic for the first time. The models will be offered in two versions: With factory-printed names or numbers as appropriate and with modeler-applied decals. Add-on cars with various features and different schemes will also be offered.
The following cars will be offered for The General: class R50b express reefer ($59.98); class B60b baggage car; American Car & Foundry 85-foot PRR-style baggage-dormitory and class P85 coach; Budd 85-foot kitchen-dormitory, 21-roomette Inn-series sleeper, and 68-seat full diner; Pullman-Standard 85-foot buffet-lounge-observation, 10-6 Rapids-series sleeper, 12-4 Creek-series sleeper, and Falls-series 6-double-bedroom sleeper. The cars are priced between $84.98 and $94.98 unless noted and are scheduled for release between June 2022 and April 2023.
In addition to the individual cars, Walthers will be offering two 13-car Deluxe Edition passenger trains ($1,535) and a three-car Washington Section ($380), the latter based on the connecting train between Harrisburg and Washington, D.C. The Deluxe Edition cars have factory-printed names and numbers, light-emitting-diode lighting, and Preiser figures (approximately 130 in the 13-car sets and 30 in the Washington Section) as appropriate.
Power for the passenger train will be PRR class EP-22 Electro-Motive Division (EMD) E8 diesel locomotives. The six-axle units, scheduled for release in March 2023, will be offered in A-A sets and single A units in the Tuscan single- and five-stripe schemes. Direct-current models are priced at $199.98 (A unit) and $399.98 (A-A sets). Versions with a dual-mode ESU LokSound 5 sound decoder sell for $299.98 (A unit) and $599.98 (A-A sets).
In conjunction with the release of The General, Walthers is offering three limited-run freight train sets based on PRR's 1950s Merchandise Service. The sets, priced at $549.98 each and due out in December 2022, will consist of 12 all-new rebuilt WalthersProto X29B boxcars in the original scheme and an N6B wood cabin car.
New versions of EMD FP7 and F7B diesel locomotives will be offered separately in the Tuscan five-stripe and Brunswick Green with Keystone herald schemes. Direct-current models will be priced at $199.98 (individual FP7s and F7Bs) and $399.98 (FP7 and F7B sets). Versions with a dual-mode ESU LokSound 5 sound decoder will be priced at $299.98 (individual FP7s and F7Bs) and $599.98 (FP7 and F7B sets). The locomotives are scheduled for release in February 2023.
The models in this product range are being made to order. Pre-orders are critical to production, and availability will be limited. Reservations are due by August 31, 2021 to guarantee availability.
To learn more about The General, visit walthers.com/thegeneral.