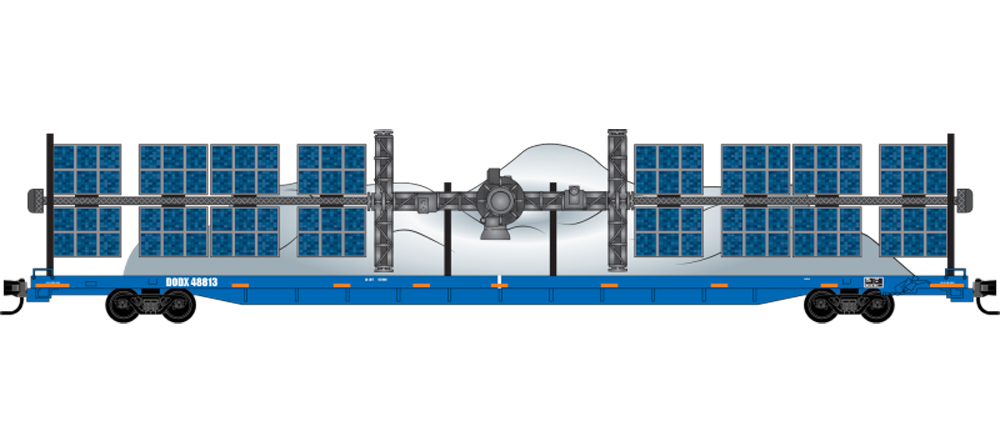 If you read our online News & Products for the week of February 20, 2023, you saw an announcement for the Micro-Trains Line Co. N scale Department of Defense (DODX) flatcar with "mystery balloon" load. The model was made in response to the balloon that was shot down by an F-22 off the South Carolina coast on February 4, 2022. Curious to learn more about the project, I conducted an e-mail interview with Eric Smith, president of Micro-Trains.
Cody: Obviously the balloon was in the headlines quite a bit the first week of February. How did the idea come about at Micro-Trains to make a model with the balloon load?
Eric: Our graphic artists were discussing the news on the "weather balloon" being shot down while working on car art for another upcoming DODX flatcar release. They thought it would be fun and interesting idea. From there, they did a quick mock-up which was brought to our attention, and we said, "Go for it!"
C: How are you able go from concept, to drawing, to production in such a short time?
E: Micro-Trains [is] one of the only model railroad companies that manufactures model trains in the United States, from design to tooling, paint to packaging, all in-house, start to finish. That control over our products and schedule affords us a great deal of flexibility to better accommodate spur-of-the-moment products like this. In fact, the project is already in production.
C: On your website, the model is described as a "multi-media kit with unassembled, undecorated pieces." Can you explain more about the materials that will be used on this project?
E: The laser-cut wood solar panels will be realistically decorated, and the 3-D printed "sensor structure" will be painted an aluminum color. The balloon is cast resin. All of these components are fairly easy to design and fast to produce.
The flatcar will be factory painted and decorated, and is our conventional injection molded 89-foot flatcar body fitted to a die-cast metal underframe.
C: This is certainly a timely model. Has Micro-Trains released other models in response to current events?
E: We figured that everyone, regardless of political beliefs or world views, was in some way affected by the news of the balloon. It seemed to be a product that everyone would be interested in. We have done a few other current-event products. The solar eclipse car in 2017 and the Ukraine tribute car in 2021 are two recent ones.
C: What has the response been to the flatcar with balloon load?
E: Demand has been strong and steady in terms of pre-orders since we announced this release just days ago.
C: Are you still on target for the April 2023 release date?
E: We are. The target release date is mid-April, which gives us some flexibility as to the exact timing of filling and shipping orders.
C: Are there plans to offer the balloon load in your Z scale line?
E: We are considering offering this in Z scale. However, if we go forward with a Z scale version of this DODX flatcar with weather balloon, we'll be taking one liberty. We don't offer an 89-foot flatcar in Z scale, so we'd use our 60-foot flatcar and have to significantly shrink the balloon structure to fit on a shorter car.