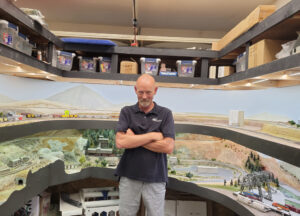 What was your first train set (or locomotive)?
 I was about six or seven years old, and it was approaching Christmas. My parents were building something in one of the spare rooms of our house. When I asked them what it was, they told me it was a sewing cabinet for my mother.
When Christmas Day came, my parents took my sister and I upstairs and showed us our big presents. She got something really cool that had her jumping around in excitement. I, on the other hand, got the sewing cabinet. I started crying, believing Santa had let me down. My father started laughing and went over to the cabinet and dropped the door. On it lay a 4' x 8' HO scale layout, complete with a station, a siding, a spur, a steam locomotive, and rolling stock. I went ballistic with excitement.
I played with that layout for a couple of years. Then, my interests changed a little, and eventually the railroad went into the trash. I am not sure what happened to the locomotive and cars. Even though I did not have a railroad anymore, for the next few decades I often fell asleep at night designing my next pike.
About five years ago I decided I wanted to build another model railroad. I bought an N-scale, Bachmann "Empire Builder" train set. It came with a Northern 4-8-4 steam locomotive, seven freight cars, and a caboose. My original plan was to build a steam era layout, like I had as a kid, and the first version of my layout was exactly that. However, a couple of years later I caught the diesel bug and my steam locomotives got shelved. My current layout is mostly modern, but some of my older scenes can still be found on the layout.
When I bought the Empire Builder kit, I had little understanding of the power of DCC. All I knew was that it was more expensive, and I did not see the need for it. This kit was straight DC, and I built my own power block switching console to isolate locomotives in various areas. That is when I figured out why DCC is the way to go if you are running more than one locomotive or train. My current layout is all DCC and some of it is automated using DCC.
While I do not use the DC steam locomotive anymore, the freight cars can still be found on my layout. Ultimately, the Empire Builder train set was a great investment. It got me back into the hobby in a practical way, it let me run trains, and it was the foundation that I built my knowledge and love of the hobby on. Now, in my adult life, I am realizing all those dreams I had for all those years.
Describe your model railroading philosophy in 6 words.
 My model railroading philosophy can be summed up in 3 words. "It's my railroad." When I got back into model railroading, I really did not know too much about it. I started poking around on the internet and I found amazing resources for the model railroader. But I also found were what I call "purists." These are folks who would comment on my ideas, modeling, and progress in such a way that it was clear they did not consider me a "real" model railroader. It got me in such a bad place that I considered giving up the hobby.
Then, I had a lightbulb moment. I am the one spending the time and money on this layout! Who cares if some of my scenes do not exactly fit into the same era? This is my railroad. So, I just shoved off. I have never regretted it. Some of my models are brag worthy, and some of them will never be shown to the masses. But, at the end of the day, I am enjoying the challenges and the pride in achievement.
I can also tell you this: whenever friends and family come to visit my hobby room, and see my structures and details, all they do is Oooo and Ahhhhh. These are folks that do not know anything about eras or prototypes but enjoy what I have been able to build. Those people are the ones whose opinions I care about most.
Apparently, my philosophy resonates with tens of thousands of other model railroaders. It is empowering to know that it is your railroad, and you can do whatever makes you happy.
What has been your biggest modeling success?
My biggest modeling success has been my impact on regular guy modelers just like me. This is why I started It's My Railroad. I wanted to inspire folks by showing them that basic, regular guy skills, can build some great stuff. This hobby is for men and women, young and old, people with basic skills and master skills, people with small budgets and large budgets, and people who enjoy being alone and people who enjoy being a part of a community.
What was your biggest modeling mistake?
My biggest modeling mistake was building a double-deck layout. I saw many videos of people's double deck layouts, and I was excited about the amount of mainline I could get from it. So, I designed and built the present version of the Brown Smith Railroad. At the time of this writing, I am about 2-1/2 years into my build.
First off, I have some wicked grades – 2.5% to 3% – to get from one deck to the other. I do not have a helix but even if I did, the net result would be similar. I can pull trains up my grades with two locomotives lashed together but I can only pull about 20 cars. I was hoping to have a layout where 30-40 car trains would be running. It is a little disappointing but for now I am making do.
Secondly, when I need to work on the bottom deck, I often find myself leaning in under the top deck. I must sit in a chair and then stand up when necessary. This takes a great deal of fun out of running operations and modeling. I find I really enjoy working on the top deck, but lament when something needs to be done on the bottom deck.
Bottom line, I will never build a double deck layout again.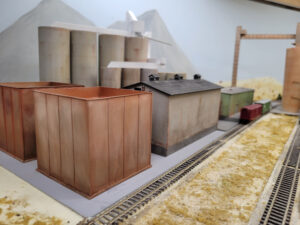 What's your least favorite modeling task?
It may surprise some folks that my least favorite modeling task is laying track, dropping feeders, soldering that together, and hooking it into the buss. The fact is, without track there are not any trains! For some reason my track-work never comes out as pristine as one would see the masters install it. I try to take my time and follow all the tips from the experts. Then, at the end of the day my trains derail or short out here and there. I probably spend as much time fixing my track as I spent installing it.
What project(s) have you been working on recently?
Right now, I am working on three projects. First, I am scratchbuilding a concrete plant for a place on my layout I call "Caleeinte Flats." Second, I am starting a series of videos for Trains.com where I am modeling a prototype team track that is right near where I work. There are some awesome real-world details in this scene that I cannot wait to model and share with the railfans. I am going to show fellow regular guy model railroaders how they can pull this off in N-scale.
[Check out Steve's trains.com exclusive "Scale it Down" video series! —Ed.]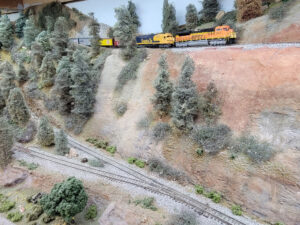 What advice would you give to a new hobbyist?
My advice for new or returning modelers is to just shove off. More times than I can count I have read comments where fellow modelers enjoy what they see me do but are apprehensive about doing it themselves. I always tell them, just shove off and make something you're proud of.
That is all part of the fun! It is far too easy for someone to sit on the other end of the internet and bash your efforts. Do not let that get to you. Over the past few years, I have run into thousands of regular guy model railroaders just like you. All of them just enjoy watching folks like you giving it a shot. No matter what, just rail-on my friends!