A version of this article appeared in Model Railroader's special issue from 2018: Build a Small Railroad.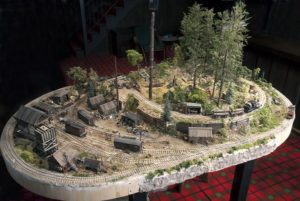 Modeling a logging camp requires a variety of structures, trackwork, scenery, figures, and activities. The camp includes not only loggers involved in different pursuits, but also woodchoppers, a laundress, checkers players, engineers and mechanics, stable hands and horses, bears, garbage cans, railroad materials, and more, surrounded by a forest.The Mich-Cal had at least 16 logging camps, but I focused on one camp and spent time on the details of my compact layout.
A friend built the table and I used Fast Tracks templates and materials for five of the turnouts and some of the trackwork, and bought flextrack for other portions of the layout. Of six turnouts, only one is commercially made. Tortoise by Circuitron switch motors power the turnouts.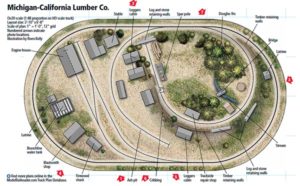 I used Woodland Scenics SubTerrain inclines to create grades and change elevations. Landforms were created using layered extruded-foam insulation board covered irregularly with Sculptamold, a papiermache product; the latter had small quantities of tan acrylic paint mixed in. Cliffs were modeled with products from Bragdon Enterprises. I used several layers of various ground covers, including sand, and foliage from a number of sources, including Woodland Scenics and Brennan's Natural Ground Cover.
built Douglas firs from wood trunks dyed with Higgins russet drawing ink and painted a grimy black color. I drilled holes for caspia branches, which were dyed with Moss Green Design Master spray paint no. 721. I then used Woodland Scenics Green Blend fine ground foam applied with a spray adhesive. The towering trees on the hill on the layout are the first things one sees when entering the train room.
The water was modeled with Enviro-Tex two-part resin. A trickle of water seeps between hills in the forest, where a wrecked steam donkey lies rusting after falling down the hill. A sound system, employing two old automotive speakers, reproduces the sound of the stream and a thunderstorm.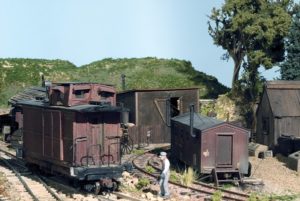 Johnny Cash is also available to sing Lumberjack. I applied photographers' blue background paper to a wall in my room for sky. I drew clouds with white and gray chalks. Modified dry-mounted photomural pictures of hills and mountains were placed on the background paper. Overhead, I had halogen lights installed, which are directed at scenes.
LAYOUT at a GLANCE
Name: Michigan-California Logging Co.
Scale: On30 (1:48 proportion on HO scale track)
Size: 3′-10″ x 6′-8″
Prototype: Michigan-California Lumber Co.
Locale: El Dorado County, Calif.
Style: Tabletop oval
Era: 1918
Mainline run: 19′-4″
Minimum radius: 18″
Minimum turnout: no. 6
Maximum grade: 4%
Height: 41″ to 47″
Roadbed: Homasote
Track: hand-laid Fast Tracks and Micro Engineering code 70 flextrack
Scenery: Sculptamold on extruded-foam insulation board
Backdrop: photomurals on blue background paper
Control: Bachmann E-Z Command Digital Command Control