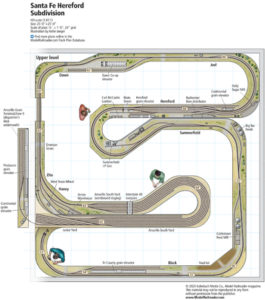 The layout at a glance
Name: Santa Fe Hereford Subdivision
Layout owner: Sammy Carlile
Scale: HO (1:87.1)
Size: 25 x 25 feet
Prototype: Atchison, Topeka & Santa Fe Ry.
Locale: between Amarillo, Texas, and Clovis, N.M.
Era: summer 1995
Style: multilevel walk-in
Mainline run: 225 feet
Minimum radius: 30″
Minimum turnout: no. 6
Maximum grade: 1.85 percent
Benchwork: open grid
Height: 44″ to 64″
Roadbed: cork over 3⁄4″ plywood
Track: codes 83 and 100 flextrack
Scenery: plaster cloth over screen and extruded-foam insulation board
Backdrop: painted 1/4″ tempered hardboard
Control: Digitrax wireless Digital Command Control
See a PDF version of this by clicking here.