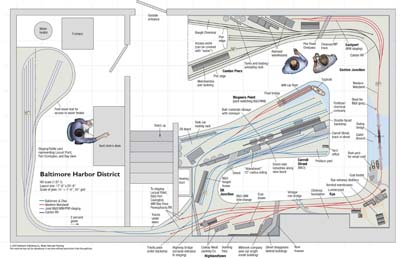 Name: Baltimore Harbor District
Layout designer: Paul Dolkos
Scale: HO (1:87.1)
Size: 17 x 29 feet (in two rooms)
Prototypes: Baltimore & Ohio, Canton RR, Pennsylvania RR, and Western Maryland
Locale: Baltimore
Period: 1955
Style: linear walkaround
Mainline run: not applicable
Minimum radius: 24″, except 18″ and less on some spurs
Minimum turnout: no. 6
Maximum grade: 2.5 percent leaving staging, otherwise level
Originally appeared in Model Railroad Planning 2010.
Carroll Street originally appeared in the October 2017 Model Railroader.
Click on the links to download PDFs of these track plans.