Grade crossings you can model are scene enhancers that you should consider adding to your list of projects.
"Why a grade crossing?" you may ask. "I'd rather work on a locomotive, freight car, structure, or [fill in the blank with your favorite aspect of the hobby.]" I get it.
Grade crossings you can model introduction
Grade crossings you can model probably don't peg the interest meter for most modelers. However, they're out in the open, and using the right style can make (or break) a scene. If the crossing you're modeling is on a road that would see an average amount of vehicle traffic, an asphalt-and-timber crossing would be appropriate. However, you wouldn't put a concrete panel crossing on a 1930s layout or install one on a seldom-used farm crossing.
Below are six styles of crossings I've come across in my travels, covering short lines, regionals, and Class 1s. There's bound to be one (or more) style of crossing that you can put to use on your model railroad.
Asphalt and timber
I found this asphalt-and-timber crossing on the regional carrier Wisconsin & Southern in Horicon, Wisconsin. As the name indicates, the crossing features asphalt in the gauge with timber flangeway headers on both sides of the rail. There is a 2-1/2-to-3-inch gap between the headers and rail for the flangeway. There's a 2-1/2-inch gap between the headers and rail on the field side. These crossings are common on roads with medium and high vehicle traffic.
There's no off-the-shelf option for an asphalt-and-timber crossing, but scratchbuilding one would be easy. On the prototype, typical crossing planks are 6, 7, or 8-by-10-inch. You may need to adjust the size of the stripwood based on the gauge of the rail at the crossing. The asphalt material can be plaster, such as Woodland Scenics' Smooth-It, or styrene. In either case, the material will need to be painted an asphalt color and the stripwood stained to look like creosote-treated planks.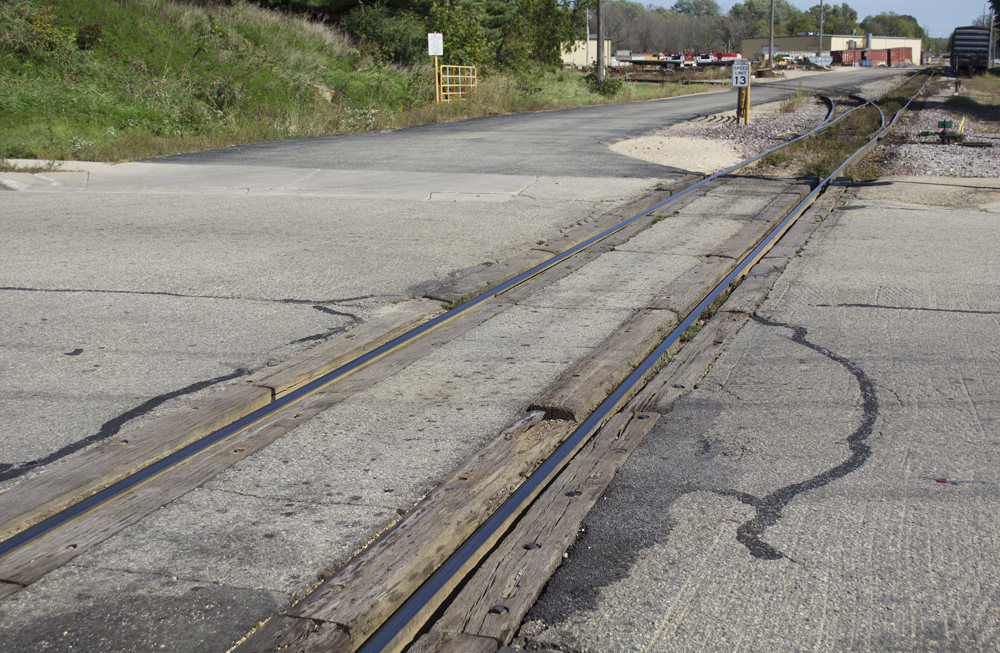 Asphalt and rail
Sometimes crossings are home-brewed affairs. I came across this one on the Ellis & Eastern Railroad in Sioux Falls, South Dakota. The design is similar to the asphalt-and-timber crossing on the Wisconsin & Southern. However, rail is used in place of timber for the headers. The ends of the rail used for the headers are bent down. Also notice the extra spike plates used to anchor the headers. I didn't measure the gaps between the headers and rail, but they appear to be a bit wider than the typical 2-1/2- to-3-inches.
As before, scratchbuilding is the way to go with the asphalt-and-rail crossing. The biggest chore will be cutting and bending the header rails. Though the railhead should be shiny on the track your trains will run on, it should be rusty on the headers.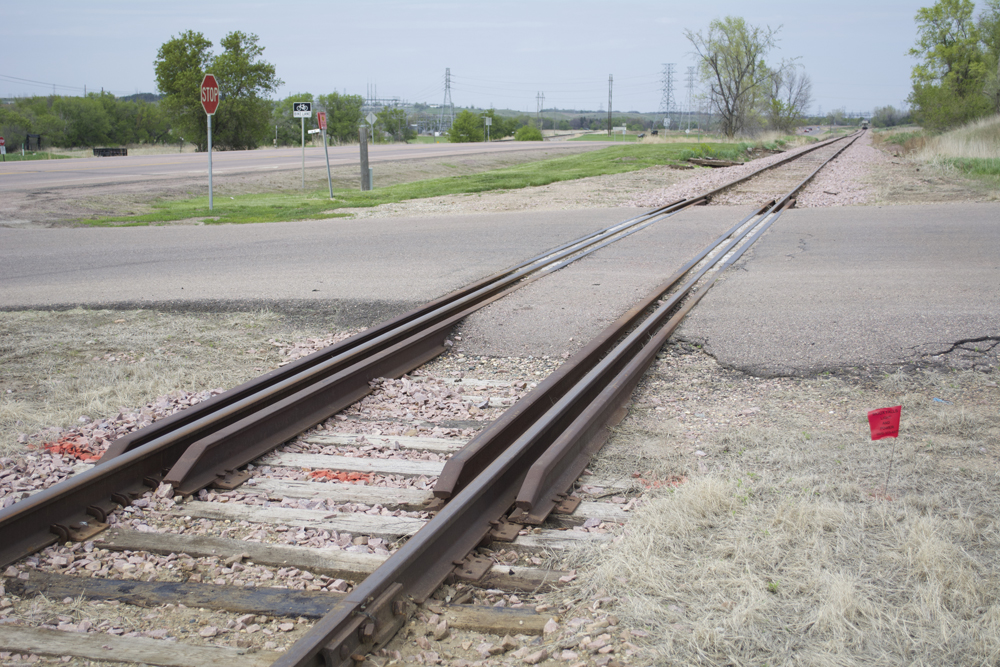 Concrete panels
The Wisconsin & Southern used concrete panels at the Grand Avenue crossing in Hartford, Wisconsin. This style of crossing dates back to the 1990s and is commonly found on roads with medium to high vehicle traffic. The panels, which can be cast in place or ordered pre-cast, are designed for installation on wood and concrete ties. There's a 3-inch flangeway between the panel edge and rail and a 2-1/2-inch gap between the panels and rails on the field side.
Concrete panel crossings are offered by Atlas Model Railroad Co., Summit USA, and Wm. K. Walthers Inc. in HO scale. Atlas also offers the crossing, as well as an expansion pack, in N. For tips on painting, weathering, and installing the Atlas HO scale concrete panels, read Pelle Søeborg's article "Build a modern grade crossing" in the April 2017 issue of Model Railroader.
Rubber mat
Rubber mat crossings date back to the 1970s. The example shown is a Hi-Rail full-depth rubber grade crossing on the Canadian Pacific (CP) near Watertown, Wisconsin; other manufacturers produce similar crossings. The Hi-Rail crossing consists of three-foot long gauge and field pads that are offered in lagged and lag-less designs. The installation on the CP is lag-less, as evidenced by the field and gauge end blocks secured to the ties on the foreground crossing.
Re-creating rubber mat crossings, which are used on roads with high vehicle traffic volume, is easy to do with off-the-shelf kits in HO scale from Accurail, Atlas, and Walthers. N scale kits are produced by Atlas using the former BLMA tooling.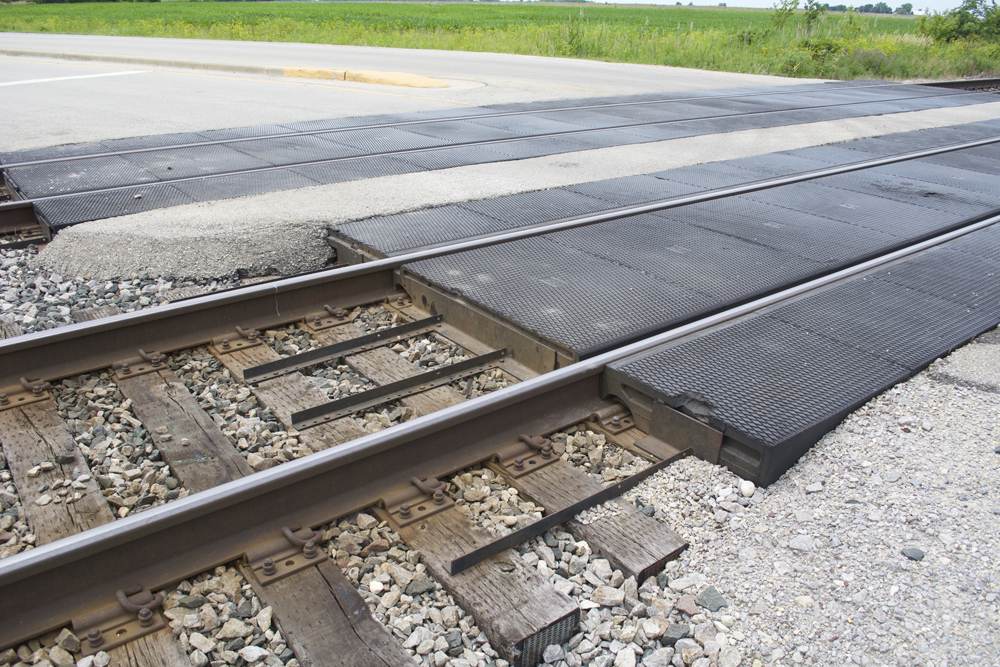 Wood planks
Whether you're modeling the 1930s or the 2020s, wood crossings are a prototypical option. Heavily travelled crossings are fitted with 6, 7, or 8-by-10-inch crossing planks. This style of crossing can be built up using individual planks or factory-assembled panels. The Canadian National crossing in the photo below appears to be fitted with panels.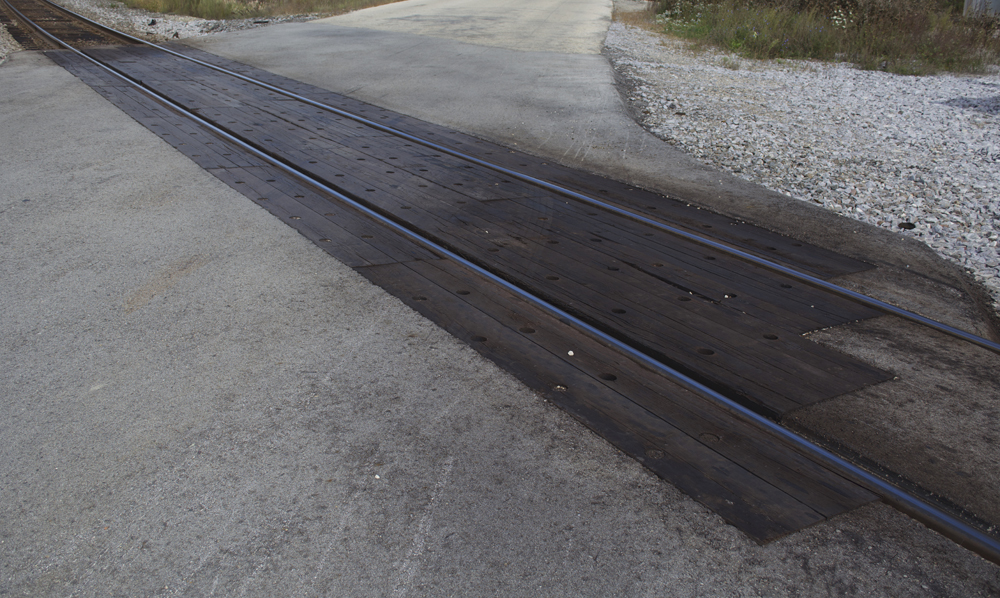 Less-travelled routes and private crossings have smaller planks. Burlington Northern specified in the 1974 edition of its Roadway Standard Plans the "planks to be nominal 4-by-10-inch and 16-foot-long No. 1 structural fir, gumwood, red oak, or white oak." Though BN has been gone for a quarter century, examples of these crossings can still be found on successor BNSF Railway and lines spun off to regional and shortline railroads.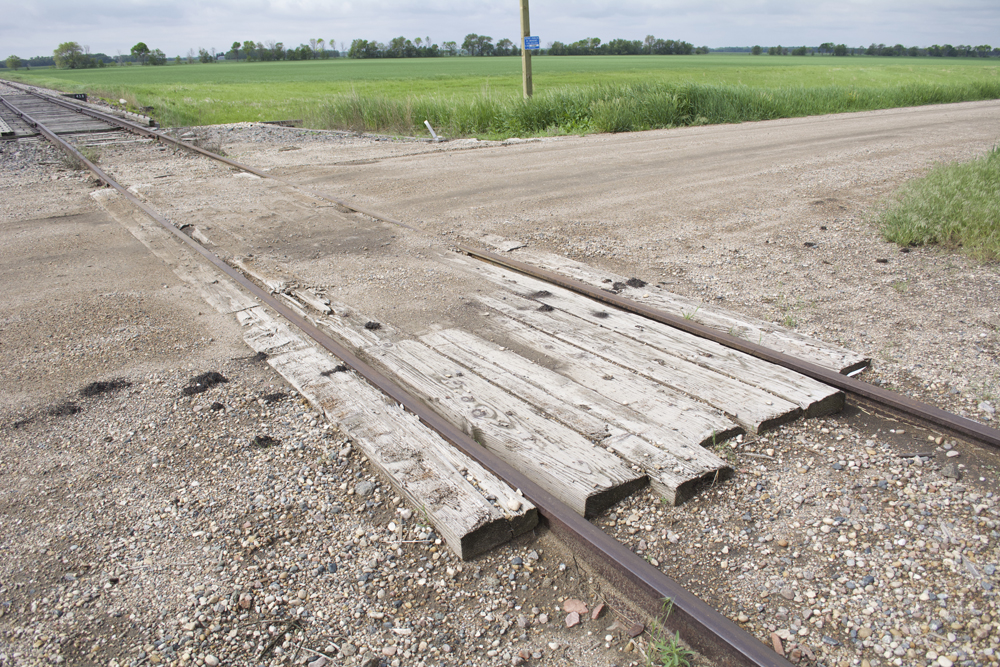 There are a variety of wood crossings for straight, curved, and angled installations in HO and N scales from Blair Line, GC Laser, and Woodland Scenics. Walthers also produces wood crossings in HO.
Lots of options
I've provided a list of manufacturers that offer grade crossings in N and HO scales to help you along in any grade crossings you can model project. If I've missed any, please leave the manufacturer name, item number, and crossing style in the comments field below.
HO scale
Accurail
117 rubber mat
Atlas Model Railroad Co.
BLMA4105 concrete
BLMA4106 rubber mat
Blair Line
Multiple wood crossings
GC Laser
11271 wood (straight)
11274 wood (15" radius)
11275 wood (18" radius)
11277 wood (22" radius)
Summit USA
GC-001 concrete
Wm. K. Walthers Inc.
933-4121 modern concrete
933-3137 rubber mat
933-4158 wood
Woodland Scenics
C1147 wood
C1148 steel plate
N scale
Atlas Model Railroad Co.
BLMA77 rubber mat
BLMA78 rubber mat expander
BLMA79 concrete
BLMA80 concrete expander
Blair Line
Multiple wood crossings (straight, angled, curved)
GC Laser
01271 wood (straight)
01272 wood (9-3/4" radius)
01273 wood (11" radius)
01274 wood (15" radius)
01276 wood (19" radius)
Woodland Scenics
C1149 wood
C1150 steel plate