I hope the main picture here demonstrating non railroad freight car uses is sufficiently absurd to indicate why I selected this for an article.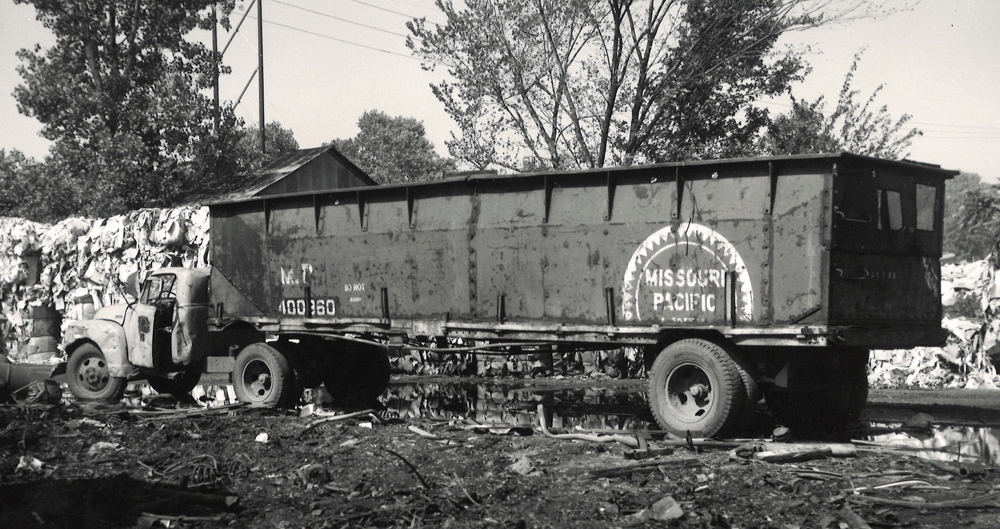 In case it is not: A former Missouri Pacific hopper, shorn of trucks and belly gear, modified with sheet metal or plate steel, no doubt, and masquerading as a semi-truck trailer — is silly. Why, it's fodder for that worn phrase: "There's a prototype for everything."
To paraphrase one Kalmbach co-worker, It's about as heavy as anything that trucker wants to haul.
True. Too true.
Ex-Mopac 400860(or -360 or -960 it's not clear from the image) was an all-steel open-top hopper 36-feet, 7 inches-long; 10-feet, 5-inches-wide; and 10-feet, 8-inches high above the rail. It's rated capacity was 2,191 cubic feet or 110,000-pounds — according to The Official Railway Equipment Register, January 1967, Page 682.
That was the year, 1967, that the class of hoppers with the number range: 400101 to 401264 were added to the register for Missouri Pacific. By the date of the image, June 1969, this hopper was a truck.
For some reason, this information is unsatisfying. So I started to dig more.
Starting with the image itself: the 400XXX number is obviously a more recent painted patch. And judging by the condition of the well-worn MP reporting marks and herald, the car had been in Mopac service long before 1967. But I don't know for sure because all the build-date information was cut off with the creative metal working. So back to the equipment register.
The yellow book is good about indicating when car series were added or subtracted from the register, but not necessarily the origins of individual cars.
I've read on the Internet that the Mopac re-numbered freight cars to six digits in the 1960s to clarify its system. So our truck-hopper could be a straight re-numbering from the 58750 to 60950 series of 899 identically dimensioned hoppers. But the register's line item shows no changes in the 899 quantity. Strange.
An old standby is to search on the net and … RR Picture Archives comes up empty. Not one of the 85 pages of MP pics there shows a 400XXX hopper.
The equipment register shows the Chicago & Eastern Illinois, which Mopac took over in 1967, had several hundred similar hoppers, but no indication of transfers. Checking the register for January 1968 only shows Mopac's total increase in that number series from 29 to 73.
Aw, I'm a dummy. Why didn't I check the "color guide" to the Mopac? Well, I did. The "Missouri Pacific Color Guide to Freight and Passenger Equipment" James Kinkaid authored for Morning Sun Books and published in 2004 does not show 400XXX series hoppers. However, two hoppers, on pages 74 and 75 of Kinkaid's book make me think that we can at least get close to our hopper's origin.
The pictures show hoppers from the 58750-59249 and 59250-59749 series that American Car & Foundry (ACF) built in June 1936 and July 1937, respectively. Both series have the same rated capacity (2,191 cubic feet, 110,000-pounds) and have the same look as our hopper, including the prominent riveting. Sadly, our hopper has lost one of its top braces (the one in the middle over the rivets.) Micro-Trains' N scale hopper is the closest model I've been able to find, so far.
In reciting this rabbit-hole research trail, I wish to make two points.
The first: Whether you are looking to model an oddball freight car like this one, or you have something truly ordinary but wish to make it "like it was in the picture," research is key, and often inconclusive. Sometimes, the best we can do is "pretty close."
Second: The fact that we have an image of a freight car with a possible but unconfirmed back story, means there's likely hundreds or thousands of freight cars and pieces of equipment that are lost to history.
So, not only was there a prototypical Mopac hopper turned semi-trailer, it's also prototypical to have random equipment with mysterious origins show up in unexpected places. Gosh, there really is a prototype for everything!