With school back in session, the sun setting earlier, and the first hints of autumn showing up in the trees, it also means we're getting back to peak model railroading season. Are you searching for some workbench projects to keep you busy this fall and winter? Here are five cabooses you can model.
I just caught the tail end of the caboose era, but I've long been interested in modeling the cars. In fact, some of the first awards I received at a National Model Railroad Association Regional Convention back in the mid-1990s were for cabooses. In this article, I'll take a look at look at wood and steel cabooses found on shortline railroads, fallen flags, and even Amtrak. Some of these cars can be re-created using mass-produced models as a starting point. Others will require kitbashing or scratchbuilding skills.
Though cabooses have largely disappeared from today's railroads, that doesn't mean we can't enjoy them on our model railroads. Hopefully one or more of these prototype cars will serve as the basis for your next modeling project.
A new lease on life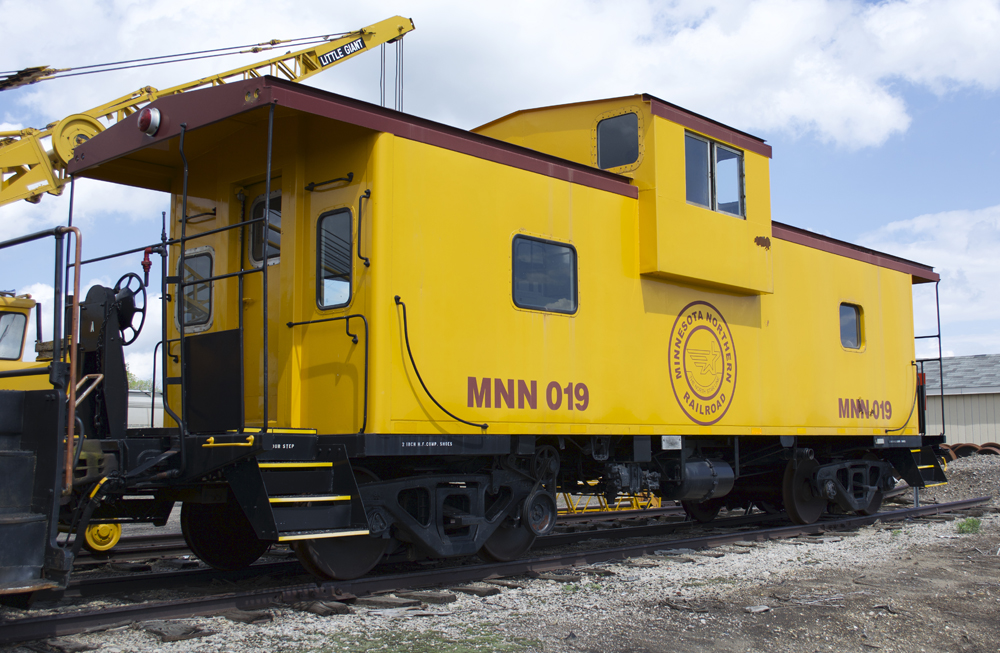 It's not too often that you find railroads adding cabooses to their roster in the modern era. But that's exactly what happened on the Minnesota Northern (MNN). Not long after KBN Inc. acquired the railroad from short line holding company RailAmerica, it added Soo Line wide-cupola caboose 76 to its roster. The car, part of Soo Line's 66-145 series, was built under Lot 1978 by International Car Corp. in 1973.
At quick glance, the most obvious changes were the paint scheme and road number. Gone was the red cupola, white sides and ends, and large "SOO" lettering. It was replaced with MNN's maroon-and-gold paint with the MNN herald centered under the cupola.
When you look closer, though, you can see the plating over the original window on the right end of the carbody was removed and new windows were added. Visible in the image above are the second windows added to the A end (the taller one) and left end of the carbody. On the right side, the plating over the original window was removed and a pair of windows were added.
To model this car in HO scale, I would start with the WalthersMainline International extended-cupola caboose (910-8700). The model is based cars from Soo Line's 55-65 series, which are nearly identical to the 66-145 series. The main difference between the two groups is the location of the fuel filler.
Minnesota Northern is co-owned by Independent Locomotive Service. If I were to guess, the new windows were harvested off of an EMD end-cab or road switcher. KV Models EMD SW1000/SW1500 metal cab window trim would be helpful for trimming the new windows. Don't forget to add an American Model Builders caboose axle generator (No. 226) to the left side of the A end truck.
Decals aren't available for the MNN 019, so they will need to be custom produced.
Maintenance-of-way service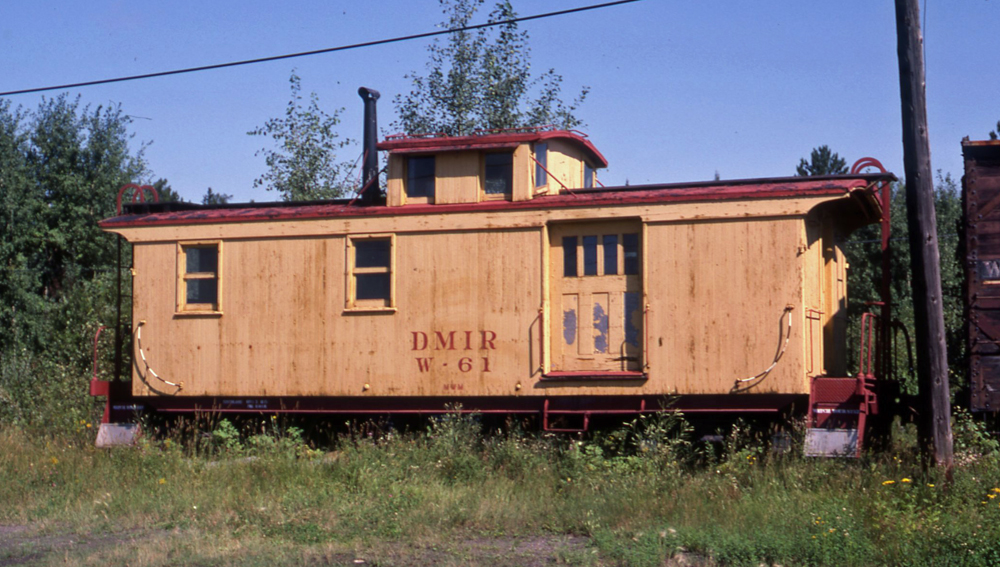 Aging and surplus cabooses occasionally find new homes in maintenance-of-way service. One example is Duluth, Missabe & Iron Range caboose W-61. The class H1 caboose was built in 1913 at the Duluth, Missabe & Northern shops in Proctor, Minn. The center-cupola car was constructed with a wood underframe and fitted with side doors for handling less-than-carload shipments.
In April 1945 the C-61, then used on trains between Proctor and Duluth, received a steel underframe at the DM&IR shops in Two Harbors, Minn. The 36'-5" caboose was retired in 1975, reassigned to work service the same year, and renumbered W-61. To learn more DM&IR cabooses, see Duluth, Missabe & Iron Range Equipment, 1883-2004 by Daniel P. Holbrook (Signature Press, 2019).
I checked the DM&IR Historical Society website, and the C-61 was offered as a brass import in N scale by PBL Brass/Benchmark Models. I couldn't find evidence the caboose was offered in HO scale, so your best bet would be scratchbuilding. The DM&IRHS offers a rolling stock diagram book that includes DM&N equipment.
Built from boxcars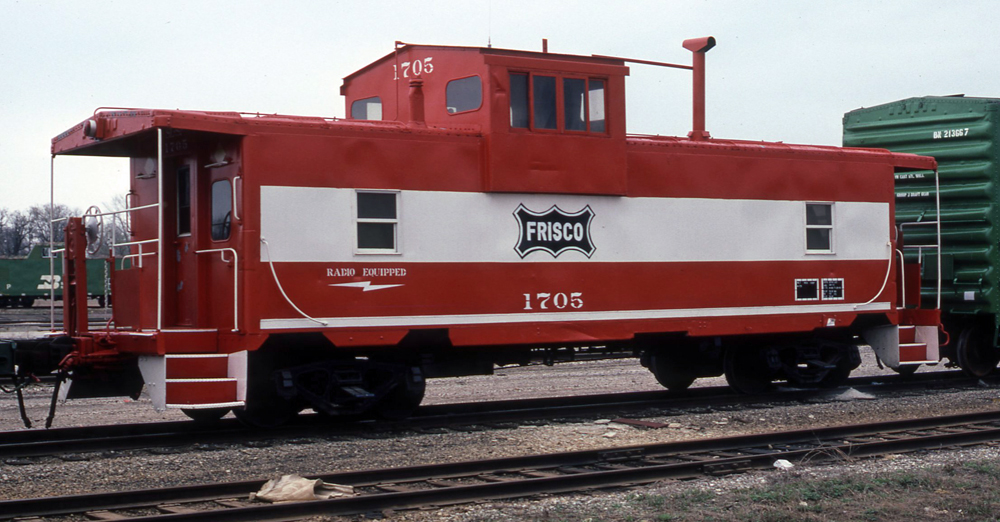 There are numerous examples of railroads that converted boxcars into cabooses. Some of my favorite are the wide-cupola and bay-window cars built by the St. Louis-San Francisco (Frisco) between 1973 and 1979.
In May 2022 I wrote about finding the prototype for Frisco's caboose rebuild program in, of all places, Hillsboro, N.D., some 800 miles north of the railroad's Springfield, Mo., shops. Burlington Northern 11711 (ex-Frisco 1776) is now on static display in the small town on the east side of North Dakota.
What sparked Frisco's building program? In the early 1970s, the company needed more cabooses. With offerings from car builders proving too expensive, the railroad looked for other options. Around this time, the railroad had a surplus fleet of Pullman-Standard 40-foot PS-1 boxcars. Frisco management tasked the shop forces at its Consolidated Mechanical Shops (CMS) in Springfield with building modern road cabooses from boxcars.
The prototype caboose, 1776, was built in September 1972 and proved a success. Wide-cupola cabooses 1400-1442 were built between February 1973 and October 1976. Another batch of wide-cupola cars, 1700-1775, were constructed between February 1973 and September 1974. The last cabooses built were bay-window cars 1726-1735, completed in November and December 1979. When Frisco merged with Burlington Northern in 1980, the 1400-series cabooses were renumbered 11630-11672, the 1700-series wide-cupola cars became 11675-11699, and the bay-window cabooses were assigned numbers 11700-11710.
To model the Frisco wide-cupola cars, I would follow the prototype's lead and start with Pullman-Standard PS-1 40-foot boxcar. For an HO scale model, source the cupola and ends from an Athearn wide-vision caboose kit (decorated or undecorated). Though these models are out of production, they're still readily available at model train swap meets and online auction websites. The Atlas wide-cupola caboose would be a good source for those parts in N scale.
Cabooses on Amtrak?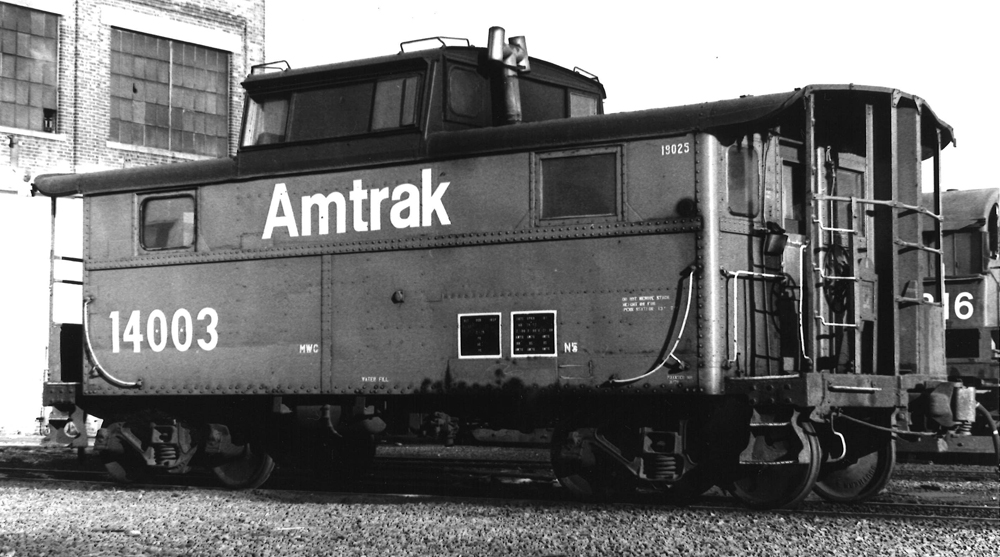 When I was compiling my list of five cabooses you can model, I have to admit that Amtrak wasn't on my radar. Then I came across the photo above, and down another bunny trail I went. In Craig T. Anderson's Amtrak 1978-1979 Annual (Rail Transportation Archives, 1978), it notes the passenger carrier had a fleet of ex-Penn Central cabooses – er, cabin cars – numbered 14000-14018. The 19025 stenciled in the upper right corner on the cabin shown above is most likely the car's former Penn Central number. The Amtrak car was painted deep orange with a black cupola and roof. Here's a color photo of the 14003 at Providence, R.I., in March 1979.
The Amtrak car would be easy to model using Bowser's N5 cabin, which is available in HO and N scales.
I couldn't find a decal set specifically for Amtrak maintenance-of-way cabooses, so you'll have to get creative. K4 Decals offers a PC caboose set in N and HO scales that has most of the lettering you'll need. The Clean, Oil, Test & Stencil panels are offered separately by K4 Decals and other manufacturers.
For the white "Amtrak" lettering, try the Fusion Scale Graphics set designed for Amtrak's Pacific Surfliner F40PH diesel locomotives. It's available in HO and N scales.
From cattlemen to the superintendent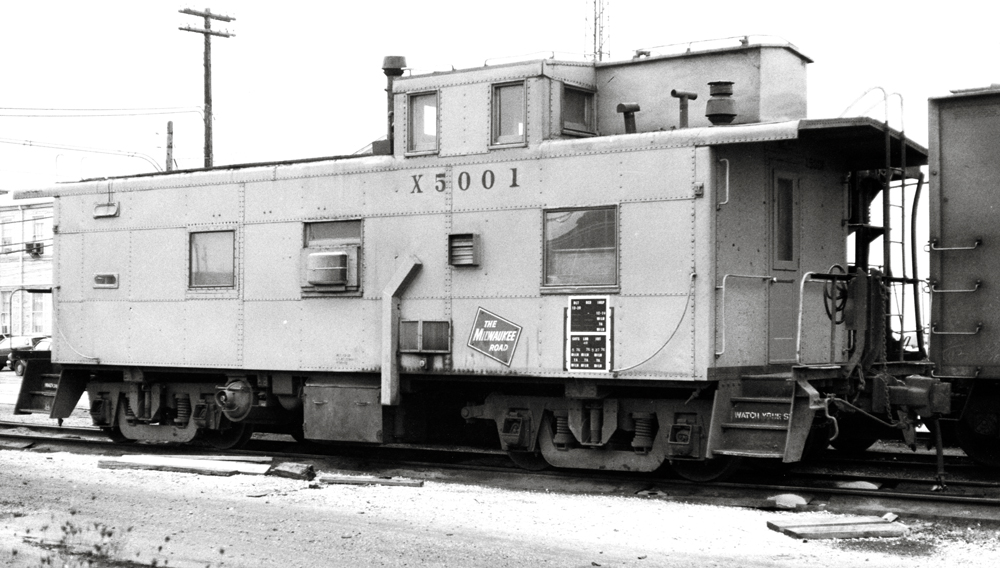 We'll wrap our look at five cabooses you can model with a car from the Milwaukee Road. The X5001 was built at the Milwaukee, Wis., shops in December 1929 as drover's caboose 01612, part of the railroad's 01601-01615 series. The 15 cars are noteworthy as they were the Milwaukee Road's first steel cabooses. To learn more about these and other cars, see Jeff Kehoe's book Milwaukee Road Steel Cabooses (Milwaukee Road Historical Association, 1998).
The Milwaukee Road's drover's cabooses spent many years on the west end of the system transporting cattlemen who were accompanying livestock shipments. Some drover's cabooses were put into yard service in the 1960s. In the 1970s, the 01612 was rebuilt, first for use as an instruction car. When it was converted to a superintendent's car, it was renumbered X5001. The box extending off the cupola covers the water tank for the kitchen.
The X5001 became part of the Soo Line roster in 1985. The former caboose retained its road number, but was painted red with white "SOO" lettering. The Milwaukee Road Historical Association acquired the car in 2001 from Canadian Pacific. The X5001 is now part of the collection at the Illinois Railway Museum.
The X5001 has not been offered as a mass-produced model. In N scale, the Micro-Trains 36-foot riveted-side, offset-cupola caboose would be a reasonable starting point for a kitbashing project. For HO scale, scratchbuilding is probably your best bet. Details on the full-size car changed over the years, so refer to prototype photos from the era that you're modeling.