Kitbashing is a facet of the hobby many model railroaders enjoy. Full-size railroads modify equipment, too. As I was combing through my photo collection and images in our David P. Morgan Memorial Library, I found five Burlington Northern kitbashes. Hopefully one or more of these cars will inspire your next modeling project.
Want more Burlington Northern stories? Check out my articles "Eight Burlington Northern freight car one-offs" and "Burlington Northern locomotive one-offs" on Trains.com.
Gondola No. 500014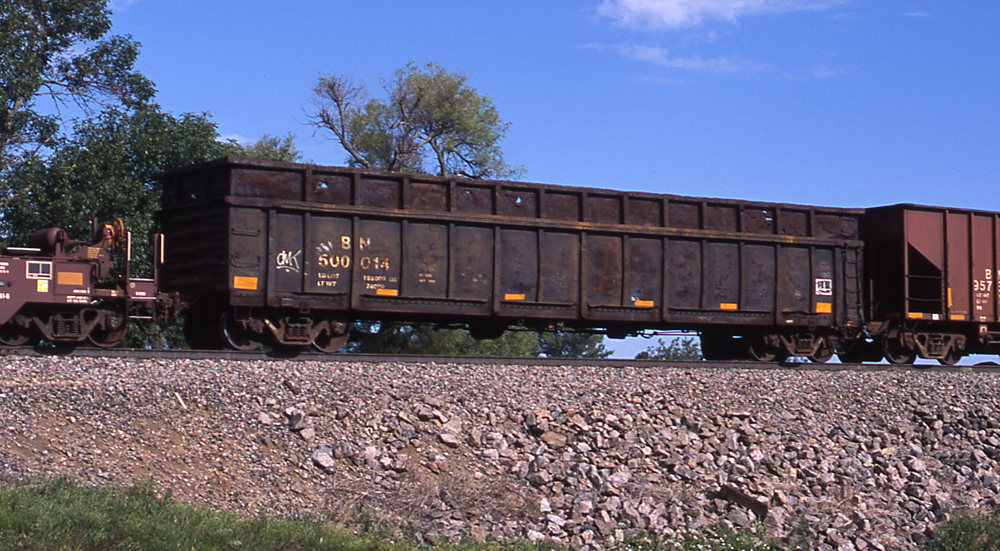 In the summer of 2010, my wife and I visited my parents in Sioux Falls, S.D. We took a day trip to Pipestone, Minn., following the BNSF Ry. along Minnesota State Highway 23. We caught a couple of trains during the trip, both of which featured kitbashed BN freight cars.
First up with gondola No. 500014. The 52'-6" car was originally part of the Chicago, Burlington & Quincy's 83300 through 83399 series built at the railroad's Havelock, Neb., shops in 1965. After the merger, the gondolas became part of BN's 577300 through 577399 series.
In the late 1980s, cars from that group were rebuilt with extended sides and renumbered into the 500000 through 500025 series. During the rebuild, the base of some exterior posts was reinforced (see posts 1, 3, 6, 8, 10, 13, and 15 on car 500014).
The modifications weren't consistent throughout the series. On car 500011, different posts were reinforced. Also notice that the right end of the gondola has grab irons between the stirrup step and top chord of the extension, while car 500014 has a ladder on the car and grab irons on the extension.
Photos of these gondolas aren't common, and most show the car empty. The only image I've seen of a loaded car shows it hauling ties.
Gondola No. 967000
In another train we caught during our trip to Pipestone I came across maintenance-of-way gondola No. 967000. When I got the slides back after the trip, I noticed the ends didn't have a typical gondola appearance. After doing some research, I learned BN built the gondola in 1993 from a bulkhead flatcar.
I couldn't find the lineage of car 967000, the class car of the railroad's 967000 through 967118 series. Other cars in this series were built using bulkheads from BN's 617400 through 617599 and 618400 through 618599 (ex-GN 161000 through 161299) series. The 2,966-cubic-foot-capacity gondolas have an interior length of 56'-8" and an exterior length of 65'-10".
Gondola No. 621059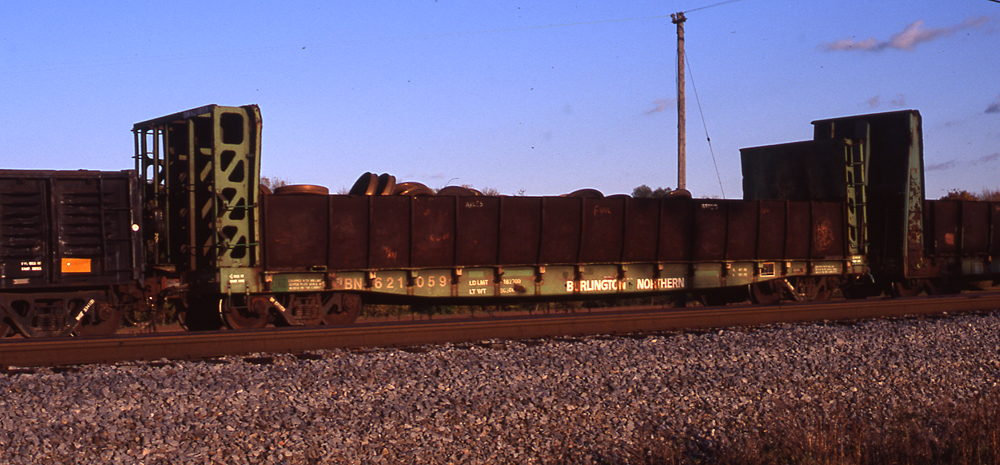 Of the five Burlington Northern kitbashes, this one is my favorite. Car No. 621059 was built by General Steel Industries in Granite City, Ill., in 1970. The car, from BN's 621050 through 621099 series, was originally used in ingot service. Over the years, the cars from this group wound up in general service.
I couldn't find when the sides were added to car No. 621059. The car has an interior length of 48'-11" and an exterior length of 57'-11". The spacing of the exterior posts matches the stake pockets. Based on the markings on the sides in this photo, the gondola is primarily used to haul scrap wheels and axles.
The 621059 is one of two bulkhead flatcars I've seen that BN converted to a gondola. Car No. 621549 was the subject of a modeling project I wrote about in 25 Freight Car Projects from Kalmbach Media. You can purchase the book online at the Kalmbach Hobby Store.
Maintenance-of-way bunk cars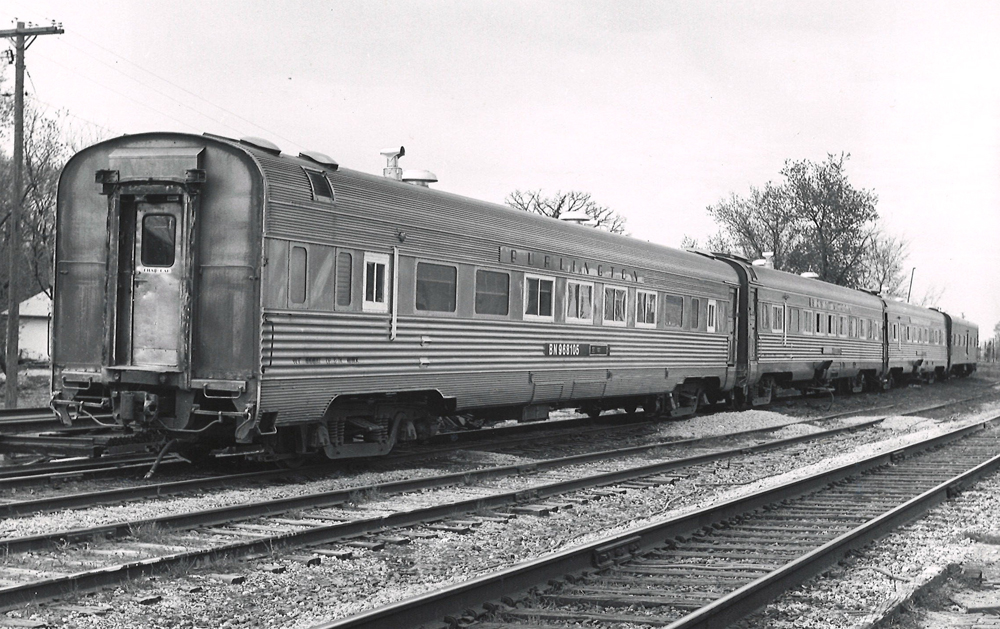 Burlington Northern had a short stint in the passenger business, running trains from March 2, 1970 until May 1, 1971, when Amtrak began operations.
In its early years, Amtrak leased (and later purchased) nearly 1,300 passenger cars from freight railroads. Cars that were passed over by Amtrak were either scrapped or modified for other use. The photo above shows three former CB&Q 52-seat coaches that BN converted to bunk cars for maintenance-of-way crews. The fourth car in the group is an ex-Great Northern diner.
Though the cars retained their "Burlington" letterboards, the name plates were painted Oxide Red and six-digit BN numbers were applied. Other exterior modifications included sliding windows (the ones framed in white), consolidated panels, and rooftop vents and smokejacks.
Much to my surprise, at least two of the three cars were spared the scrapper's torch (I couldn't track down the fate of No. 968105 [Silver Chariot, CB&Q 4700]). Car No. 968108 (Silver Gleam, CB&Q 4703) is part of the collection at the Atchison (Kan.) Rail Museum. Car No. 968109 (Silver Glow, CB&Q 4704) is preserved at the American Passenger Train History Museum in Charles City, Iowa.
Bunk car No. 968748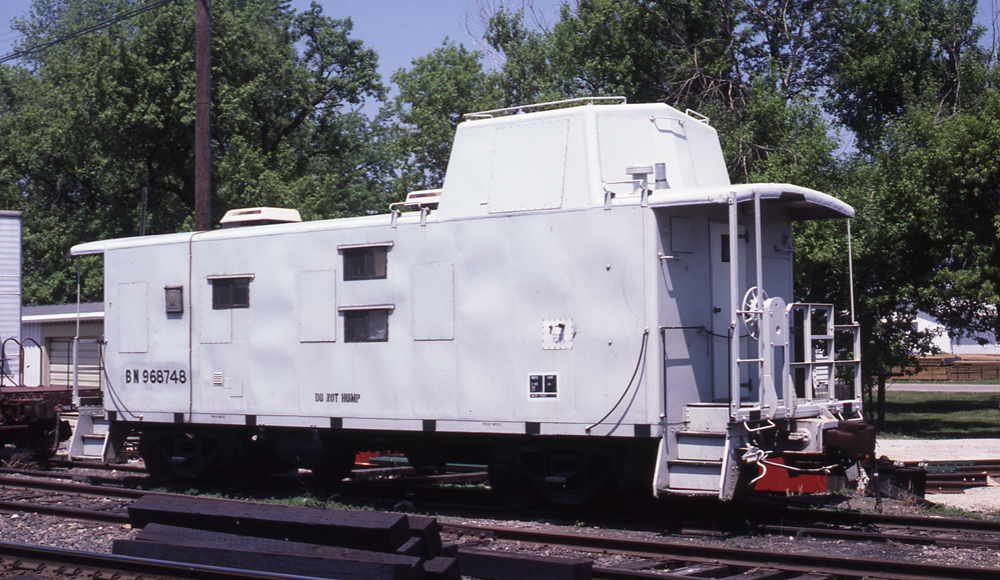 In the mid-1980s, BN retired its fleet of aging boxcars and passenger cars used as maintenance-of-way bunk cars, such as those shown in the previous section. To replace those cars, BN's Springfield (Mo.) Freight Car Shop converted surplus cabooses into bunk cars between July 1985 and January 1986. The cabooses, numbered 968747-968779 [and some outside that range], included those from predecessor roads as well as cars built new for BN.
The rebuilt cabooses included bunk beds, RV-style air conditioners, and propane heat. The side, end, and cupola windows were covered, and new sliding windows were cut into the sides. The paint scheme was pretty basic: Light gray with black lettering. Some ambitious crews fitted their bunk cars with antennas for watching television after the work day was done.