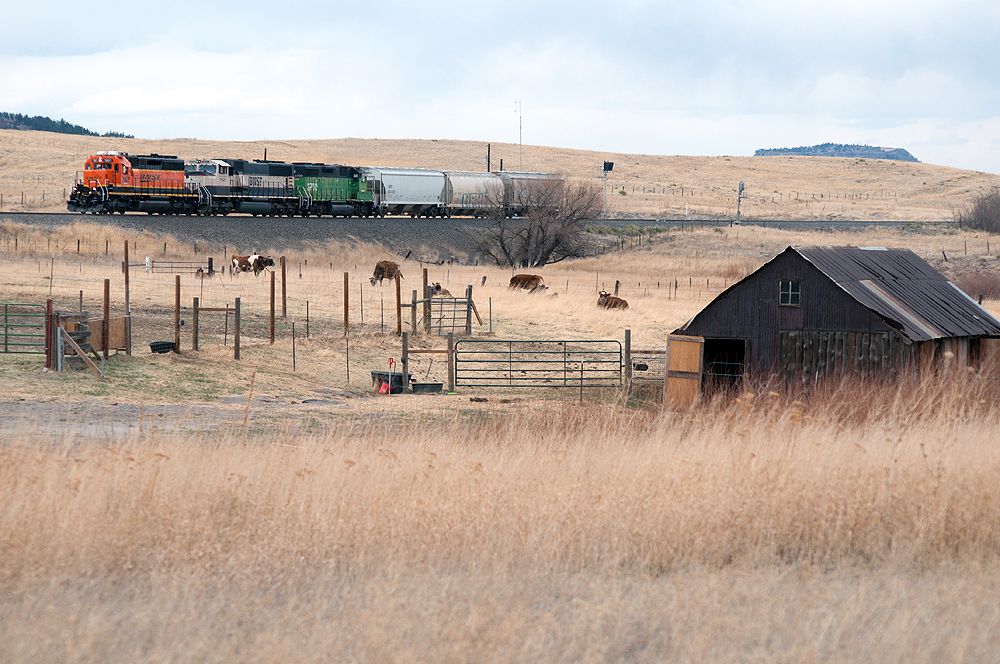 Modelers with small spaces, please consider the above Colorado Joint Line short train as one prototype you might want to model.
Back in 2017, I was chasing trains from Denver south to Colorado Springs and Pueblo along Colorado's famed Joint Line before a rail industry conference began. I was told something like "trains run like streetcars there." Well, not when I was there.
But I was fortunate enough to find this three-unit, three-car train moving at respectably slow (fast yard?) speeds on the former Santa Fe main line surrounded by grass, fences, cows, shrubby trees, and one rust-covered barn. (Don't miss the signals in the background!)
The locomotives you see are: BNSF Railway Nos. 1961 (SD40-2), 9820 (SD70MAC), and 2700 (GP-39-2) trailed by covered hoppers FURX (First Union Rail) 844090, LIMX (Chemical Lime) 10020, and FURX 844191. I didn't identify the cows — apologies — but Google Maps says the farm is the Circle F8 Ranch on Noe Road, just south of Larkspur, Colorado. From the ranch's looks — cows at leisure, no obvious milk storage or processing area — it's likely a small beef or mixed operation. The whole scene was a bit like a water color painting of a farm on a grey fall or winter day my dad had framed years ago.
To tell you how fortunate I really was, I have to tell you I only came across this ranch after chasing a south-facing Union Pacific wind turbine train. Around 3 p.m., I found myself wandering in the rental car on Colorado back roads around Larkspur, attracted by wide-open, public-access prairies and Rocky Mountain backdrops. No radios were involved to monitor train crew chatter. I'm not sure I even had a map — just a general sense that I needed to get south eventually to the hotel near where a conference would be held in the coming days.
Trying to change my view, I headed downhill back to Interstate 25 on Noe Road, when I came across a dog-leg in the road and a farm scene ready-made for modeling. Now that it's almost 5 years ago, it's hard to remember if I saw the train and didn't think much of it, or if I was just about to drive away when saw a headlight — HEADLIGHT!
Had the sun been out with a typically Western blue sky, the muted browns, tans, and grays I pictured wouldn't have taken on such soft beautiful hues and they would have more sharply contrasted with the fresh and ridiculous orange on the lead locomotive.
Be that as it may, I hope you find this scene inspiration for one you might model yourself. Especially since, as you know, there's a prototype for everything!