Welcome to Cody's Trackside Finds, a new series on Trains.com, where we'll look at interesting locomotives, freight cars, structures, or details that I've come across while railfanning. In these entries, I'll provide some background information on the subject, give you some modeling tips, and most importantly, encourage comments from the Trains.com community. Do you have more to add about the prototype? Perhaps a different approach to modeling the subject? Let us know in the comments field below.
With those practical notes out of the way, let's kick off the series with our first subject, Canadian National's distributed braking cars.
The scene. On March 21, 2021, I took advantage of an unseasonably warm 63-degree afternoon to go railfanning along the Canadian National at the unincorporated community of Ackerville, Wisconsin, about 30 minutes north of our Waukesha, Wisconsin, headquarters. One of my finds that day was a southbound intermodal train. Among the mix of assorted well cars and colorful intermodal containers were four bright-red CN high-cube boxcars. The cars all had low numbers – 0056, 0059, 0069, and 0089.
As you can see in the photos, the lettering on the cars is minimal. The reporting mark, road number, and MW stencil (for maintenance-of-way) on the sides, as well as the "Built with Pride in Transcona Shops, Winnipeg, MB" and "Fire Extinguisher Inside" stickers on the personnel door, were common to all four cars. The cars also had body-mounted red markers on each end, attached to the second raised panel above the coupler. Up on the roof, there were two short Sinclair antennas and what appeared to be a small global positioning system dome.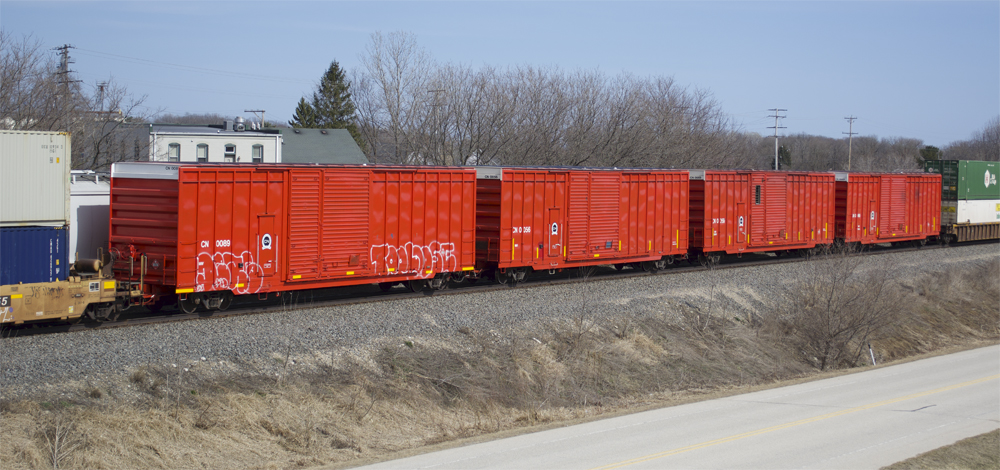 The bunny trail. When I returned home, I tried to learn more about these cars. Web searches came up largely empty. I did find a photo of another car with "Distributed Braking Car" applied below the reporting mark and road number. This led me to the article "Air-brake cars serve CN on Canadian prairies" by Dan Calabrese in the March 2009 Trains magazine. It turns out these boxcars, which are equipped with an air compressor and a diesel fuel tank, among other features, are used to help maintain air pressure in long trains during the winter months.
Trains senior editor David Lassen put me in touch with John Godfrey, who is involved with Exporail — the Canadian Railway Museum [https://exporail.org/en/] — outside of Montreal. John checked a copy of the 2020 Canadian Trackside Guide, which revealed the distributed braking cars I saw were former Grand Trunk Western (GTW) 384630 through 384699 series boxcars. [Canadian National has assorted distributed braking cars in the 0012 through 0098 and 300 through 302 series. The heritage of these boxcars includes GTW, Great Northern, Illinois Central, Wisconsin Central. – Ed.]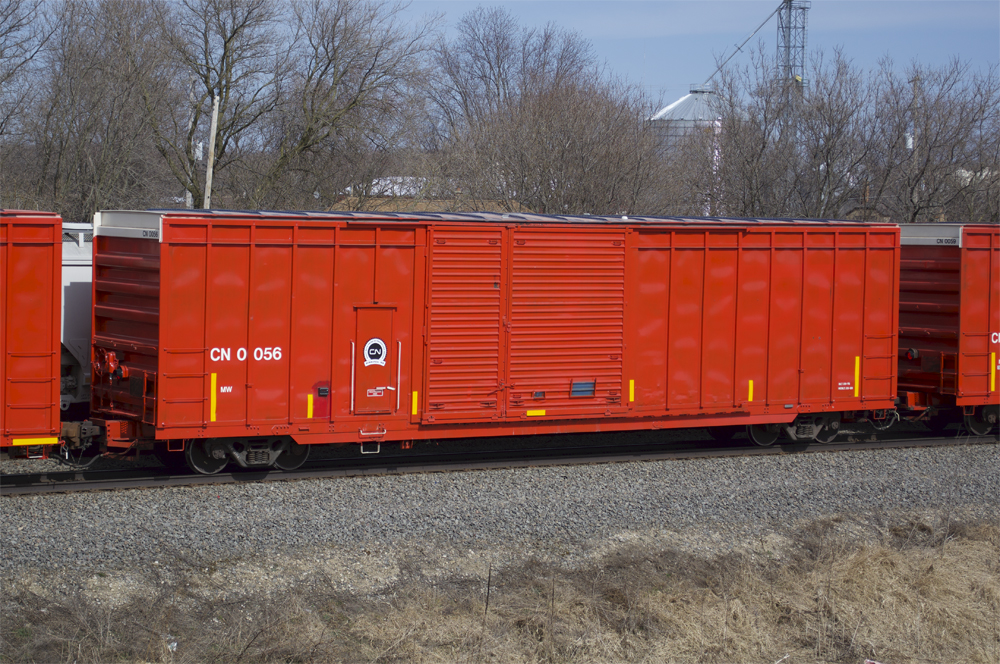 Next, I went to the Model Railroader library to search American Car & Foundry Box Cars, 1960-1981 by Edward S. Kaminski (Signature Press, 2015). Inside, I learned the GTW cars were part of a 44-car order built under lot no. 11-06650 in August and September 1978. The cars were originally numbered 375600 through 375643. The 67'-11" cars, which are equipped with 6- and 10-foot sliding doors, were rebuilt and renumbered in 1989.
Modeling considerations. As far as I can tell, the ACF 7,596-cubic-foot-capacity double-door boxcar has never been offered commercially. If you want to model the distributed braking cars, kitbashing or 3-D printing are probably the best two options. Below are my thoughts for decals and detail parts. Remember, the distributed braking cars are shop rebuilds, so details may vary between cars. Refer to prototype photos whenever possible.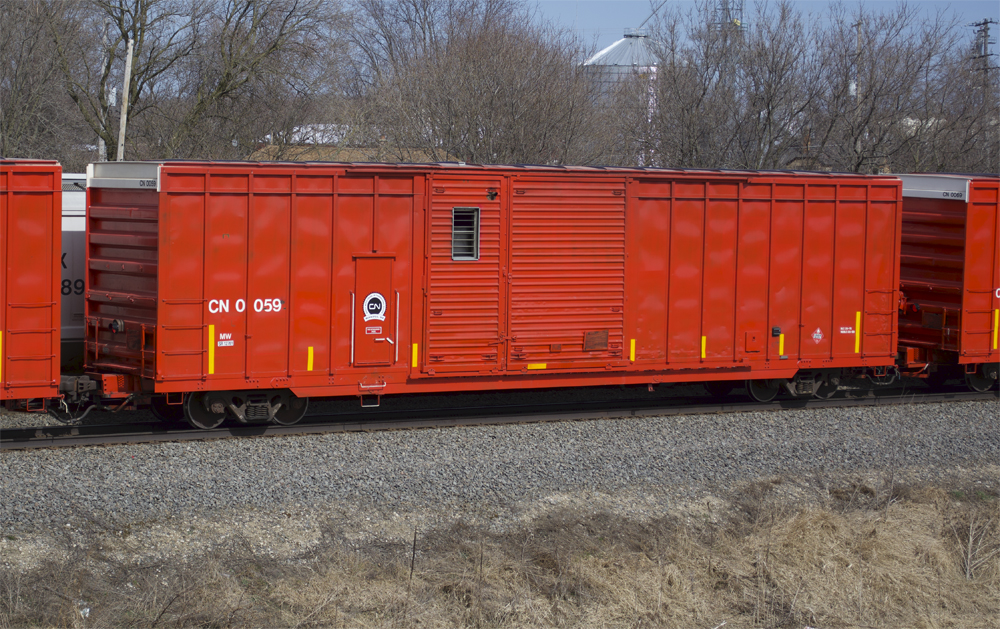 Suggested materials list
1202 hazmat placards: Circus City Decals no. DATA 87-25
AEI tags: Proto Power West/A-Line no. 29460
Fire extinguisher inside decals: Smokebox Graphics DL6387
Drop-style grab iron on sill: Tichy Train Group no. 3015
Lettering: Microscale 90101 (white) and 90102 (black) Railroad Gothic alpha-numeric sets
Marker light: locomotive headlight with visor
Personnel door: Scratchbuild from styrene
Rooftop antenna: Details West RA-275
Rooftop GPS dome: Details West GP-320
Stirrup step on sill: Tichy Train Group no. 3040
Transcona Shops decal: Would require custom decal
Stripes: Smokebox Graphics DF5785
Vertical grab irons by personnel door: Cal-Scale no. 190-502