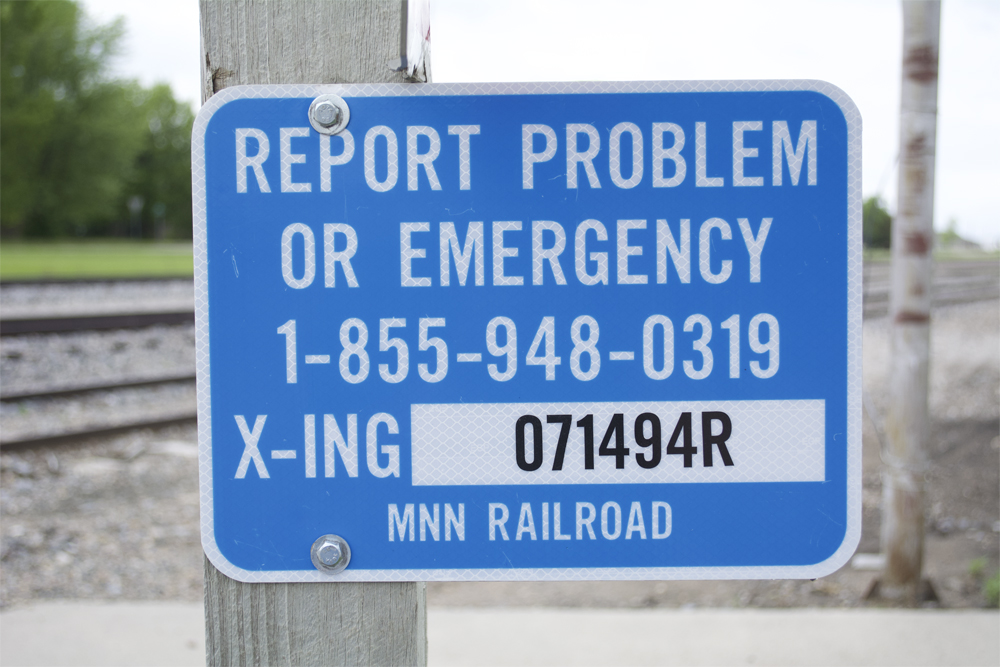 If you've been trackside in the past five or six years, you've probably noticed blue metal signs at grade crossings. These are called Emergency Notification System signs, or ENS for short. The top two lines of the sign read "Report problem or emergency." Hazard may be used in place of problem in some instances. Below that is the railroad's toll-free emergency telephone number. That's followed by the U.S. Department of Transportation's National Crossing Inventory Number. The railroad's name is also displayed. On most signs it's on the last line; I've also seen some on the Canadian National with the railroad's "wet noodle" herald next to the phone number. The Federal Railroad Administration (FRA) required all grade crossings to have ENS signs installed by Sept. 1, 2017.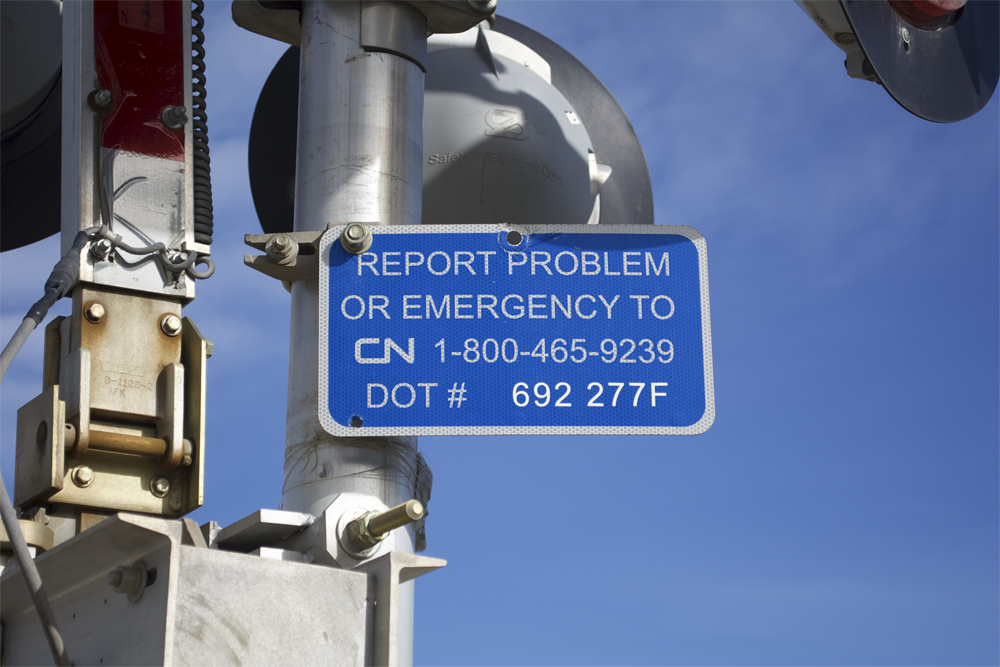 Why ENS signs? Signs with emergency telephone numbers and grade crossing identification numbers date back to the 1970s. However, the style and location varied from railroad to railroad. In my railfanning journeys, I've seen the information placed on nearby signal bungalows, bumper-sticker-type signs attached to crossing arms or grade crossing signal masts, and signs below the crossbucks, to name a few examples. The purpose of ENS signs is to have a standardized look and location for all railroads.
In the FRA document "Frequently Asked Questions: Emergency Notification Systems," it states, "The ENS regulation by statute is required to enable the public to report directly to the railroad four conditions: A failure of an active warning system; a disabled vehicle or obstruction blocking a crossing; an obstruction to the view of a train's approach to a crossing; [and] any information relating to any other unsafe condition at the crossing."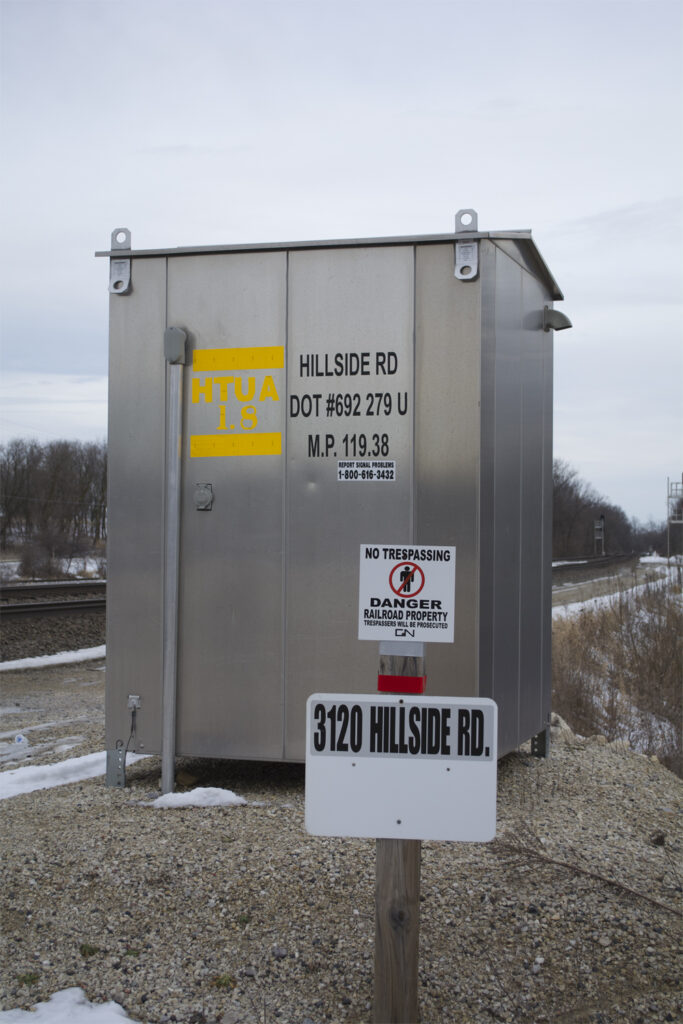 The same document also spells out how ENS signs are to be installed. They're to be clearly visible without blocking the view of other signs or oncoming trains. In some instances the signs aren't attached to the metal grade crossing signal mast or wood crossbuck post. In those situations, the signs must be attached to breakaway posts.
At most crossings the ENS signs are to be installed on both sides of the tracks. Single signs are permitted at farm crossings and at the entrance to train yards, ports, and docks. Out-of-service tracks are also required to have signs, unless the line has been permanently closed.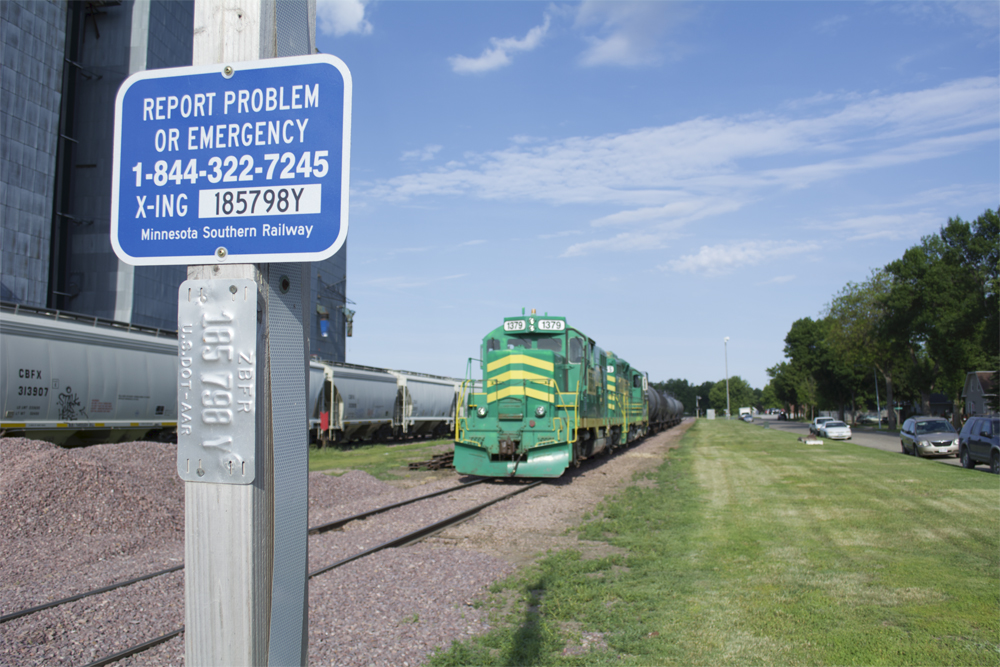 Modeling considerations. Small Scale Innovative (ssinnovative.com) offers HO scale ENS signs as item no. 021E. A 10-pack sells for $7.99.
Photo-editing software makes it easy to model railroad-specific signs. Take a picture of the signs you want, scale and duplicate them with the software, and print them out on photo or decal paper. In either case I'd mount the signs on thin styrene, paint the back flat aluminum, and install them with canopy glue or cyanoacrylate adhesive.