We didn't have room to publish all the photos from Eric Brooman's spectacular HO scale Utah Belt, featured in the December 2018 Model Railroader. Check out these bonus trackside images.

Westbound Extra No. 4102 crosses the upper reaches of Furnace Creek and is just about to crest the summit at Jemez. Engine no. 4102 is an SD70MAC purchased on the used locomotive market and rebuilt at the El Paso Shops. With the recent downturn in traffic, especially in coal, the UB, like many roads, has held off buying new Tier 4 power, and instead has chosen to rebuild older AC units.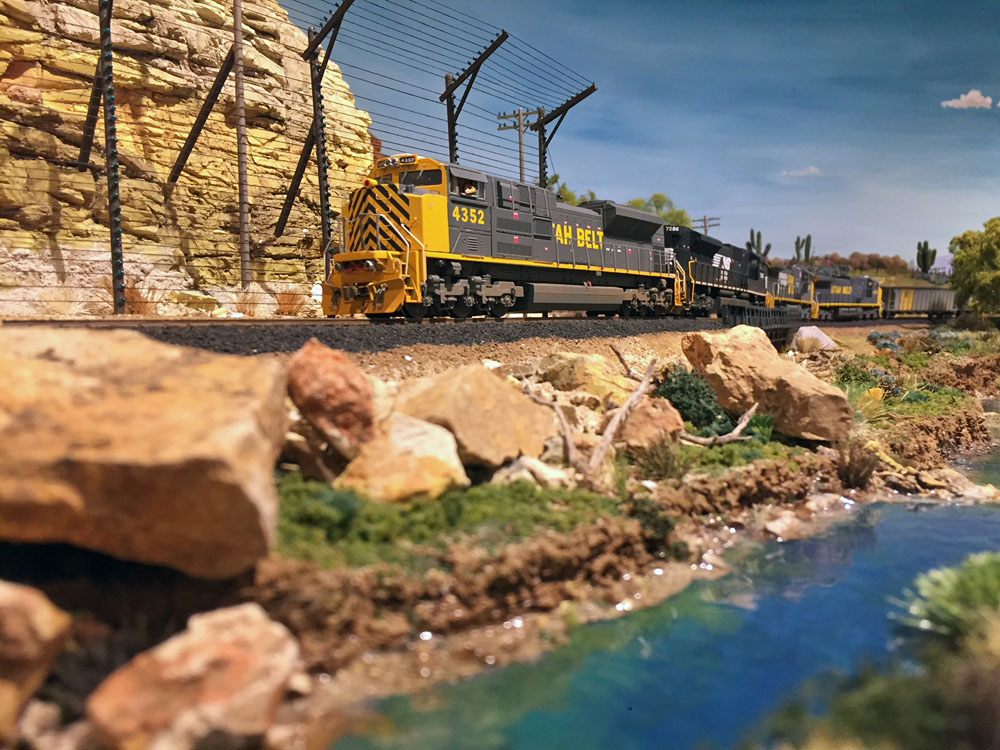 A fatality of EPA regulations, the Schreckhaft Chemical Company west of Benton closed down operations in 2016. It was one of those companies that you really didn't want to know what was being made there. Switch crews got in and out as quickly as possible. There still remains a large dead zone of vegetation around the complex.




A westbound has a clear block as it crosses the San Pedro at Cody's Camp. A brace of SD70ACe's are in charge of this empty coal train. The majority of mainline power is now AC. The cottonwoods echo the sounds of the train as it clatters across the bridge.




A long favorite photo site on the Utah Belt is Cortez Point just west of Iron Mountain, where the railroad clings to the cliff on a rock retaining wall. Long overdue slide protection is now in place. An eastbound is working upgrade along this potentially dangerous area with increased confidence there isn't an obstruction waiting ahead.


An eastbound coal train, with ES44AC no. 4485 on point, exits the east portal of Tunnel No. 4 in Furnace Creek Canyon, leaning heavily on its dynamic brakes. The "Golden Week," referring to the color of the aspen trees, is in full effect in the high country of the West.


An eastbound rounds the curve at the base of the rock formation known as El Portal. Here, the Utah Belt leaves the Rio Grande Valley and begins to follow the San Pedro River upstream. Rock slide detection fences have finally been installed. The normally docile San Pedro can become a raging torrent during the monsoon season as attested by the debris along the banks.