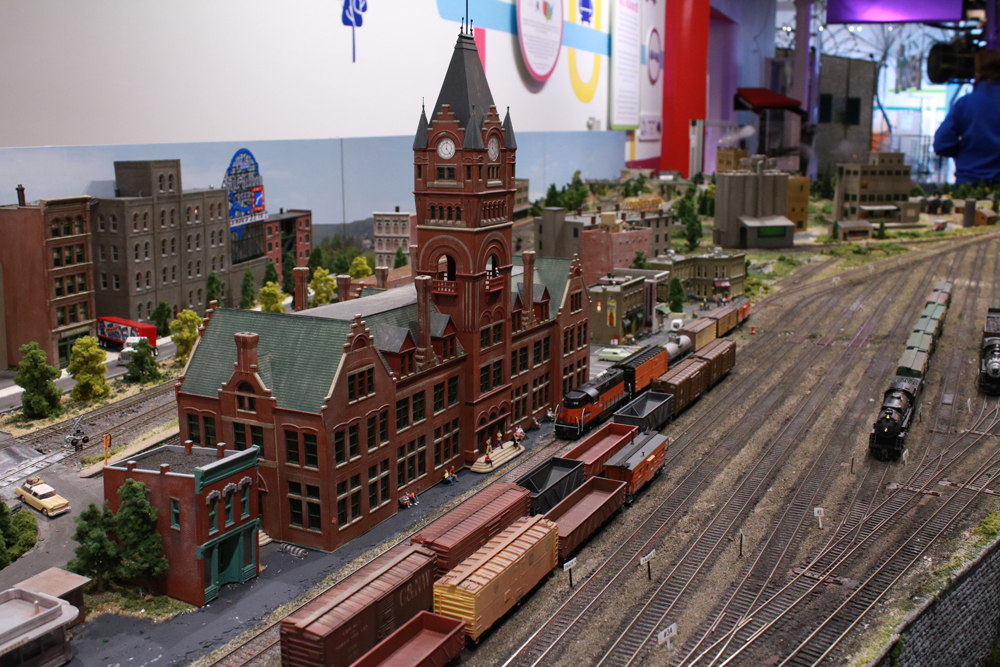 Milwaukee museum debuts HO scale layout: "All Aboard" is the name of a 10 x 35-foot HO scale model railroad at Discovery World, a family-oriented science and technology museum in Milwaukee, Wisconsin. Set in the steam-to-diesel transition era, the proto-freelanced layout opened Nov. 25, 2021. The exhibit supports Discovery World's mission of Science, Technology, Engineering, and Mathematics education.
Model railroad enthusiast Richard Grigg's family donated the layout to Discovery World after his death to inspire children to become engineers, designers, scientists, and makers. Boston-based Stephan Lamb Associates professionally built the layout.
Milwaukee museum layout in a nutshell
The layout is not prototypical, says Lamb, though it's based loosely on 20th century Milwaukee-area and Midwestern scenes along the Milwaukee Road and Chicago & North Western railroads in Wisconsin. The Milwaukee Road's Everett Street train station is at the heart of this layout. The depot building is from a Walthers Cornerstone kit.
Several of the other structures on the layout were either assembled by Lamb and his team from kits or they were a Woodland Scenics Built-Up building/structure. Roughly 90 percent of the buildings have interior lighting, and there is a signaling system from Custom Signals.
Overall, this model railroad represents a typical Milwaukee scene combined with a suburban scene from the 1940s to '60s.
Milwaukee-specific kitbashed buildings were added to re-create some of Grigg's fond childhood memories, specifically Usinger's Sausage, Pabst Brewery, and Ambrosia Chocolate Co. Other trackside industries along the two main lines are based on businesses and architecture typically seen in the region. There are cabins and logging scenes, farms and factories, and other vignettes with figures and vehicles scattered about.
Currently, two trains run consecutively, each on a separate closed loop. The trains are controlled by an NCE Digital Command Control system capable of running six trains at a time – a future goal of the museum.
The layout's journey to Discovery World
Some model railroads must travel after construction, which may include from state to state. For the "All Aboard" layout, this was certainly the case. First built in Massachusetts by Lamb and originally referred to as The Milwaukee Road, the 18-module layout took 2,224 hours to build and deliver to its first destination. It was first set up in Grigg's Ohio home in August 2013, then transported 7 months later to his new residence in Slinger, Wis. After his passing, his family donated it to Discovery World in March 2020.
Prior to dismantling the 18 modules for a third time, Discovery World CEO Bryan Wunar and Wm K. Walthers, Inc. President Stacey Walthers Naffah established a partnership. Walthers will assist with the maintenance required to keep the model railroad operating smoothly, while Discovery World exhibits it to the masses. According to Naffah, there was a lot of behind-the-scenes finessing, from moving it to setting it up, that went into making this exhibit possible.
Eric Grabczyk, Discovery World's exhibit maintenance manager, explains the process. Grabczyk, along with Lamb's team, dismantled the layout and drove it to the center in a box truck. The railroad was then safely stored away during the first wave of the COVID-19 pandemic. "It was nice to know that the layout wasn't getting thrown into a dumpster," Lamb says. "Richard would really love this!"
Lamb then came back to Milwaukee at a later date to assist Grabczyk and Walthers employees with the final setup.
"It took us about a week just to get it assembled and another to get it rewired," says Grabczyk, who after this whole experience, has a real appreciation for all the work that goes into model railroading. For more on the layout, click to watch video.
Keeping kids on track
Children are the target audience for the layout, so to give them an opportunity to interact more with the layout, Discovery World changed the height of the benchwork. Originally, the layout was built 54 inches tall but was cut down to 32 inches to give children a better view.It seems this approach worked. When the "All Aboard" exhibit opened as a part of the holiday experience at Discovery World, Wunar noticed that kids spent a lot of time observing it and would call their siblings or parents over to show them what they found.
A model railroad exhibit entices children and opens the doors to exploring topics like scale and proportion, and systems and interactions according to Wunar.
"So that when kids go out into the world and learn more about how the world around them works, they'll be better prepared to take on topics beyond just simply the idea of a model railroad," he says.
And it's not just kids who gravitate toward it. Every time Wunar or Grabczyk view the layout, they notice something new. The layout is a fluid experience because of the level of detail throughout its many components. It's not meant to be a one-time exhibit. Future additions are anticipated.
Naffah says she is excited about the exhibit because of its capability to bring families together to enjoy the hobby first-hand. After years of conversations with Discovery World CEOs, her "work dream come true," as she calls it, has finally manifested itself through this donation.
By partnering with Discovery World, Naffah's goal is to help bring years of enjoyment and hands-on learning opportunities to children and their families. Discovery World sees the intersection between the hobby and how it plays a vital role in teaching kids STEM and STEAM (Science, Technology, Engineering, Art, and Mathematics).
"They believe in what we are doing!" says Naffah.
 She hopes to expand similar teaching opportunities to kids at various science and technology centers around the U.S. Sparking their interest at a young age is key to creating a new generation of model railroad hobbyists.
More changes and upgrades are coming to the exhibit. The goal is to teach and solidify these much-needed skills in future generations.
You can watch more on the exhibit on this video.