Built by Others is an article series showcasing layouts constructed by modelers using plans and projects from the pages of Model Railroader magazine. Neil Maldeis built the small N scale layout here to be able to take it to shows. It is based upon the Whiskey Barrel & Grimy Gotham N scale plan that appeared in the September 2012 issue of MR in an article on small layout design by M.C. Fujiwara. – Ed.
Built by Others: Neil Maldeis's N Scale Whiskey Barrel & Grimy Gotham Layout
By Neil Maldeis – photos by the author
Being recently retired, I've been able engage more in National Model Railroad Association (NMRA) activities. I've been a member since 1986, and I've completed the Master Model Railroader program. I'm currently serving as vice president of the Thousand Lakes Region (TLR).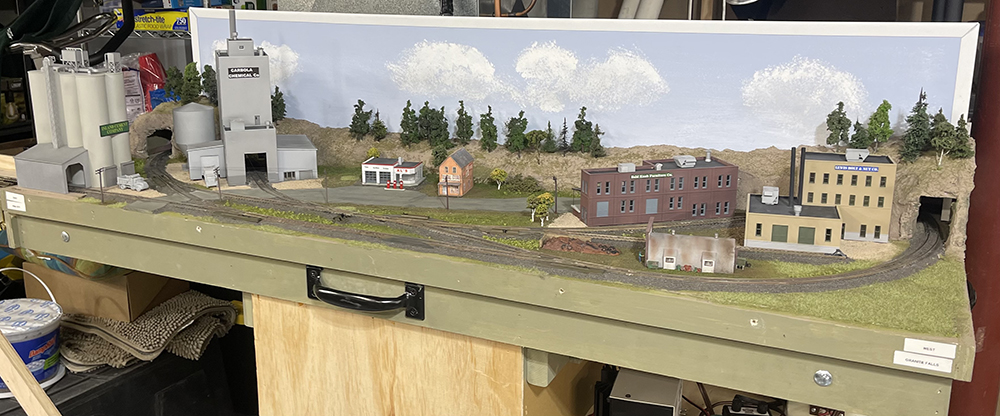 I was looking to build a small, durable layout I could take to NMRA events when I came across the Whiskey Barrel & Grimy Gotham N scale plan in the Model Railroader archives. The plan was from an article by M.C. Fujiwara ran in the September 2012 issue of MR. It was for a compact layout with a lot of industries built on a simple 2 x 4-foot piece of plywood.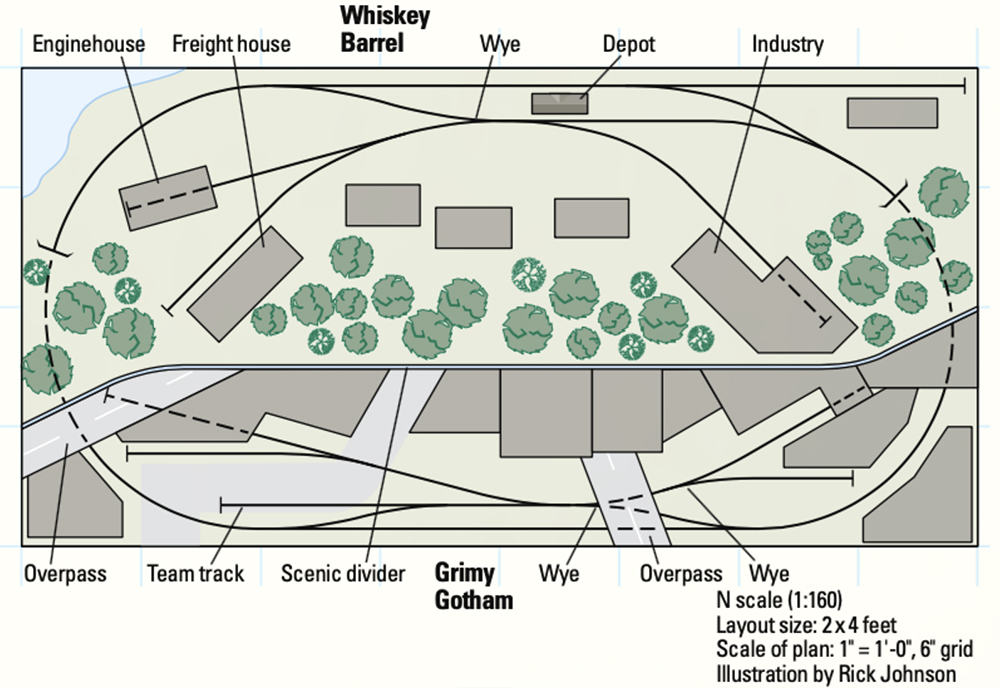 The plan seemed perfect for portability and had a lot of switching opportunities. I wanted to be able to let others operate the layout at shows and conventions, so I wanted something that would be interesting to run, and this plan was a good fit.
As shown in the illustration, the original plan featured a self-contained oval with a backdrop to divide the two towns. To aid with operation, I added a removable staging yard to one of the sidings so I can set up trains without interfering while others are running the layout. The staging yard has two tracks and is supported by a single angle bracket. I used Atlas N scale sectional track and manual switches that I was able to find used at train shows and swap meets to keep costs down.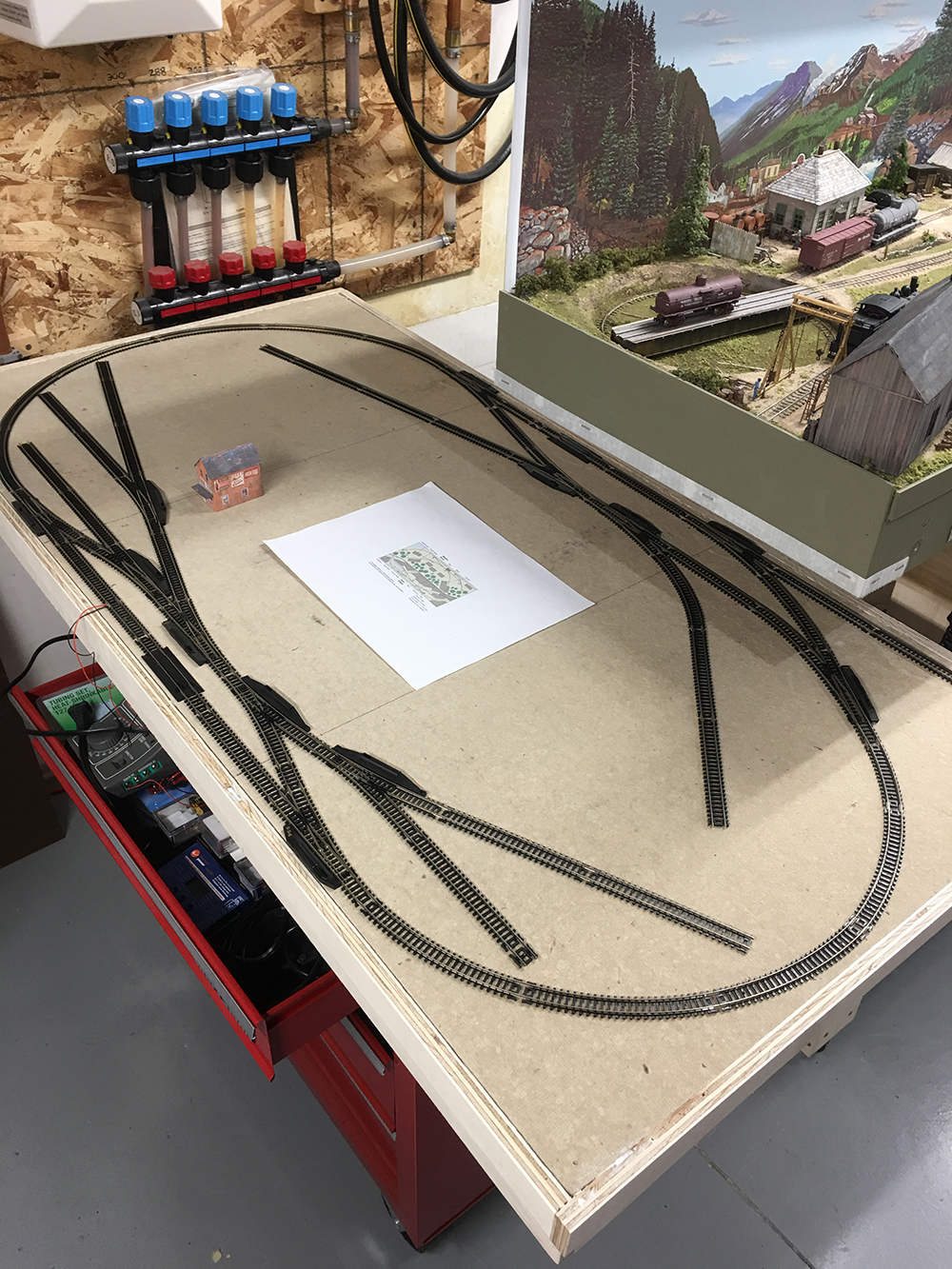 I used Walthers and DPM plastic kits throughout the layout, and I've kitbashed many of them to fit the space. I turned a Walthers paper mill kit into two different businesses, Durable Box Co. for Grimy Gotham and Carbola Chemical Co. for the Whiskey Barrel side. Then, I scratchbuilt the Air-O-Flex Co. from sheet plastic and various evergreen strips I had in my scrap box. Finally, I finished the buildings with details from Walthers, including HVAC units, stacks, and chimneys.
To add some prototype character to the layout, the industry names are actual companies that existed in the Midwest in the late 60's early 70's. I found a neat database on the internet that has business names, locations, years of operation, and rail service information. I picked a few that had interesting names and worked for my layout.
The backdrop flats were constructed using an N Scale building backdrop I got from TracksideFlats.com. To add some variety and depth, I cut some of the building out and glued them to different thicknesses of poster board. The other building flats were made from left over wall sections from my kitbashing projects.

The scenery is almost finished and just needs a few final details and a couple of tweaks. My goal wasn't to build a contest quality layout. I wanted scenery that would travel well, since I built the layout to be portable.
I have the finished layout set up to operate using JMRI Operations Pro. This is an operating program for model railroads which allows you to schedule trains and forward cars from one destination to the next. Once everything is loaded into the computer, Operations Pro provides endless switch lists. [For more information on Operations Pro, see the State Line Route video series, episodes 24-26 on Trains.com/vid – Ed.]
In addition to conventions, I've run operating sessions on the layout at home as well. Those sessions tend to run 30 – 60 minutes. I think it's a perfect amount of time for others to learn what operating a model railroad is all about.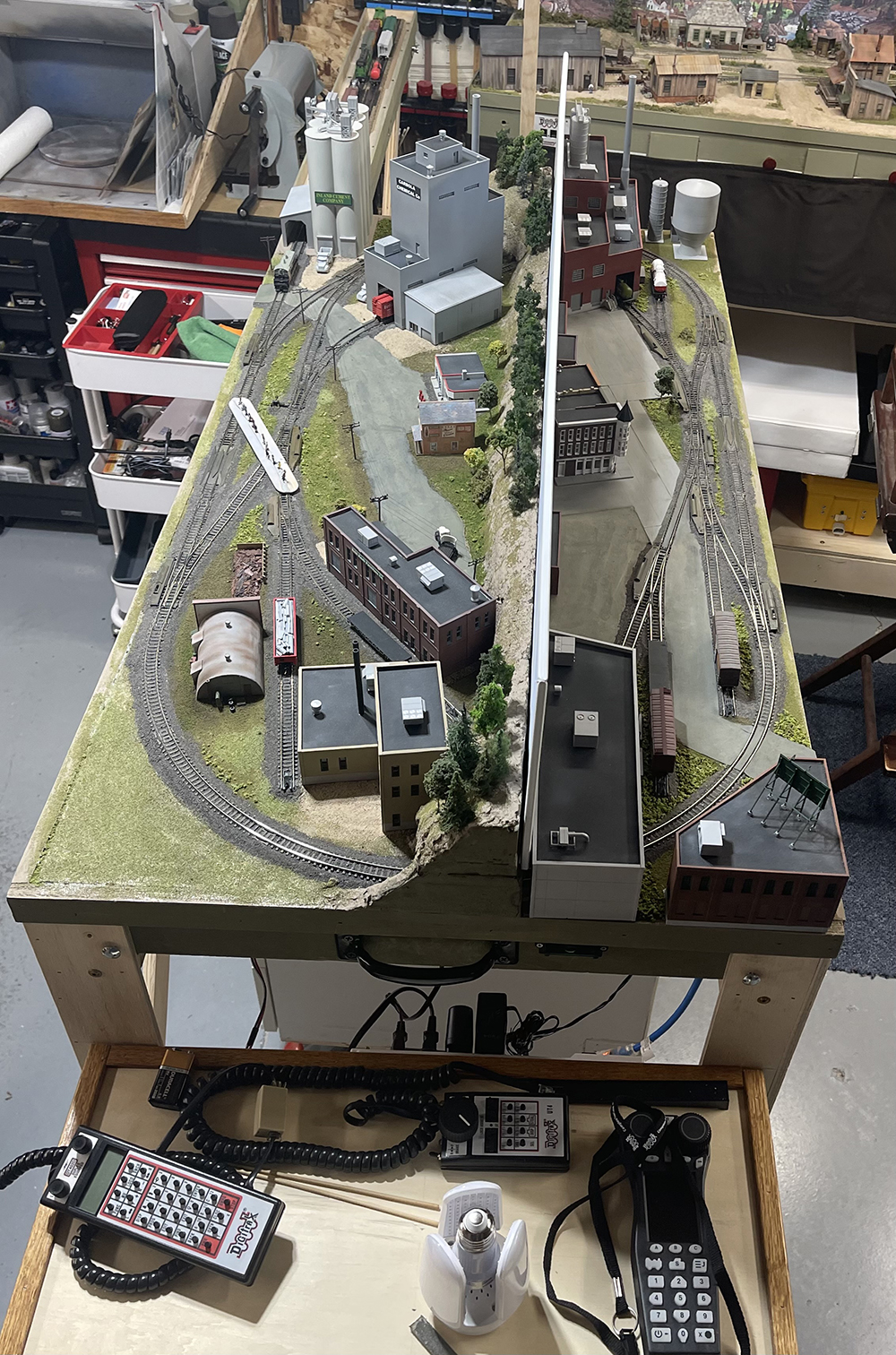 I've been amazed at how much railroad action the track plan provides in such a small space. I built the layout over the course of a couple of years, but it could be completed in a much shorter time if it had been my only dedicated project. In addition, I have an HO basement layout as well.
I tried to be as economical as possible and built the layout by using train swap meet finds. Realistically, excluding locomotives and rolling stock, you could build it for around $500-$750.
I'd like to point out that I do limit car lengths to 50 feet, and I use 4 axle locomotives due to the lengths of the sidings and the smaller switches. Larger equipment doesn't perform as well on the tight curves and clearances.
I took the railroad to the 2022 Thousand Lakes Region Convention last May, and I plan to do so again this year. Participants at the convention had a great time operating the layout and gave me a few tips on how to improve it. The biggest change was to put taller legs on it, as it sat too low just by placing it on a tabletop. It now has its own legs, as well as a small workbench to use as a desk and a storage cabinet to hold the trains and supplies.

I built the layout to be shared and hopefully inspire others to try building a railroad of their own. I think this is a great example that you don't need a lot of space to make your own layout. So far, the layout has performed well and has handled the rigors of use. Despite its small size, this 2 x 4 N scale layout has provided many hours of enjoyment for me and other operators!