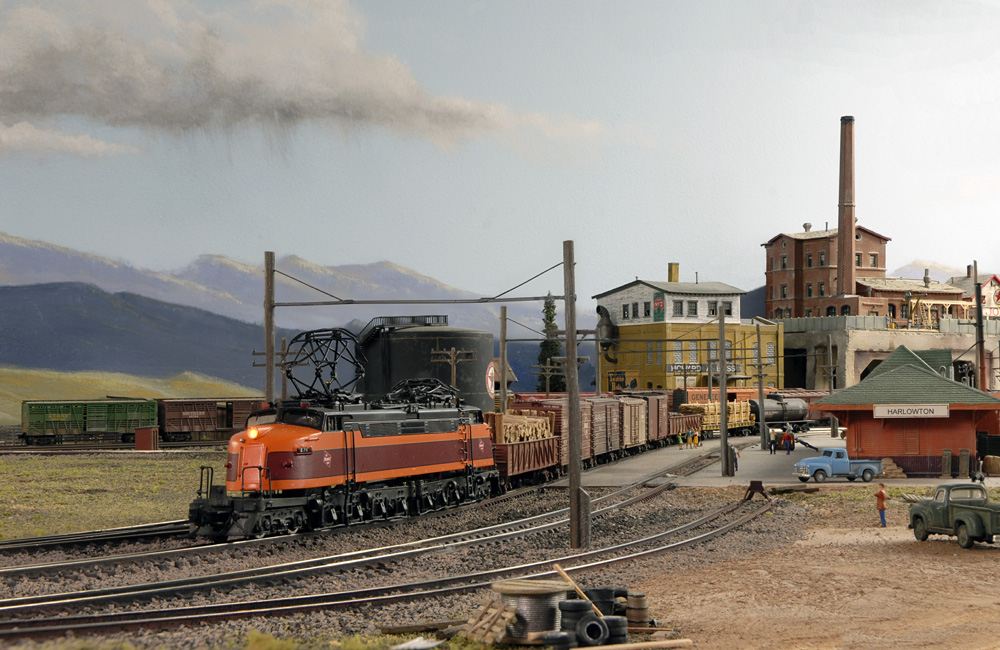 In Harlowton Yard one morning in September 1953, Milwaukee Road "Little Joe" electric locomotive E76 couples onto its train for Time Freight 263, westbound to Avery, Idaho. Dan Lewis of Rochester Hills, Mich., photographed the action on his N scale MILW North Montana Line. The locomotive is a brass Overland Models model. The station is scratchbuilt to follow the prototype. Dan also painted the backdrop.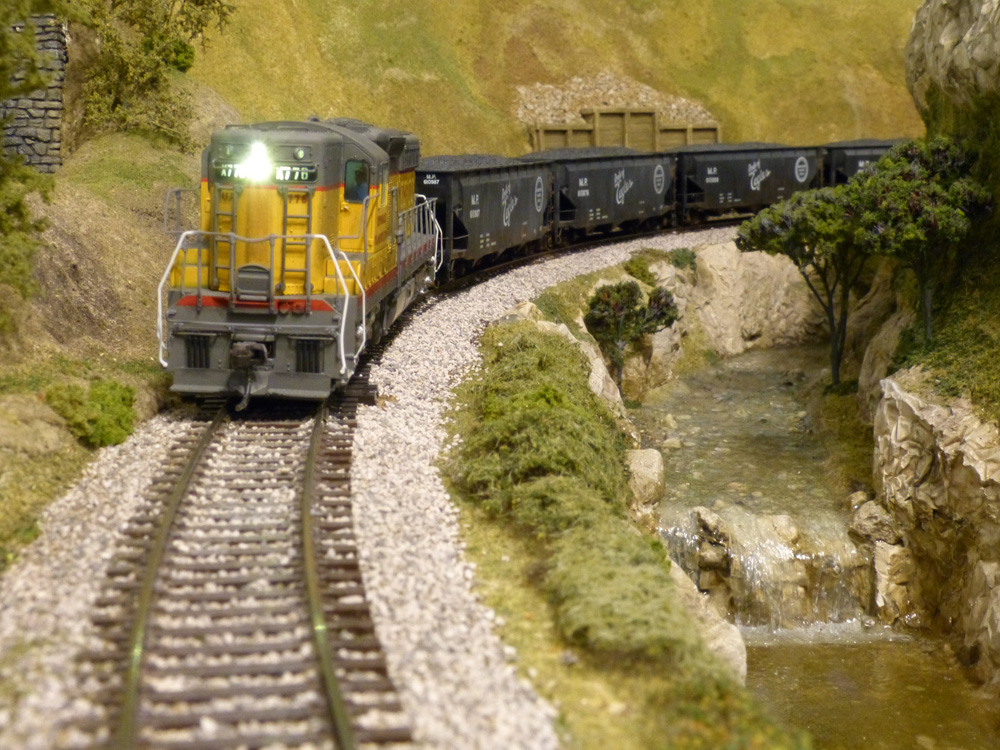 Union Pacific no. 776, an Electro-Motive Division SD7, drifts downgrade alongside picturesque Willow Creek with a coal extra bound for the power plant in Spokane, Wash., in the early 1950s. Rod Vance of Farmville, Va., photographed the scene on his HO scale UP Willow Creek Subdivision layout. The SD7 is from Broadway Limited Imports, weathered with PanPastels. The water is Enviro-Tex Lite two-part resin detailed with Woodland Scenics products.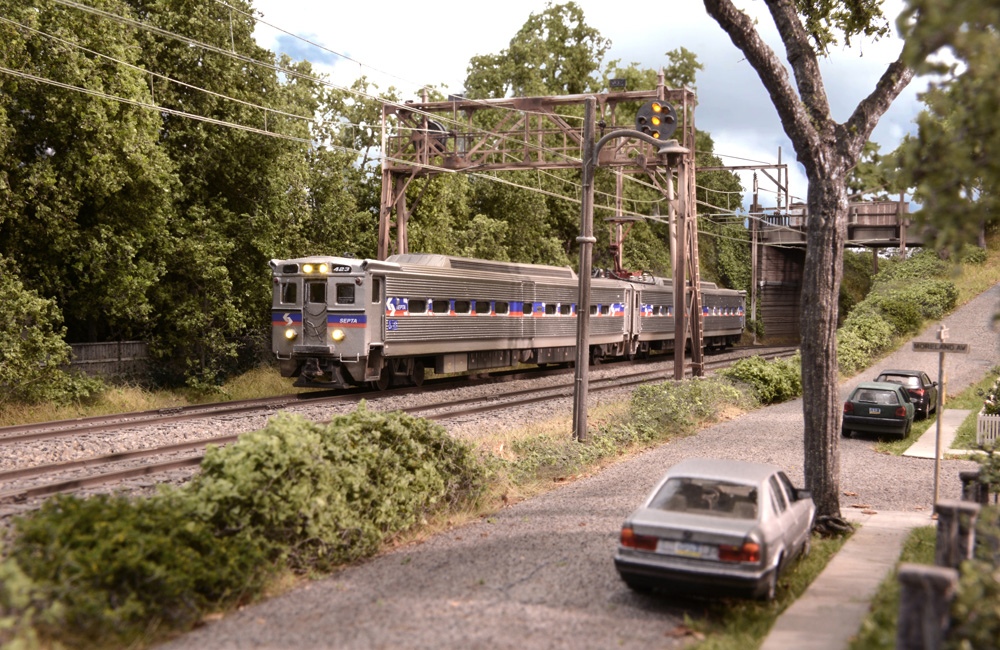 A SEPTA Silverliner commuter train glides past the quiet residential street of Moreland Avenue in Philadelphia. Tim Nicholson of Stafford, Qld., Australia, photographed the scene on his HO scale spare-bedroom layout, based on SEPTA's Chestnut Hill West commuter line. He replaced the layout's blue backdrop with sky images using Photoshop.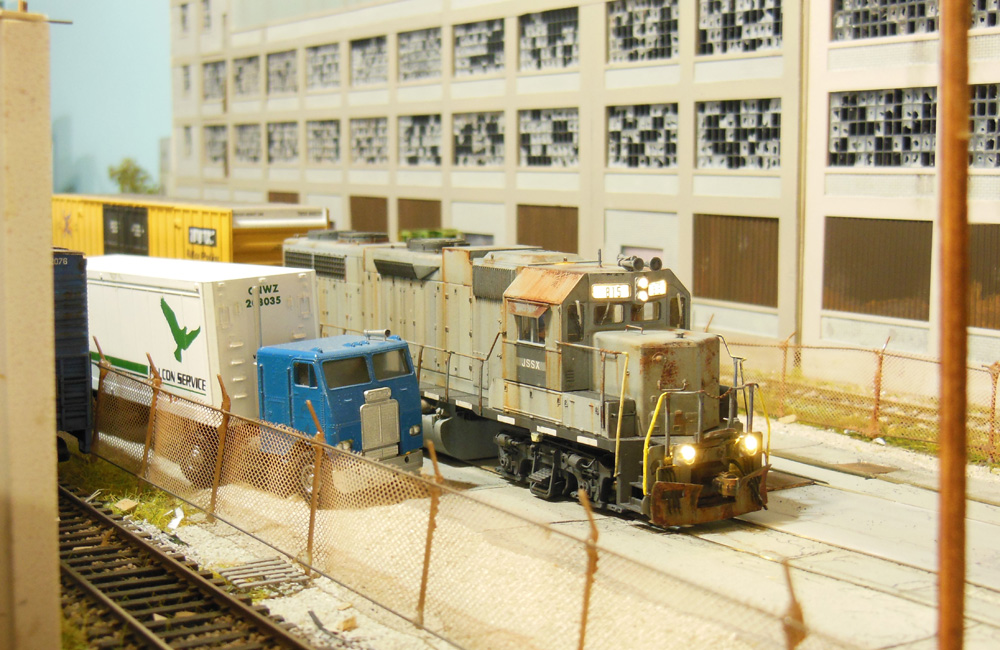 JSSX Ry. no. 815, a venerable Electro-Motive Division GP38, works the industries along South Industrial Boulevard. Jim Sloan of Sarnia, Ont., photographed the HO scale scene on his HO scale layout, which models an urban short line that interchanges with the Grand Trunk Western around the year 2000. Jim painted the Atlas locomotive with ModelFlex paints, then weathered it with artist's acrylics. He paved the streets with styrene sheet and wall spackle.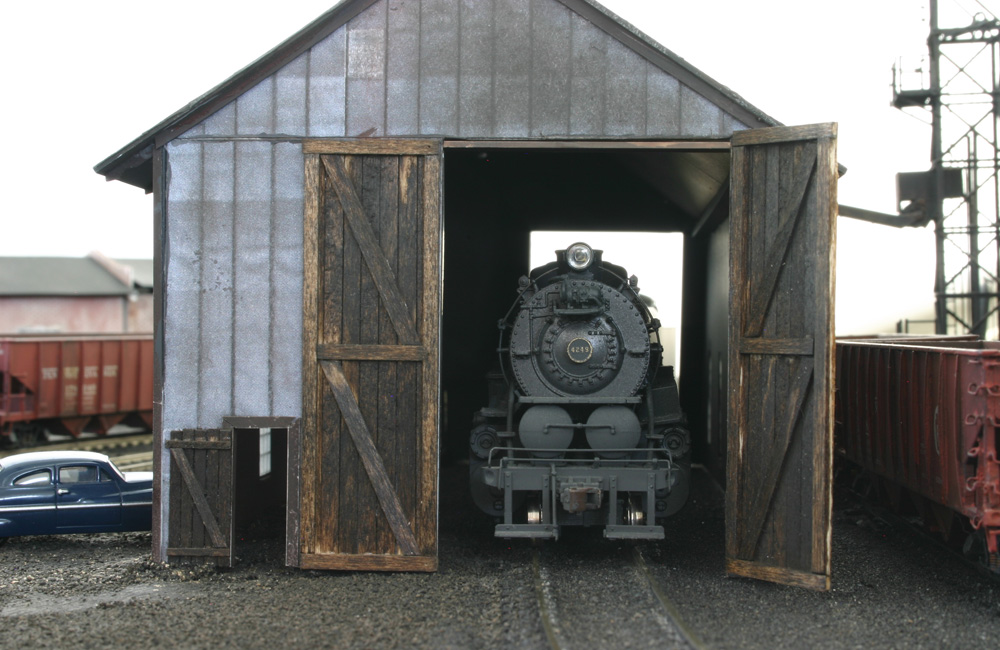 Pennsylvania RR class I1sa 2-10-0 steam locomotive no. 4249 is seen through the open door of the Shamokin, Pa., engine house in 1956. Chuck Cover of Santa Fe, N.M., modeled and photographed the scene to reproduce a prototype photo that he had seen in two Pennsy-themed books. Chuck scratchbuilt the Shamokin enginehouse and the ash hoist to the right. The locomotive is a Broadway Limited Imports model Chuck detailed and weathered.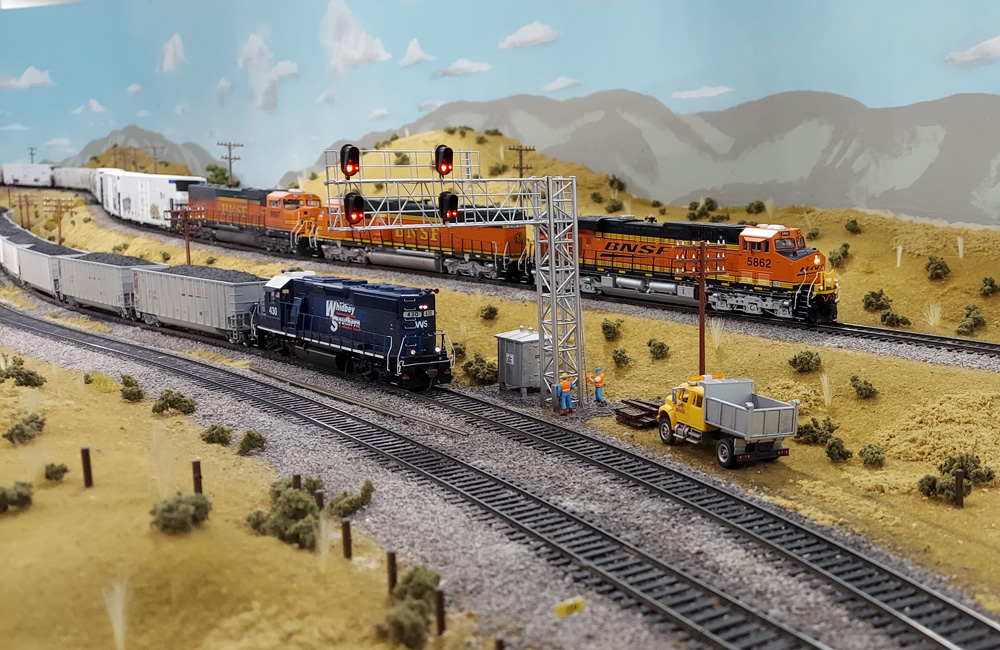 While a Whidbey Southern Electro-Motive Division GP40-2 shoves hard on the rear of a coal drag, on the BNSF Ry. main line above, a trio of modern diesels roar past with a manifest freight. Meanwhile, a maintenance crew works on the WS signals. David Campbell of Clinton, Wash., set his freelanced HO scale railroad in the modern day in eastern Washington. The locomotives are all Athearn Genesis models. Kevin Sandri shot the photo.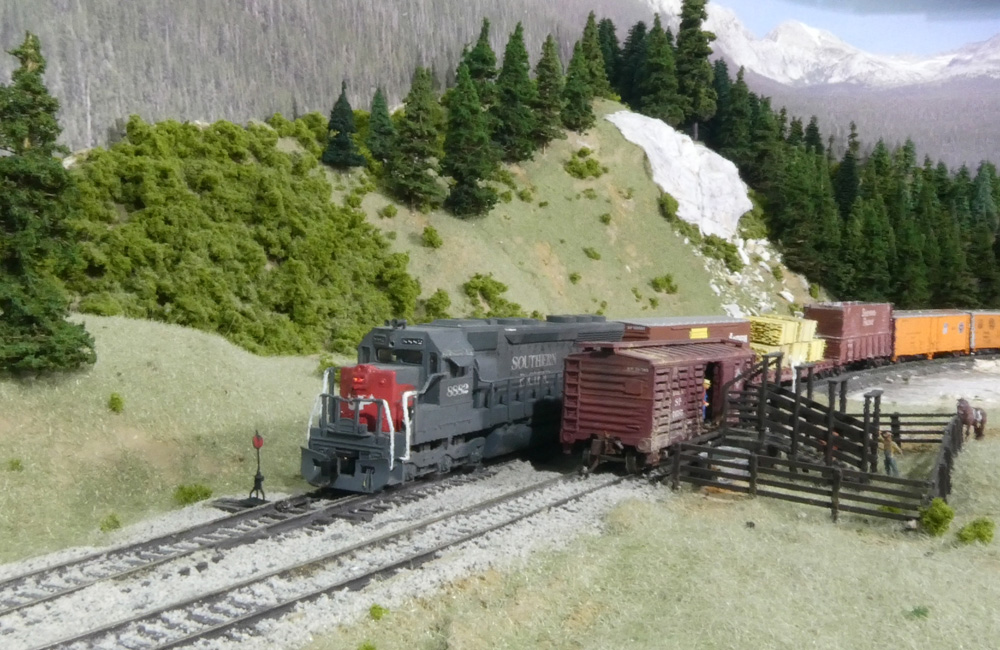 Southern Pacific no. 8882, an Electro-Motive Division SD45, rolls past with its manifest freight while a pair of cowboys check out the cattle car. Ken Harstine of Holyoke, Mass., photographed the scene on his N scale SP layout. The stock chute, water trough, switch stand, and cowboys are 3D printed resin.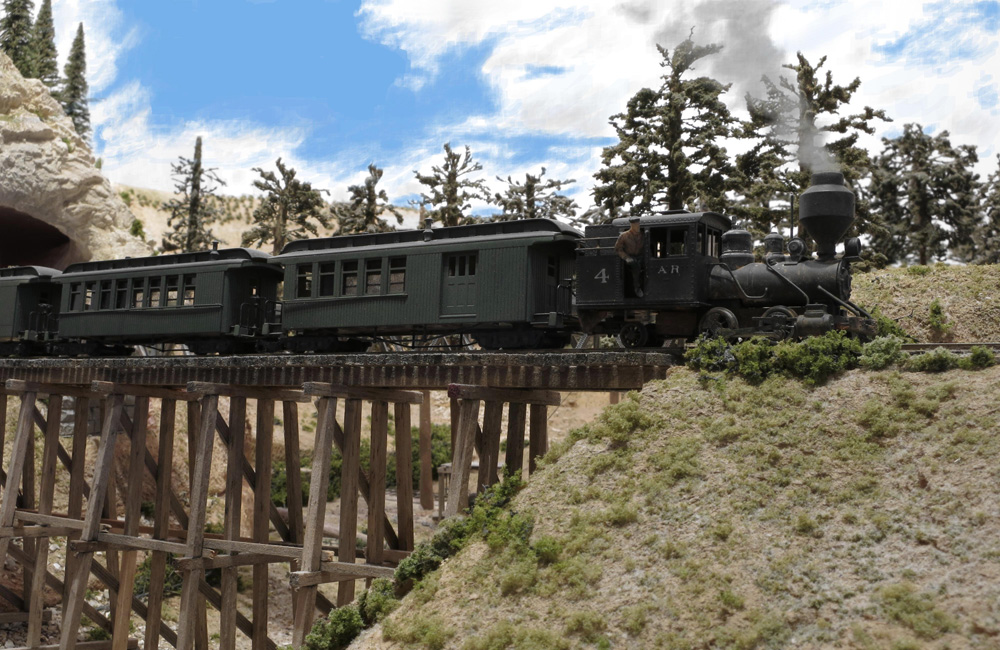 Engineer "Bracer" Burke leans out the door of the cab to get a good look around the next bend as Alistair Road Porter no. 4 pulls a short passenger train over the trestle approaching Mill Run. Peter Vassallo's freelanced HOn3 railroad is set in California in the early 1950s. The trestle is scratchbuilt; the truss-rod cars are Roundhouse (Athearn) models. Peter, from Schenectady, N.Y., shot the photo.

Trackside Photos is a showcase for the work of Model Railroader readers. Send your photos (digital images 5 megapixels or larger) to: Model Railroader, Trackside Photos, P.O. Box 1612, Waukesha, WI 53187-1612; or upload them to http://fileupload.kalmbach.com/contribute. For our photo submission guidelines, contact associate editor Steven Otte at sotte@mrmag.com.