T-TRAK Project part 1: Back in the game again: Modelers David Popp, Brian Schmidt, and Bryson Sleppy begin a series of projects build a small modular T-TRAK N scale layout. T-TRAK is a modular N scale railroading system that uses small foot-wide boxes to build tabletop layouts. They are designed to click together using Kato Unitrack. In this first installment, David explains why he started building T-TRAK modules in the first place, as well as Bryson and Brian explain how they managed to work their way into the project so they could play along.
David: While it's not common knowledge yet, earlier this year, I volunteered to write a new N scale book for beginners. Our previous book, written years ago by Marty McGuirk, is coming to the end of its active sales life, and because I have a lot of expertise in N scale, including building, filming, and writing about my former N scale New Haven layout, they tapped me to write the new one.
Brian: "Expertise" can also mean "warm body." They're not that particular sometimes.
Bryson: As I heard it told, they actually couldn't find anyone else to write it and made you do it.
David: I like to think I still had a choice, but regardless, I ended up writing the book. It's called Your Guide to N scale Model Railroading, and I turned in a month ahead of deadline, I might add.
Brian: That's because you don't have kids.
Bryson: Should I mention that despite your heroic effort to finish it early, the book still won't be out until Fall of 2024?
Brian: I'm not sure I would have mentioned it, considering he's your boss too.
David: Whatever those two say, look for the book next year. I think it's going to be a great book for beginners and seasoned modelers alike looking to get into N scale.
Brian: And what does this have to do with T-TRAK?
David: Ah, thank you Brian for getting us back on track!
Bryson: T-TRAK.
Brian: Hah! I see what you did there Bryson!
David: Whatever. Speaking of T-TRAK, the book has a chapter devoted to modular railroading in N scale, T-TRAK included.
Part of the fun of writing books is that you have to come up with projects to build and write about. Since T-TRAK modules are just over a square foot in size, it seemed like a perfect idea. Also, there are a number of manufacturers who make T-TRAK module kits, including a kit offered jointly by Kato and Woodland Scenics, Osborn Models Kits, and RS Laser Kits. I purchased a few RS Laser Kits modules and set to work. These are made from laser-cut plywood, and are easy to assemble using wood glue, a few clamps, and masking tape.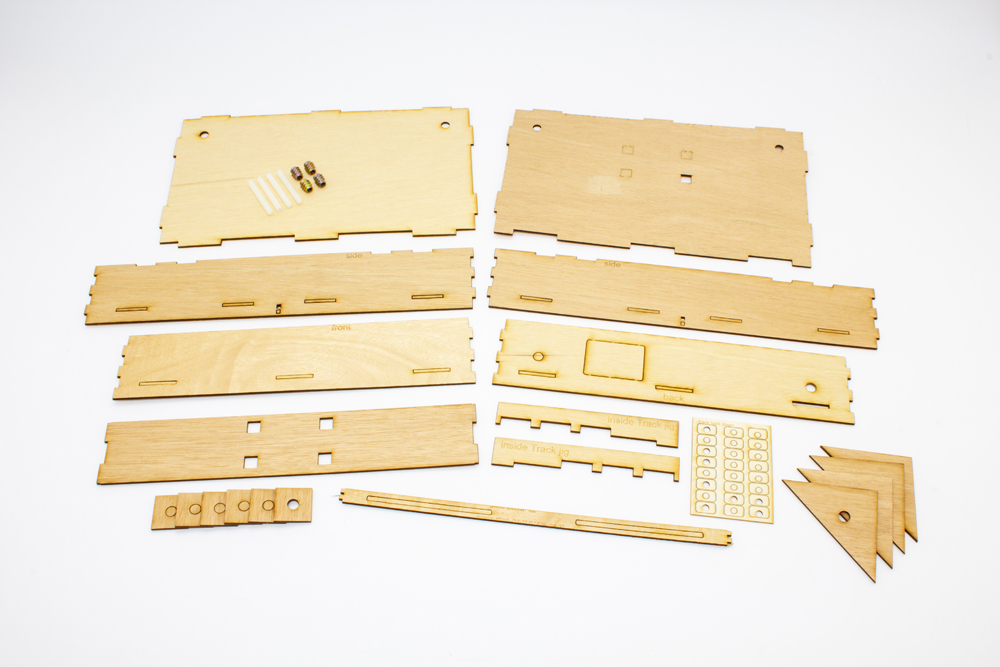 Bryson: And that's how we got involved.
Brian: David was working in the shop one day building T-TRAK modules, when I asked if I could build a couple as well.
Bryson: And I didn't want to be left out of the party!
David: And suddenly, instead of building a couple straights and a curve for my book project.
Bryson: We were building a whole mini layout.
David: So much for keeping the project contained.
Bryson: It's model railroading. What did you expect?
Brian: You know, you haven't mentioned the fact that we'd built T-TRAK modules before.
Bryson: Yeah, and I missed it. I was still in high school in 2016.
David: True, we did the Staff T-TRAK Challenge back in 2016, which ran as a series on MR Video Plus (now on Trains.com) and in the June 2016 issue of MR.
For the challenge, I built a dozen modules following plans found on ntrak.org then gave them to other modelers to build what they wanted. Mine was a corner module, and I built it as a mini version of my old New Haven layout. After taking it to several train shows, I donated it to the local T-TRAK club.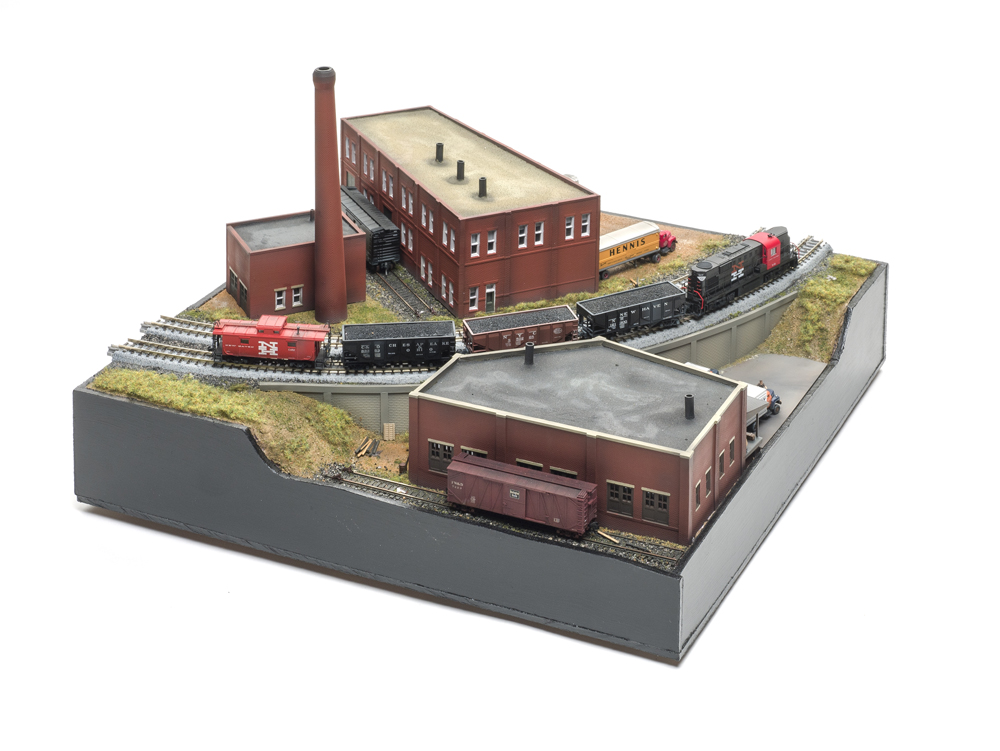 Brian: I built one too. Like David's, mine was also a corner module. I chose to depict a rail fan's ideal location with a weathered old barn and an embankment overlooking the tracks. I never did find any N scale photographers for it, however, I do still have mine and keep thinking it would be fun to build a few more to make a layout for my kids.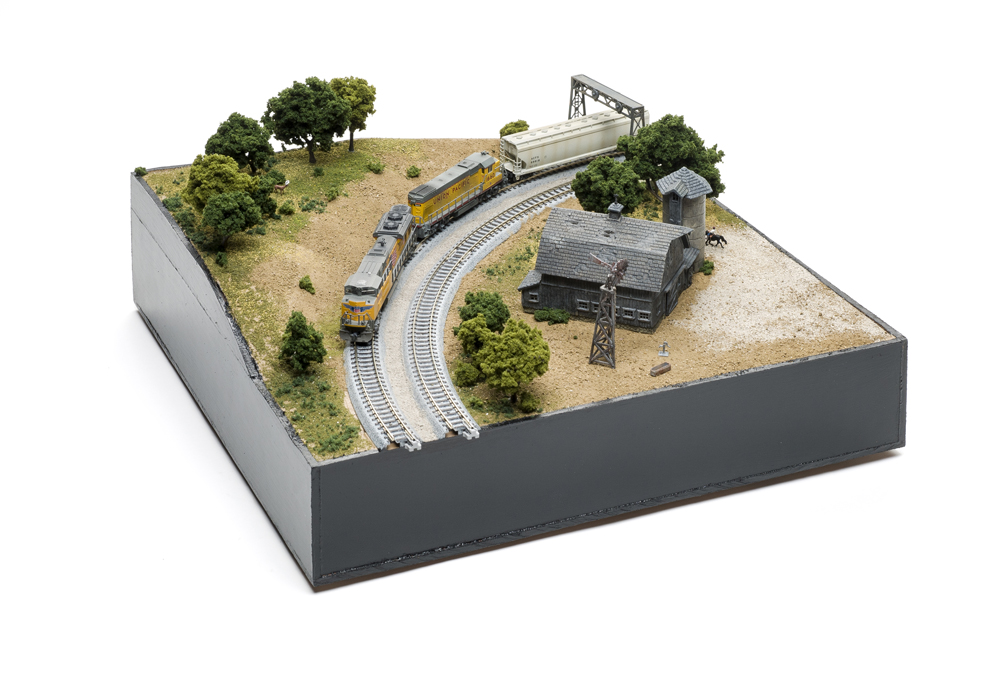 Bryson: Back in 2016, I was still deciding what I wanted to be when I grew up, so I did not get to build a module.
Brian: I think I heard that somewhere.
Bryson: All I'm saying is that you guys were totally lucky. I've been a fan of T-TRAK for a long time, and since I live in a small apartment currently, I've been thinking about making a few modules so I can run some of my N scale trains.
Brian: T-TRAK is a great way to build a portable home layout. You can model a few sections at time, and store them away on a shelf, in a closet, or in boxes until you want to run trains.
David: Then set them up on a table, click them together, and you're in business.
Brian: Exactly.
Bryson: And the cool thing about T-TRAK is that there are clubs in North America, Europe, Japan, and Australia, so you don't even need a full layout of your own. As long as you follow T-TRAK standards, you can click your modules into the group's layout. I shot a few photos of cool T-TRAK setups at the National Train Show in Texas this summer.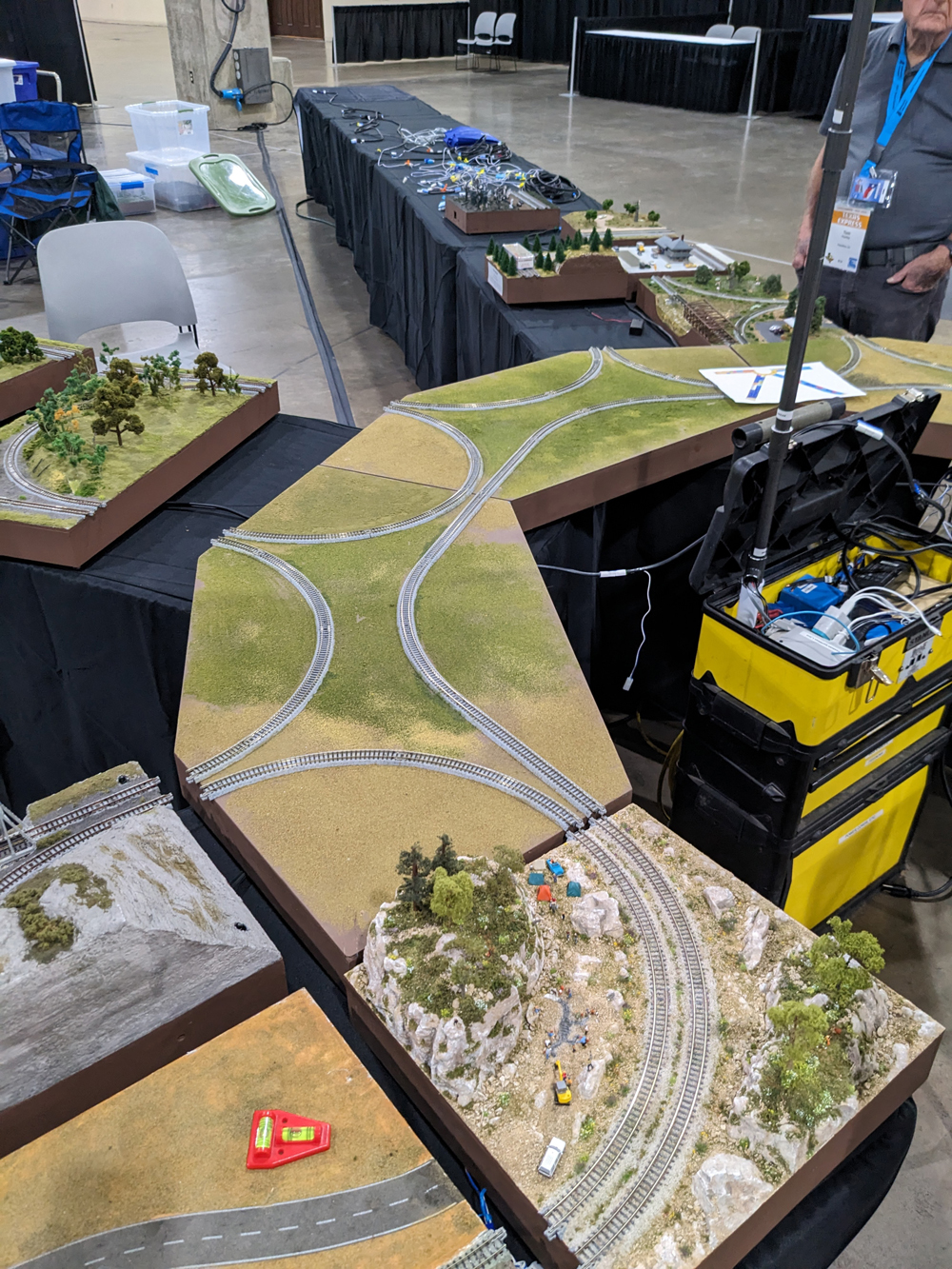 David: Many of the 2016 modules appeared at Trainfest twice and a couple of NMRA conventions as well.
Bryson: So how did the 2016 modules turn out?
David: When everyone had finished, we set them all as shown in the photo below.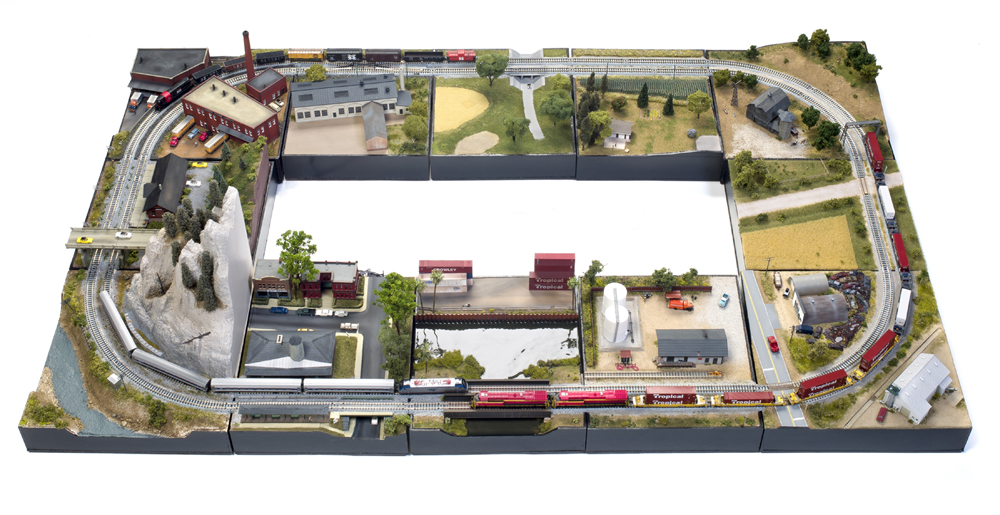 Bryson: Well… that really is… something, isn't it?
Brian: Yes, Bryson, none of them matched. We can all see that.
David: Yup, none of them matched. It was the only problem with our last T-TRAK layout. We let everyone do whatever they wanted with their module, and each person had a lot of fun coming up with something creative and unique. However, when we put it all together, it looked like a quilt, not a layout.
Brain: If we're doing that again, I'm out.
David: Don't worry. We're not! At the NMRA convention in Orlando, Cody and I saw a T-TRAK modeler who built 10-module loop but made it all with a unified Southwest theme. It looked amazing.
Bryson: So, you're thinking we can do that here?
David: Yes. We can build the modules, put the track on them, then put the layout together and plan where the scenic elements, such as roads, rivers, and hills will go. It should look like a normal model railroad layout when we're finished.
Brian: Just one that can come apart in 1 to 2-foot sections.
David: Exactly.
Bryson: So, when do we start?
David: Working with Rich at RS Laser Kits, I've managed to get us enough modules of different types and sizes to make a 28" x 76" railroad, including a few that he doesn't offer in his product line yet.
Brian: Which means we've got some modules to build.
Bryson: Cool! I'm in.
David: Well, grab a bottle of glue and some masking tape, because we're building five different types of module kits in the next installment.