Car Swap Project Part 1: Trading models: Modelers David Popp, Gerry Leone, and Seth Puffer begin a series of projects to create custom-painted freight cars appropriate for each other's model railroads. As David, Gerry, and Seth find out during the adventure, this is something fun and easy to do for any group of friends who enjoy building and operating their model railroads. In this, the first installment, David springs his "crazy idea" for the Car Swap on Gerry and Seth.
David: Recently I was doing a bit of eBay browsing, and I happened upon someone selling a custom-made On30 boxcar decorated for John Allen's Gorre & Daphetid RR. Now, John did have a narrow-gauge operation on his HO scale layout, so at first, it made sense that I might have such a car running around on my Olympia & Sand Creek RR.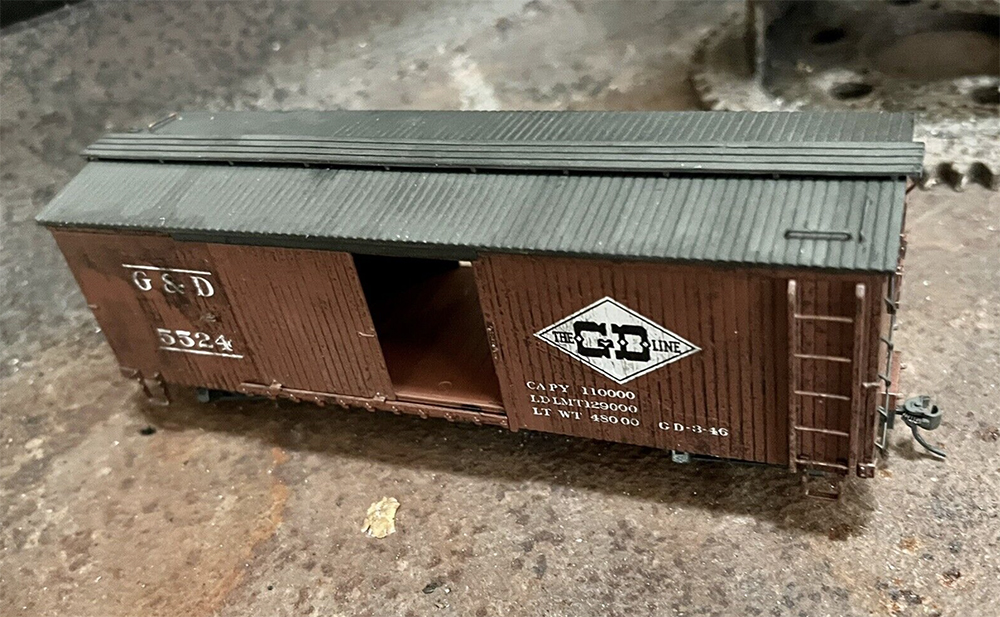 Gerry: For those who care, John's narrow-gauge railroad was called the Devil's Gulch & Hellengon, which besides having its own name, had its own logo and rolling stock too.
David: I know. And I can't recall ever seeing a photo of a GD car on the narrow-gauge line. That made me have second thoughts about running a narrow-gauge GD car on my layout. But then it hit me: The Gorre & Daphetid was a fictitious railroad to begin with, right?
Gerry: Seemed real enough to me.
Seth: Best layout I had ever seen.
David: The point is that it wasn't an actual railroad, just a model, which I felt gave me some wiggle room. So, I bid on it – and bid some more – but eventually the price hit my pain threshold, and I decided that I could make my own GD car for less and gave up. That exercise got me thinking, however.
Seth: Always dangerous.
Gerry: You said it!
David: Up to this point, my freelanced Olympia & Sand Creek railroad has been populated entirely with home-road cars. I'd always considered that it transferred loads to a mainline standard-gauge railroad at the town of Big Timber (staging on my layout), so it has no other narrow-gauge railroads to swap cars with.
Seth: But, hey, it's your railroad.
David: Yes, it is my railroad. So, what if despite being a tiny line in the middle of nowhere, it could interchange cars with other narrow-gauge railroads? Since I model a freelanced railroad, it seemed like a good idea that it could exchange cars with other like-minded modelers. Who else did I know well who modeled freelanced railroads that might want to exchange cars with me?
Gerry: I see where this is going.
David: Immediately Gerry Leone and his Bona Vista RR and Seth Puffer and his Puffer Bridge Lines came to mind.
Gerry: More work from you? I'm supposed to be retired you know!
David: You know you love it.
Seth: For what it's worth, I think it's a great idea. I can't wait to get started!
David: See? Seth likes it.
Gerry:  Seth is just trying to get on your good side.
Seth: I just wrote two stories for him for Model Railroading: The Ultimate Guide 2023. I am on his good side.
David: Where was I? Oh yes, the plan: The three of us have a great time when we run trains together, regardless of scale, gauge, or time period. So, I wrote up my plan for the Car Swap Project in an email to both, calling it Crazy Idea No. 11, having already sent the Trains.com staff off to chase Ideas 1-10 earlier in the day.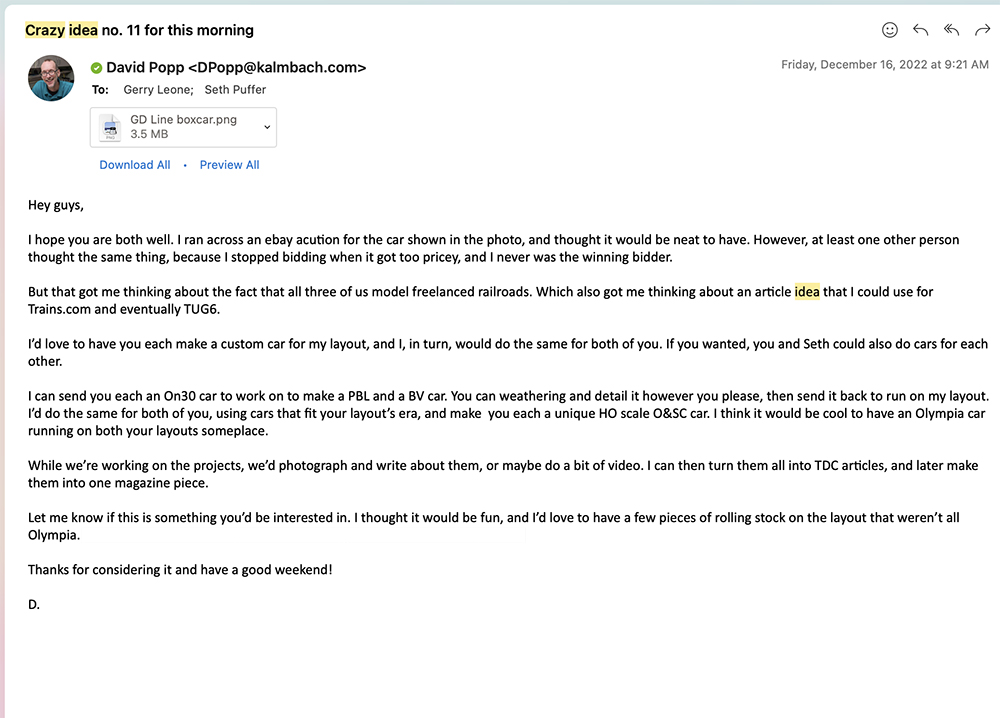 Gerry:  I can only imagine your staff said about the first 10.
Seth: I'll bet it was more like "Crazy Idea no. 37."
David: They're used to it, and they love it too. (It keeps us on or toes – Ed.) Anyway, the plan was simple. We make custom home-road cars for each other's layouts appropriate for the time period and scale, then we swap them. I'd then have a car from both Gerry's and Seth's railroads that would occasionally appear on my Olympia & Sand Creek, and they'd get cars from me as well that would knock around their layouts during various operating sessions.
Gerry: Actually, it is a neat idea. I know the "prototype-or-die" people are just rolling their eyes at it, but I won't fall back on the "It's my railroad" excuse. What I will say is that I think it's heartwarming to see various friends' cars rolling around on my tracks.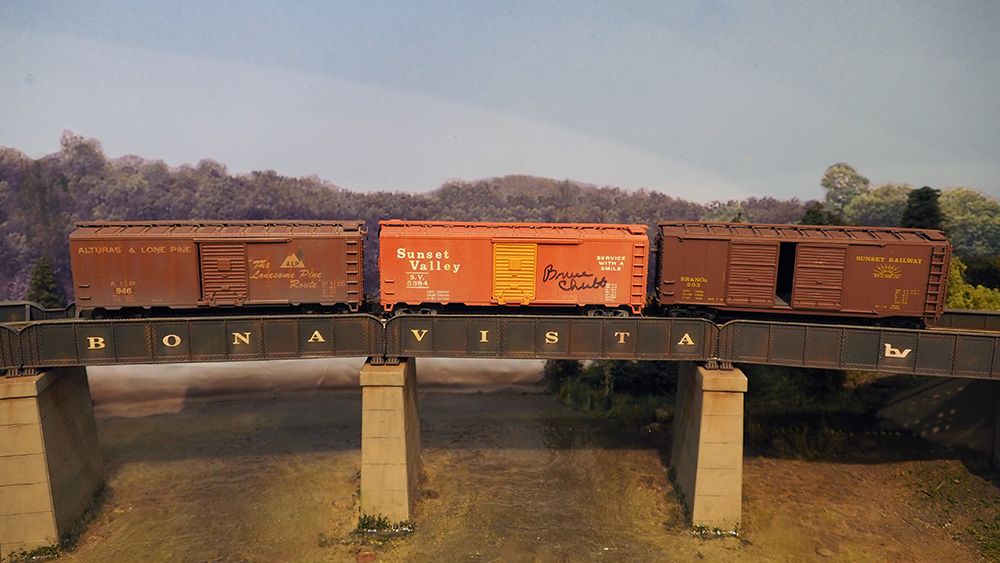 Gerry: I have an Alturas & Lone Pine car on my layout that's from the Whit Towers railroad. I swapped decals with him in the 70s after visiting him regularly and made the car myself. In the early 80s I swapped decals with Bruce Chubb and think of him whenever I see the Sunset Valley car in a manifest. I had him autograph the same car 30 years later.
David: Wait! You've got a car from Bruce Chubb's layout?
Gerry: I do. And it's run on his railroad too. Also, it's security tagged, so don't even think about it. I came close to selling my soul to acquire an in-the-box Sunset Railway & Navigation Co. car – a tribute to Linn Westcott. These cars were produced years earlier by the NMRA. With cars like that on my layout, I thought it'd be cool to also have both an Olympia & Sand Creek car and a Puffer Bridge Lines car traveling the Bona Vista rails.
Seth: I had to think about the project a little. Gerry models the 1950s, and David's layout is set in the 1920s. Both are completely different eras from my layout. Should I back date my logo? What would it have looked like on older cars? I never considered something like this before, so it will give me something completely new to model.
David: While there are a lot of questions yet, there's no need to worry. We'll cover those things in future installments of this project blog.
Gerry:  And by "we," I think David means "me."
David: We all have work to do, but yeah, you're the graphics guy. Besides, this should be easy. I've already got cars for you guys. (Seth, I hope you're ok with PC green.) They'll need to have the original lettering removed, but that should be simple enough. I even picked up undecorated On30 boxcars for both of you, and they are in the mail.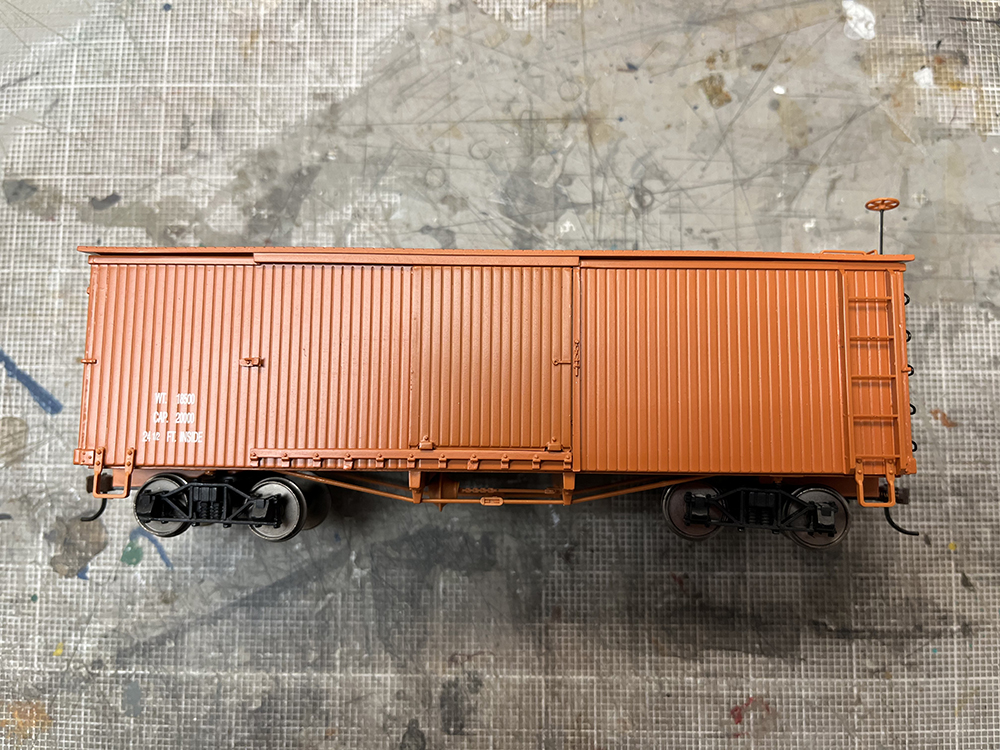 Seth: I've been looking out on my front step for two weeks waiting for David's car to arrive.
Gerry: I keep looking for David's car too. And I mean his MINI Cooper, with him hand-delivering the stuff to us.
David: As nice as it would have been to make the trip to Minnesota, I mailed them to you for far less than a tank of gas.
So, all kidding aside, by this point allegedly crazy idea No. 11 is well underway. Seth and Gerry are (mostly) onboard with the project, and at least for my part of it, I've already acquired the cars I'd need to make it happen – they just needed a little modification before adding the decals, which is where we will pick up our Car Swap story next time.