Q: I want to use Tony Koester's method to control a turnout with a slide switch. Do you know if he powers the frog with this switch or just moves the points? If he powers the frog, how is it wired? – Don DeLay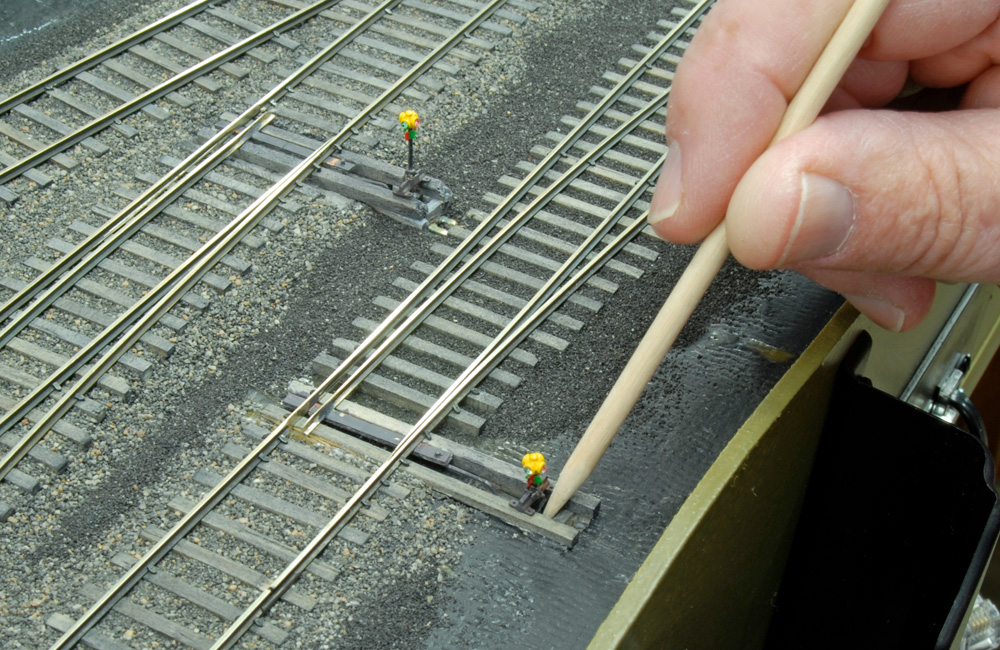 A: The technique to control a turnout with a slide switch has been around for a long time, and lots of modelers use it, including Tony's friend Perry Squier. Perry's layout is the scene of the photo above, which shows how Perry glues NJ International switch stands to the headblocks of his turnouts to disguise the switch. But you can still see in the photo the piano-wire linkage between the electrical switch and the turnout's switch rod. Perry drills a small hole in the plastic slide and bends the piano wire in a Z shape to link it to the switch rod. When the slide switch is pushed from one position to the other, the piano wire moves the turnout's points.
The photo above came from an article Tony wrote for our July 2017 issue, which includes lots of helpful tips on improving track and turnouts. But he doesn't discuss how he wires the slide switch to power the frog. For that, look to Larry Puckett's "DCC Corner" column in our December 2015 issue. Larry mounts his slide switch differently than Tony and Perry. He puts his under the roadbed, adding a stiff wire to the slide to control the points from beneath, and moving the slide with a choke cable routed to the fascia.
He wires the switch the same, though. The switch is a single-pole double-throw (SPDT), which connects either of two outer poles to the center pole. The center pole is wired to the frog, and the two outer poles go to the two track power bus wires. Be sure when wiring and mounting this switch that you pay attention to which direction the switch will move the points. This will determine which power bus to connect to which side of the slide switch. Get them wrong, and you'll get a short circuit in both positions.

Send us your questions
Have a question about modeling, operation, or prototype railroads? Send it to us at AskTrains@Trains.com. Be sure to put "Ask MR" in the subject.