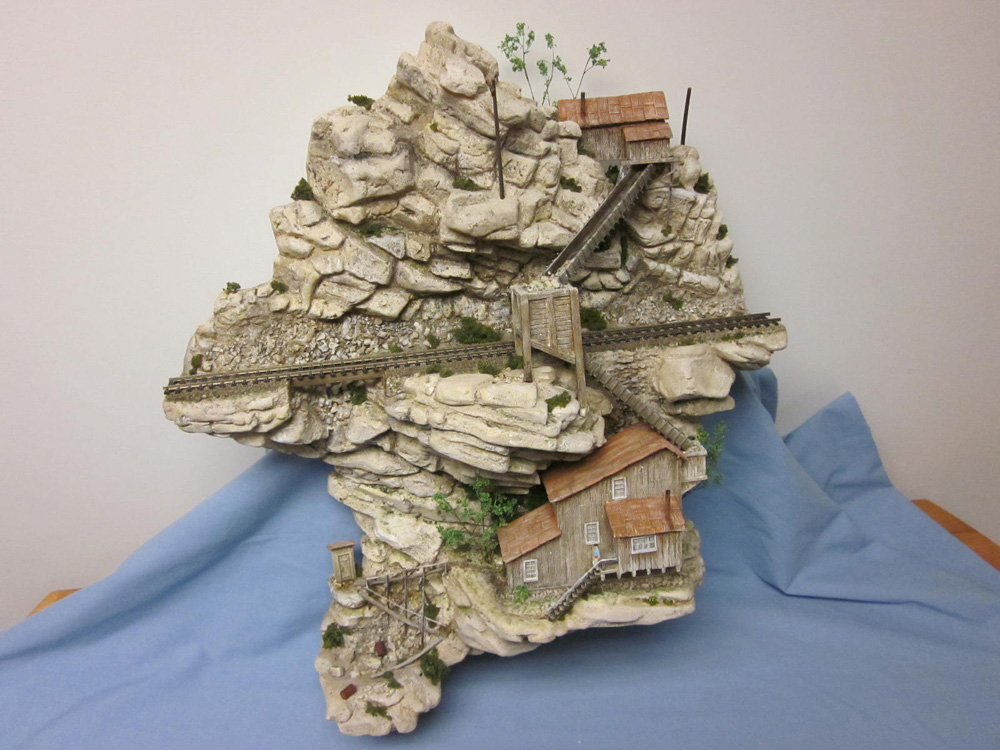 Q: Here are several photos of an HO scale wall hanging diorama that I bought at a garage sale. I'm trying to learn more about it. However, I can't make out the artist's last name on the back and I can't find an address or phone number for the company whose name is also stamped on the back. Included in the box was a non-powered switch engine and three ore cars that apparently sit on the track. I'm hoping someone on the MR staff might recall its history or could refer me to someone that might know more about it. – Douglas Kass, Clinton Township, Mich.
A: I'm sorry, but I can't tell you much. This is certainly an interesting piece, but its rarity is going to make it hard to track down. Written on the back next to the artist's signature (which appears to be "Martin Schumer") is "No. 5/30 1998." That tells me only 30 of these plaster castings were ever made. Stamped on the back are also the words "Innovation Design & Fabrication Co. 'Cliffhanger' C 1998." But I haven't been able to turn up any information about either name. If I publish the photo and your letter in "Ask MR," we can hope that someone in Model Railroader's readership has heard of Martin Schumer or Innovation Design & Fabrication. If anyone out there knows about this piece, please let me know at AskMR@MRmag.com.
Q: I'm trying to hand lay track for the first time. I bought HO scale railroad ties from Northeastern Scale Lumber Co. and have a supply of code 100 rail that I'd like to use. I tried to use some .035" diameter spikes I had from years ago, but the wood splits badly. What am I doing wrong? How do I remedy my situation? Would micro spikes from Micro-Mark help? – Brian Speck, New Providence, N.J.
A: I sent your question to Model Railroader contributing editor Tony Koester, who's hand-spiked more ties than I've had hot dinners. He replied:
"I've spiked a lot of track and never had the problem, so let's see if we can solve it. First, I assume those are basswood ties. I use 3/32"-square basswood for HO ties, which scales out to 9" square. Prototype ties are typically 9" wide x 7" thick x 8'-6" long, and by the time I glue the ties down using yellow carpenter's glue and sand the tops, they're now uniformly level and close to 7" thick. I glue my ties to Homasote roadbed, which provides a good surface to securely hold the ties and to accept the spikes. The spikes I used most recently are Walthers code 70/83 spikes, but they may no longer be available. Micro Engineering also sells spikes. I haven't used the Micro-Mark spikes recently, but they're certainly worth a try. Let us know how this works out."
Q: I'm modeling the Pennsylvania RR's Broadway Limited from 1935 to 1942. The "Broad Way" for which it was named was four tracks wide. So how did they operate the GG1 electric locomotive from the overhead wires? They couldn't string them on every track. Would they keep the electric locomotives to the outside tracks? What about sidings, if they needed to get to another track to let another locomotive pass? Or would they have a special dedicated track just for GG1 operation? – Sam Damico, Pittsford, N.Y.
A: Actually, they could, and they did. The Pennsy's electrified district ran from New York City to Philadelphia, then west to Harrisburg, Pa., and all four main tracks were under wire. The Broadway Limited was handled by GG1 electric locomotives as far as Harrisburg, after which a class K4 Pacific would take over for the run to Chicago. There was no need for the Broadway Limited to take sidings, as it was part of the dispatcher's job to keep other trains out of its way.
Q: I have an N scale Kato Alco PA-1 in Santa Fe livery. I can't decide what currently available N scale freight or passenger cars would make up an appropriate consist for it to pull. Any insight would be appreciated. – Ceri Steer, Minneapolis, Minn.
A: The Alco PA-1 was a passenger locomotive, equipped with steam generators to heat the passenger cars behind. If they were ever used on freight trains, it would have been very rarely and late in their lives. The first Santa Fe PA-1s were assigned to the Chief, running from the West Coast to Chicago. They were also assigned to secondary name trains, like the Texas Chief, Kansas City Chief, San Diegan, Golden Gate, and Grand Canyon. There are many books and websites that list the rosters for any of these trains in different years so you can model the version appropriate for your layout. Over the years, manufacturers including Kato, Atlas, and Con-Cor have offered Santa Fe lightweight passenger equipment, so there's a good chance the cars you need to assemble whatever train you decide on are out there.
Send us your questions
Do you have a question about model railroading you'd like to see answered in Ask MR? Send it to associate editor Steven Otte at AskMR@MRmag.com.