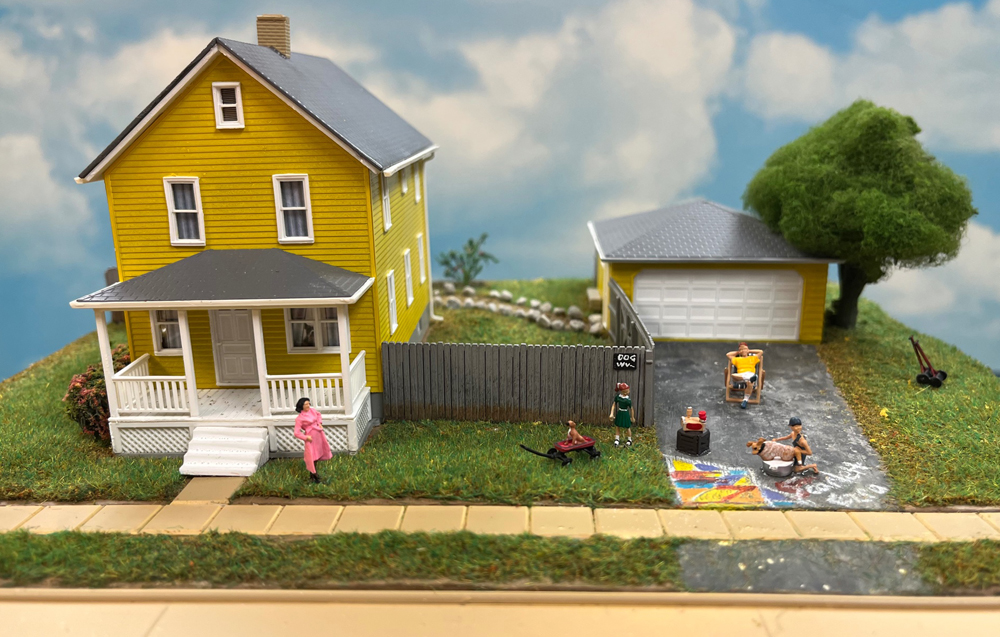 Five tips for creating a summery scene: Summer is a time for gathering outside with family and friends. There are a lot of nostalgic activities that can be modeled to remind us of a hot, summer day — perhaps even of a specific childhood memory. Most of my fondest memories happen during summer months, so I chose to model this season in my scenery project for modeling class with Trains.com Director David Popp.
As I stumbled through each of the beginner steps, from building a house and garage to constructing a driveway and yard, I came up with a few tips and suggestions for adding a summery touch to your own diorama project or layout.
Tip no. 1: Sidewalk chalk drawings
Nothing says warm weather better than kids drawing outside with chalk. My inspiration for adding this to my module was my daughter, Scarlett. She loves creating these stained glass-like chalk drawings in our driveway at home by using tape and a variety of colors.
The base of the driveway was made from DAP Wallboard Joint Compound. After it dried, I sanded it and added several washes of Woodland Scenics Earth Colors (Slate Gray) diluted with water. Using a small brush and toothpick, I took whatever acrylic paint and colored pencils were within my reach to make a similar look. I pressed lightly so as to not indent the driveway while attempting to re-create Scarlett's free-spirited, childlike strokes. To make it more realistic, you can try using actual chalk or chalk markers, and smearing it a bit. Chalk often gets smudged by younger artists.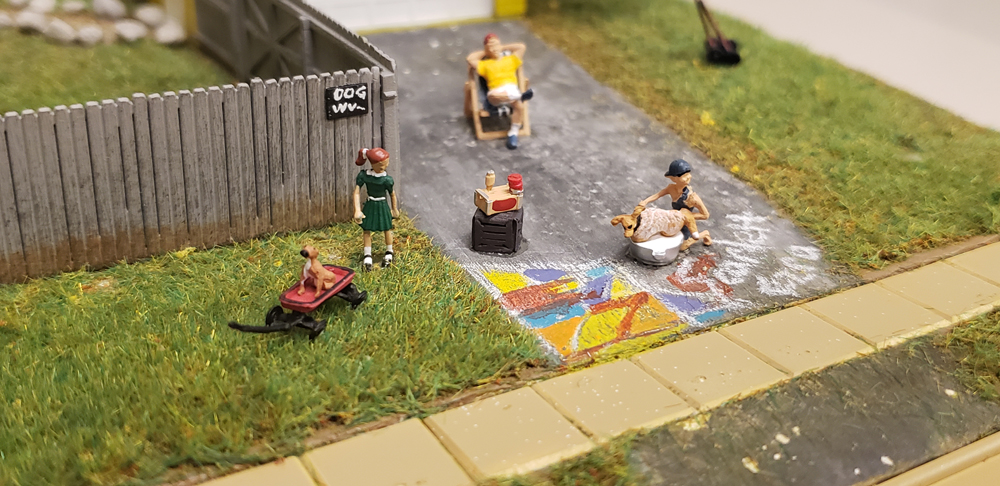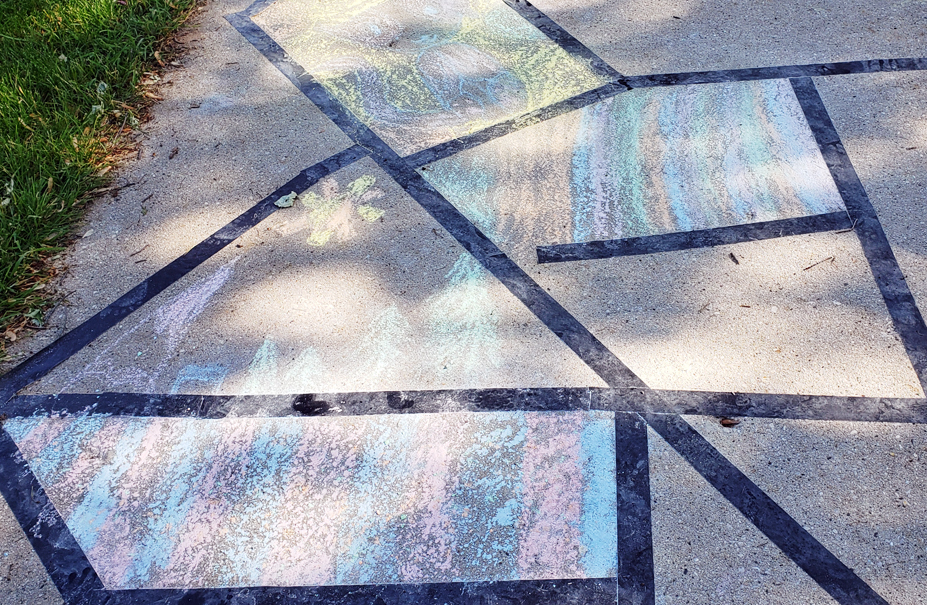 Tip no. 2: Dandelions in the grass
Model Railroader Senior Associate Editor Steven Otte suggested this to me while I was working on my landscaping. By sprinkling a little golden yellow ground foam onto the grass while it's wet with scenery adhesive, you can add a summery feel to a scene. Most of us are probably not fans of dandelions in real life, but this small, simple addition does the trick nicely.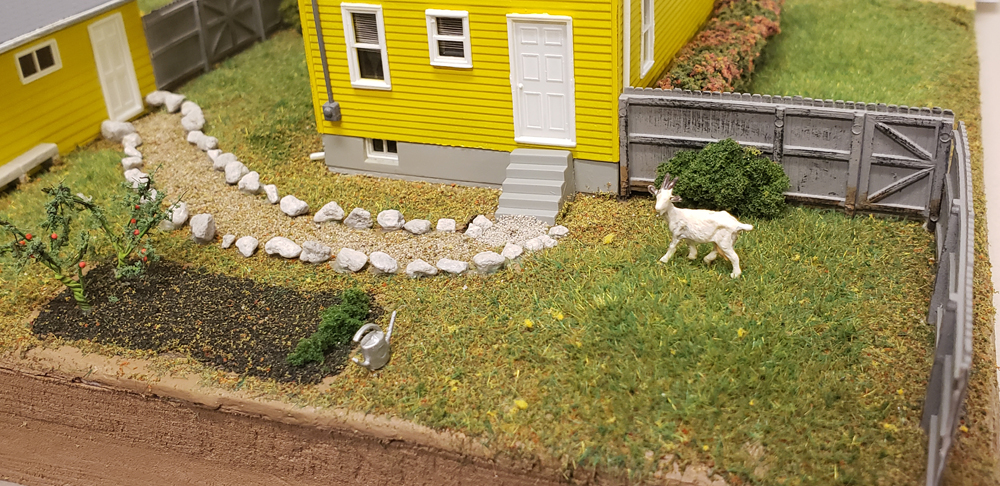 Tip no. 3: Animals and children frolicking
Animals or children playing outside is a definite sign of nicer weather (although a snow day can have the same effect). Toys in the hands of happy children, rolling down the driveway, thrown in a sandbox, or even scattered across a lawn can easily convey the summer message. Most children leave their toys outside when weather (and parents) permit. It's just one less thing we parents need to pick up, right? As for animals hanging out outside – cows, horses, deer, dogs, cats, goats, whatever – are more visible when weather is nice. Taking a closer look at my back yard, you'll see a happy little goat enjoying the sunshine, while in the front yard children and dogs are present.
 Tip no. 4: Food/drinks outside
Another popular pastime in summer are people eating and drinking outside. From sitting on a patio to visiting a hot dog stand to sitting on a blanket next to a picnic basket, people enjoy dining outside in favorable weather. Walthers and Woodland Scenics are two manufacturers that have specific figure sets that can help you create and convey this summer scene. Try using pieces of food-colored ground foam on plates punched from white paper. If you can find some scale food items, arrange them on a square of cloth to represent a picnic blanket. You can add some child figures selling lemonade on the corner or vegetables from their own garden. Or just place a popsicle melting on the pavement.
Tip no. 5: Just add water
People in water scenes are common in hotter weather. I chose to simply add a "Dog Wash" sign to a fence and Woodland Scenics figures to the driveway. Just pick something and add water. For example, create a car wash scene or add a kiddie pool with a dog or child in it. Put a watering can near a garden or a bird in a bird bath. Use thin green wire to make a hose, and brush-paint a thin layer of gloss medium to make puddles or rivulets of water. Remember that concrete and asphalt pavement both appear darker when they're wet.
If you've enjoyed reading this article, check out Four ideas for window treatments.