About halfway through the Lionel 2021 Volume II catalog we found this post-transition-era workhorse: the EMD SD45. A model previously released by Lionel in 2016, the return of the SD45 is a welcome sight for those who model the early high-horsepower diesel years.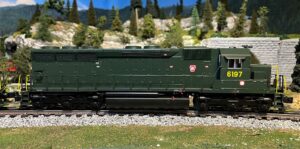 A solid seller
The prototype was built by the Electro-Motive Division of General Motors from 1965-1971. It was plagued by crankshaft failures. After these were remedied, at slow speeds the SD45 wasn't all that much more powerful than the SD40. More than 1,200 units rolled out before the model was supplanted by the SD45-2, which only the Santa Fe, Clinchfield, Erie Lackawanna, and Seaboard Coast Line bought.
The SD45 was 65 feet, 8 inches in length and came in at 368,000 lbs. With a 20-cylinder prime mover the SD45 produced around 3,600 h.p. The Southern Pacific purchased the most SD45s from EMD with 317 followed by the Pennsylvania with 130 and Santa Fe with 125.
What cars go in a train behind an SD45? Answers here.
The Lionel Legacy SD45
Lionel offered six road names in its 2021 release: Burlington Northern, EMD demonstrator, Guilford/Springfield Terminal, Pennsylvania, Milwaukee Road, and Norfolk Southern. Each model features road-specific detailing, most notably the Guilford and NS versions having high short hoods.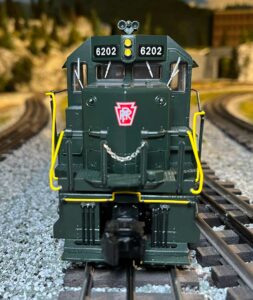 Each road name has three road numbers, with two powered units, and a non-powered SuperBass model. They all have directional lighting, a fan-driven smoke unit, Electrocouplers, and Kinematic pilots. The powered units can be controlled conventionally, with TMCC, Legacy, or Bluetooth using the Lionel App.
This model, like many new Lionel products, can also be controlled using Lionel Voice Control through the Lionel App on a smartphone or tablet.
The engine comes in at 17 inches in length. While the Kinematic couplers do provide a more prototypical look as the engine navigates three-rail curves, it does require them to be O-54 or bigger.
Power and sound
I was fortunate to pick up a powered unit and SuperBass unit from Gryzboski's Trains during my recent trip to the 2022 fall York Train Show. Out of the box these models feature a clean appearance in Brunswick green and crisp decals.
After a quick run over the Lionel Control System programming track, I was able to consist the powered and unpowered locomotives. The sounds produced by the SuperBass cannot be done justice even through video. There is a clear, deep rumble produced by that unit that can almost be felt at any point around your layout. I had to turn it down to have a conversation with those that were with me.
After picking up the SuperBass unit for the Lionel Sharknose diesels last year I was pleased when I saw Lionel creating similar options for models like the SD60MAC and SD45 in the 2021 Vol. II catalog.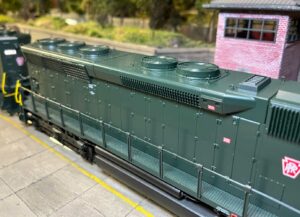 The offerings from Lionel didn't lend themselves quite as well as I had hoped to a multiple-unit train. The previous release featured Penn Central versions which would have been nice to see again with the Pennsylvania models. Further, Brady's Train Outlet offered a custom run of Conrail SD45s which would have been nice to mix with a PC option. If you act fast you might still be able to add one or a pair of these great models to your collection.
The latest SD45s from Lionel MSRP for $599.99 for the powered unit and $499.99 for the SuperBass. I think it's fair to note that the 2016 release, which was a new tooling at the time, MSRPed for $649.99.
Get more O gauge action on the Chris's Trains & Things channel on YouTube.