The Mandy Patinkin Lionel layout collection is loaded with realistic scenes packed with details. Trains, accessories, structures, and more from the post-World War II and Modern eras of Lionel production fill every square inch of an outstanding model railroad that fills much of a 17 x 42-foot room in the Patinkin household.
Visiting Mandy and his wife, Kathryn Grody, and their two sons (Gideon and Isaac) stands out among the highlights of my career at Classic Toy Trains for a few reasons. First, I have long admired Mandy for his acting and the remarkable recordings he has made. Discovering he was a lifelong Lionel enthusiast added to my respect for and interest in him and made me eager to pay a visit to his layout.
A second reason why I was thrilled to receive an invitation to see this stunning and exciting three-rail display was the fact that so much of it had been constructed by one of the top layout builders around and someone I feel honored to call a friend – Rich Roman. This talented gentleman and the experienced crew at East Coast Enterprises would be there to help as we photographed the layout.
A third reason to appreciate our visit and to look back on the few days spent at Mandy's with wonder and gratitude was the fact that I was working with William Zuback, the brilliant and personable photographer who supervised the Photo Studio at Kalmbach Media Co. for more than 20 years.
Details galore
Bill and I quickly discovered that every scene on Mandy's railroad had a host of details. We spent time composing pictures that would have at least one train in them, along with structures, vehicles, figures, rocks, and vegetation.
For a couple of the photographs, Bill recommended that we move back – literally and figuratively – so he could develop panoramic shots. He wanted the opportunity to present really expansive scenes. That way, he said, readers will be able to linger and study every area. Great advice coming from a true professional.
The shot accompanying this short essay about Mandy's layout exemplifies what Bill aimed to do. You can get an excellent idea of how the railroad fills the room, with the ceiling and walls, not to mention the wood floor evident here.
Now let's spend some time pointing out the details – trains, accessories, bridges, buildings, and much more. Relax and have fun as you learn much more.
See a version of the photo without numbers at the end of this article.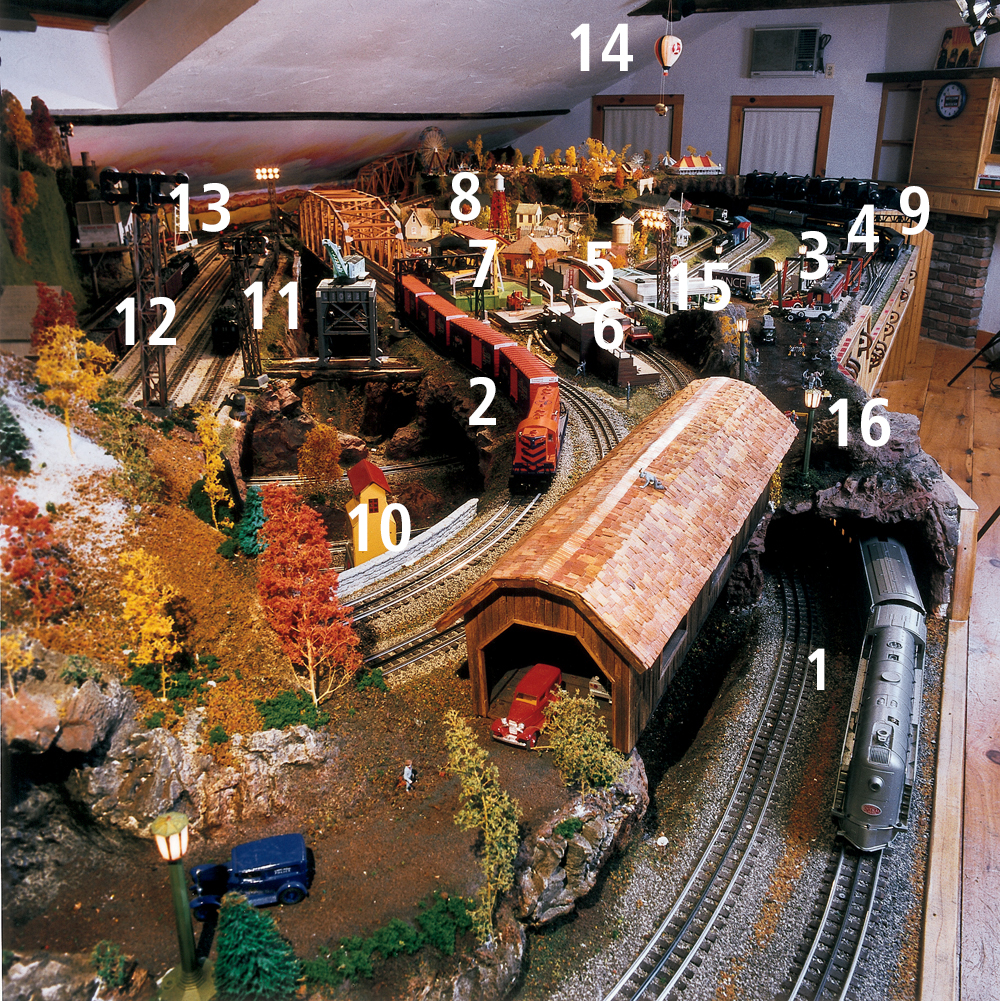 1. On the outermost main line on the right side is a passenger train led by a No. 18045 New York Central 4-6-4 Commodore Vanderbilt Steam Engine and Tender. The lights of a Pullman coach from the No. 19060 heavyweight set, which was cataloged for 1996 with the locomotive, can be seen inside the tunnel.
2. Lionel No. 18846 Centennial Series GP9 road diesel pulling the four matching Hi-Cube boxcars included in the No. 29220 four-car set (Nos. 9697-1, -2, -3, and -4) cataloged with this impressive locomotive for 1997 to introduce the new logo.

Original or reissues of many classic accessories from the postwar era:
3. No. 342 Operating Culvert Loader
4. No. 352 Icing Depot
5. No. 363 Conveyor Lumber Loader
6. No. 464 Operating Sawmill
7. No. 164 Log Loader
8. No. 193 Industrial Water Tower
9. No. 450 Operating Signal Bridge
10. No. 97 Coal Elevator
11. No. 282 Portal Gantry Crane
12. No. 195 Floodlight Tower
13. No. 494 Rotary Beacon
14. No. 24177 Hot Air Balloon Ride
15. MTH Electric Trains No. 30-9109 Sinclair Operating Service Station
16. Shown throughout the layout are modern reissues of the No. 76 Boulevard Street Lamp